WASHINGTON -- A group of 47 Republican senators on Monday took the most dramatic step yet to undermine the Obama administration's ongoing nuclear diplomacy with Iran: reaching out to Tehran directly to suggest any deal it strikes with the administration is not constitutionally binding.
The tactic was extreme, certainly, but that worked in its favor. It immediately began to dominate political conversation on social media Sunday night, after Bloomberg View's Josh Rogin published a story previewing the senators' letter and sharing an early version of it.
And by Monday morning, freshman Sen. Tom Cotton (R-Ark.) was featured on Fox and Friends to explain the letter, which he took the lead in organizing -- and to note that it remained open for more signatures, in case Democrats felt so inclined. He emphasized that he believed 2016 presidential candidates, including Hillary Clinton, should sign on to the message. Four Republicans who are expected to run for their party's nomination -- Sens. Marco Rubio (R-Fla.), Ted Cruz (R-Texas), Rand Paul (R-Ky.) and Lindsey Graham (R-S.C.) -- have already lent it their support.
The message, "An Open Letter to the Leaders of the Islamic Republic of Iran," states that the senators believe Tehran "may not fully understand our constitutional system." So the lawmakers say they have taken it upon themselves, apparently for the sake of "mutual understanding and clarity" rather than for points in a partisan battle with the White House, to explain two features of the U.S. Constitution to the Islamic Republic.
The letter highlights that the Constitution includes a congressional role in approving any international commitment more binding than an executive agreement between two governments and that it limits President Barack Obama's time in the White House. That means, according to them, that any deal the Obama administration reaches with Iran to limit its nuclear program could be revoked by the next president or modified by future Congresses.
But there are a couple of problems with this constitutional lesson. The first hitch is that contrary to the letter's premise, Iran's leadership actually has access to a great deal of understanding about how the U.S. works: as The Economist noted last year and users reminded the Twitterverse last night, Iran's presidential cabinet presently features more members with doctorates from U.S. universities than Obama's cabinet does. And the second issue, which is perhaps more alarming for a GOP only just becoming reacquainted with Senate control, is that a legal luminary from the senators' own party now says they got the Constitution wrong.
Jack Goldsmith, a Harvard University law professor and former top legal official in the George W. Bush administration, offered the lawmakers their own lesson early Monday morning.
Writing for the blog Lawfare, Goldsmith noted that the senators mistakenly say in their message that the Senate "must ratify" any treaty. In fact, he points out, the Senate's role is to give the president its consent for a treaty -- and to recognize that ratifying it is the president's choice.
"This is a technical point that does not detract from the letter's message that any administration deal with Iran might not last beyond this presidency," Goldsmith wrote. "But in a letter purporting to teach a constitutional lesson, the error is embarrassing."
Cotton's office did not respond to The Huffington Post's request for comment. Neither did the offices of the next three signatories to the letter, Sens. Orrin Hatch (R-Utah), Chuck Grassley (R-Iowa) and Mitch McConnell (R-Ky.).
The letter -- and the accompanying embarrassment for those who have endorsed it -- comes as the negotiations with Iran near a March 24 deadline. At that point, Sen. Bob Menendez (D-N.J.) of the Senate Foreign Relations Committee told HuffPost last week, the Senate will reconsider a bill that Menendez and Sen. Mark Kirk (R-Ill.) have proposed that would enable new sanctions to be rapidly placed on Iran should diplomacy fall through.
The administration has said it sees proposing new sanctions as a poison pill for the delicate talks. Those talks are being conducted alongside five other world powers: the U.K., France, Germany, Russia and China. Those countries are essential for the unified global sanctions regime, which the administration describes as the reason Iran has been forced to negotiate in the first place -- and supporters of nuclear diplomacy say unilaterally imposing additional U.S. sanctions would shatter that fragile alliance. Menendez said in late January he would not pursue the new sanctions bill until March 24 to give the talks a chance. The deadline for the negotiations has already been extended twice. The hard deadline is now June 30, though the Obama administration hopes to achieve a political framework for a deal by the end of month.
Congressional hawks on both sides of the aisle have been vocal in their skepticism of nuclear diplomacy, but cracks appeared in their unified front earlier this month. Partisan tensions grabbed headlines as more and more Democrats said they would skip a Republican-organized speech by Israeli Prime Minister Benjamin Netanyahu about the dangers of the present negotiations with Iran. Then they became worse as McConnell, in his role as Senate Majority Leader, announced hours after Netanyahu's address that he would move forward on a Senate vote for another piece of Iran legislation which would grant Congress 60 days to review and possibly reject any deal. Democrats co-sponsoring that legislation said the next day they would vote against the bill if it were moved before the March 24 deadline -- and McConnell eventually backtracked. But once they got wind of the new GOP grandstanding, Democrats came out swinging yet again.
"I can't tell you how appalled I am at this letter," Rep. Adam Schiff (D-Calif.), the ranking Democrat on the House Intelligence Committee, said on MSNBC. "On an issue of this seminal importance while sensitive negotiations are going forward, for these senators to interfere in this way, it's really unthinkable. And it just shows how the political process has degenerated that these senators would take such a step."
In a statement, Sen. Dick Durbin (D-Ill.), a member of the upper chamber's Democratic leadership, called the letter "a cynical effort" -- and warned of the risks that could lie ahead were diplomacy with Iran to fail.
"These Republican Senators should think twice about whether their political stunt is worth the threat of another war in the Middle East," Durbin said.
CORRECTION: An earlier version of this article incorrectly listed Sen. Bob Menendez's party. He is a Democrat.
Before You Go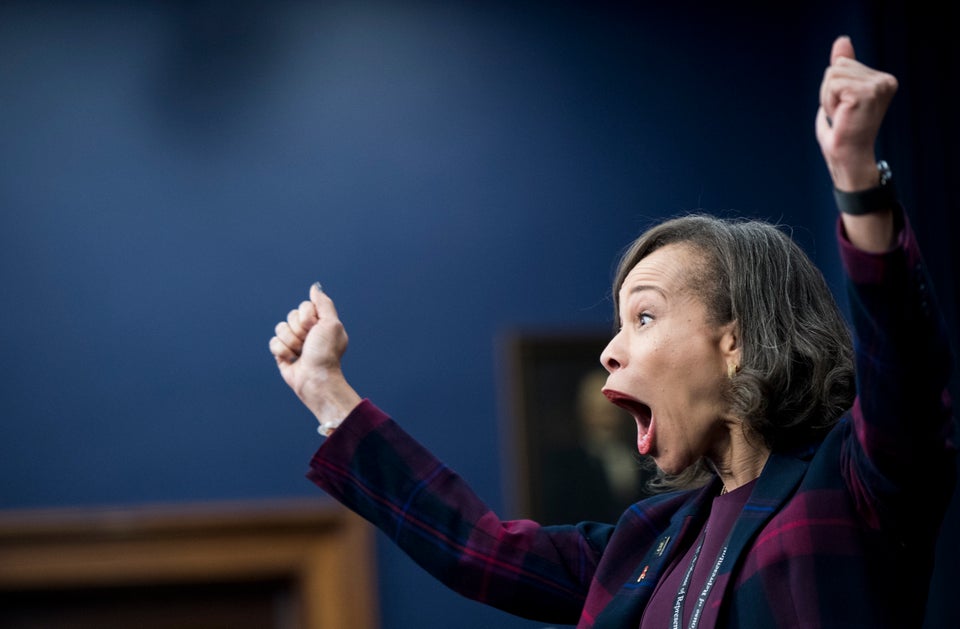 Scenes From 114th Congress And Capitol Hill
Popular in the Community