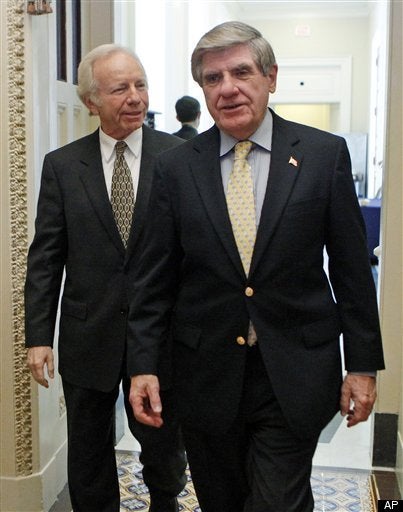 Deficit concerns once again trumped jobless aid in the Senate as Republicans, a lone Democrat and Sen. Joe Lieberman (I-Conn.) on Thursday evening defeated an urgent bill to reauthorize expired several expired domestic aid programs.
The 56-to-40 vote left Democrats with no clear path forward on legislation that, among other things, would protect doctors from a 21 percent drop in Medicare reimbursement rates, reauthorize extended unemployment benefits, and provide $24 billion in federal assistance to state Medicaid programs, preventing an expected wave of public sector layoffs.
"Tonight, every single Republican voted to deny states critical aid that would keep firefighters, police offices and teachers employed," said Jim Manley, spokesman for Senate Majority Leader Harry Reid (D-Nev.). "And tonight, every single Republican voted to tell the one in ten Americans who have lost their jobs that they are on their own."
By the end of this week, 903,000 people who have been unemployed for longer than six months will have missed benefits checks they would otherwise have received had Congress managed to reauthorize the stimulus bill provisions that expired on June 1. By the end of next week, that number will climb to 1.2 million.
Both the House and Senate had already approved bills to reauthorize the programs for the rest of the year, but with different sources of funding. When it came time to put the bills together in May, after several jobs reports from the Labor Department had shown modest gains, moderates in both chambers lost their appetites for helping the economy with deficit spending. The change in mood marks the beginning of the end of efforts to fight the ongoing jobs crisis, which is more severe now than when the lapsed programs were created.
Lurking beneath the deficit concerns is the suspicion among some lawmakers that the extended benefits, which in some states lasted for 99 weeks, make people too lazy to look for work -- a view that pops up in both parties and in both chambers of Congress.
Democratic leaders in the Senate offered a slimmed-down version of their original bill after it failed on Wednesday with a dozen Democrats voting against it, but the new version, which would add $55 billion to the deficit over ten years, did not appeal to Lieberman or Sen. Ben Nelson (D-Neb.).
"There's still parts of it that are not funded, that are not offset," Nelson said. "I want to see it all offset."
The bill would also have raised $14 billion by eliminating foreign income tax credits and another $14 billion by closing the so-called "carried interest" loophole, raising taxes on investment fund managers.
"Tonight, every Republican voted to protect wealthy bankers, hedge fund and Wall Street CEOs from paying their fair share of taxes," said Manley. "Tonight, every single Republican voted to allow big businesses to continue to outsource American jobs, and get a tax break for doing it."
Republicans pushed earlier Thursday for an alternate bill that would have extended unemployment benefits but dropped the Medicaid assistance, which Sen. John Thune (R-S.D.) termed a "$24 billion state bailout." The Republican alternative would have reduced the deficit by, among other things, slashing spending at federal agencies. This bill failed by a vote of 41 to 57.
"Poll after poll demonstrates that the voting public wants Congress to protect and support the unemployed and it is time for them to stop playing dangerous games with people's lives," said Judy Conti of the National Employment Law Project, which recently commissioned a poll that showed 74 percent of registered voters think it's more important to preserve jobless aid programs than to reduce the deficit. "The Senate should not recess until HR 4312 is passed, and the House should treat it with the same urgency. The nearly million workers who have lost their benefits while these politicians have used them to score cheap poiints in an election year deserve much better than this."
Republicans gave no sign they would make it easy for Democrats to advance their bill even if they had a unified caucus. Sen. Tom Coburn (R-Okla.) offered a "clay pigeon" amendment on Thursday that would have required 20 separate votes.
"Americans are frustrated with the amount of spending and borrowing around here," Senate Minority Leader Mitch McConnell (R-Ky.) said. "We have an opportunity here to show the American people that we can be fiscally responsible and pay for legislation by cutting spending elsewhere."