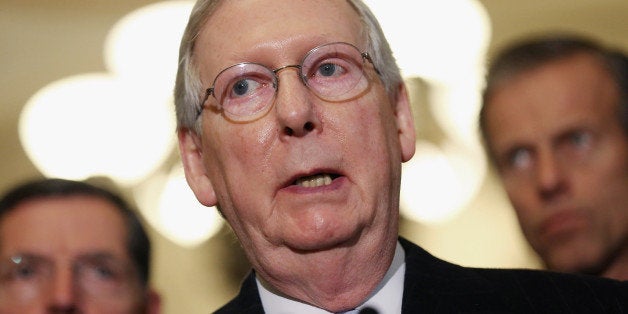 There are some anniversaries you don't want to celebrate, and this month marks one of them. November 12 marked the one-year anniversary of Judge Luis Restrepo's nomination to the Third Circuit Court of Appeals in Pennsylvania, a nomination that -- one year later -- languishes in the Senate due to Senate obstruction. As the Third Circuit seat remains vacant, cases continue to pile up and judges can't keep pace with the caseload. And it's not just the Third Circuit; this seat is just one of more than 65 current federal judicial vacancies across the country that are crippling our federal courts and denying access to justice for thousands of Americans.
To be clear, the Senate is not obstructing Judge Restrepo because he is unqualified for the job. In fact, the Senate unanimously confirmed Judge Restrepo to the U.S. District Court for the Eastern District of Pennsylvania just two years ago. Before being appointed to the bench, he served as a magistrate judge, ran a successful private law practice, served as a public defender, and worked for the American Civil Liberties Union. He has taught legal classes at Temple University School of Law, the University of Pennsylvania Law School, and at Pierce College. He has had an exemplary legal career.
Given his qualifications, Judge Restrepo should have quickly sailed through the confirmation process. But that has not been the case. Judge Restrepo's nomination remains stalled in the Senate, and Senate Majority Leader Mitch McConnell has given no indication as to when Restrepo's final Senate confirmation vote will take place -- an unconventional move, given that uncontroversial judicial nominees are normally confirmed more quickly. In comparison, during President George W. Bush's tenure, uncontroversial circuit court nominees took roughly half this time. This obstruction is simply inexcusable.
Moreover, Restrepo's confirmation would add an important, diverse perspective to the Third Circuit. Restrepo was born in Colombia and raised in Virginia, becoming an American citizen in 1993. If confirmed, he would be just the second Latino ever to serve on the Third Circuit, and the first from Pennsylvania. Judge Restrepo is one of three immensely qualified Latinofederal judicial nominees currently waiting for the Senate to do its job. As we quickly become a country that is majority people of color, never before has it been so important that our country reflect the diversity of our great nation.
But Judge Restrepo isn't the only victim of this historic obstruction. He is just one of dozens of nominees that the Senate is blocking. In addition to the 66 current vacancies, there are an additional 17 known future vacancies that need to be filled. This means that, in total, there are 83 judicial vacancies that need nominees, a 50 percent increase since the beginning of 2015. And the number of judicial emergency vacancies -- in other words, vacancies on courts where there aren't enough judges to hear the cases -- has more than doubled in that same time. In fact, the current Republican-controlled Senate has confirmedfewer judges than in any year since 1953.
The position to which Judge Restrepo was nominated has been vacant for over two years, underscoring the larger judicial vacancy crisis plaguing our nation's courts and delaying justice for hundreds of thousands of Americans across the country. These delays have consequences for real people, including Pennsylvanians: When a judicial seat is vacant, the cases that the judge would otherwise hear -- criminal, civil, immigration cases, and more -- have to wait. The people involved in those cases, as well as their families, businesses, and communities, cannot move past their lawsuits, or move on with their lives. As they sit and wait, the harm that brought them to court simply festers.
Every American deserves a fully functioning judicial system, not one that is hamstrung by political gamesmanship. Senate leaders must stop obstructing the confirmation of judges to the federal bench, including Judge Restrepo. Let's not let another year go by before the Senate does the right thing.
Jake Faleschini is the Director of the Courts Program with Legal Progress at the Center for American Progress.
Popular in the Community