* At least seven of 18 committee members own guns
* Senator Leahy was champion marksman in college
* Senator Sessions has about a dozen firearms
WASHINGTON, Jan 30 (Reuters) - Republican Senator Lindsey Graham keeps an AR-15 at home, a semi-automatic rifle similar to the weapon used recently in the mass shooting at a Newtown, Connecticut, school. But he is far from the only U.S. lawmaker who has a gun.
At least seven of the 18 members of the Senate Judiciary Committee, which is considering gun-control legislation, own firearms, according to senators and their staffs.
Among bills before the committee is a proposal to ban the manufacture of firearms like the AR-15. Four members of the panel do not own firearms, while spokesmen for the other seven declined to comment or did not respond to queries.
Committee Chairman Patrick Leahy, a Vermont Democrat, was a champion marksman in college and has a sizeable collection of long guns and handguns. The panel's senior Republican, Chuck Grassley, was given an old 22-caliber rifle by his father that he keeps on his farm in Iowa, aides said.
Graham, a member of the U.S. Air Force Reserves, is the only member of the panel who has acknowledged having an AR-15, a lightweight civilian version of the military M-16 rifle.
Most of the weapons characterized as "assault weapons" are variants of the AR-15, said Adam Winkler, a law professor at University of California-Los Angeles and author of "Gunfight: The Battle over the Right to Bear Arms in America."
"I have an AR-15 at home and I haven't hurt anybody and I don't intend to do it," Graham declared on Wednesday at a Judiciary Committee hearing. It was the first to deal with gun violence since a gunman last month killed 26 people at a Newtown elementary school, including 20 children. Graham opposes reinstating a ban on assault weapons.
The conservative South Carolina Republican did not explain why he had the weapon, but said such a gun could be useful for protection if lawlessness or rioting broke out in his neighborhood.
"I think I would be better off protecting my business or my family if there was law-and-order breakdown in my community, people roaming around my neighborhood, to have the AR-15, and I don't think that makes me an unreasonable person," Graham said.
The Bushmaster rifle, which police have said was the weapon used in the Newtown shootings, is often referred to as an AR-15, although it is not manufactured by ArmaLite, the original maker of the AR-15, Winkler said.
"AR-15 has become shorthand for this style of rifle. Gun enthusiasts don't like the term 'assault weapon,' so AR-15 has become the shorthand," Winkler said.
Some AR-15-type weapons were barred by the assault weapons ban that was U.S. law for a decade until it expired in 2004, but others were not, Winkler said.
Legislation proposed by Democratic Senator Dianne Feinstein would ban the manufacture of AR-15s along with other semi-automatic rifles that can accept a detachable magazine and have at least one military feature like a pistol grip.
It excludes weapons that are already legally owned, so if it passed, Graham could keep his gun.
That is not the only gun Graham owns. As a hunter and outdoorsman, he owns about a dozen firearms, his spokesman said. Another Southern Republican on the Judiciary Committee, Jeff Sessions of Alabama, has a similar number.
"I haven't hunted in years, but I have through inheritance and other things, probably a dozen shotguns and stuff," Sessions told Reuters in a Capitol hallway earlier this month.

"I've got an old lever-action rifle my grandfather had, and the shotguns that my father had and my uncles had for some reason have fallen to me," Sessions said.
Republican Senators John Cornyn of Texas and Orrin Hatch of Utah are also gun owners, and a Democrat on the Judiciary Committee, Sheldon Whitehouse, said he had some shotguns.
"I've been taking my kids clay-pigeon shooting since they were very little. And I'm proud to say that my daughter actually shot for her college skeet and trap team," Whitehouse, who is from Rhode Island, told Reuters outside the Senate last week.
He said he did not think that would affect his decision-making on gun legislation in the Judiciary Committee.
"I think our focus is going to be in particular ... these high-capacity magazines, which have really no legitimate sporting or target practice, recreational use," Whitehouse said.
As for Feinstein, she said used to have a gun in the 1970s, when she was a target of a militant group called the New World Liberation Front.
"They shot out windows at my beach house, and they put a bomb at my home in San Francisco," Feinstein told Reuters. "That's when I carried a permitted concealed weapon for a period of time."
But Feinstein said it was in a holster in her purse and she thought she would probably not be able to get to it in time if she needed it. "And then I began to see really how little these guns are used for self-defense," she said. "I haven't had one for decades."
Even if lawmakers own guns legally at home, it is apparently not so easy to bring them into the Capitol complex. Graham said he had wanted to bring various unloaded firearms to the hearing in a Senate office building on Wednesday for "education" purposes.
But he was told he had to follow protocol. "The requirements to secure the weapons at the hearing are so impractical as to be unworkable," Graham said in a statement. Back in 2007, an aide to former Virginia Senator Jim Webb was arrested for trying to take a loaded pistol into a Senate office building. (Reporting By Susan Cornwell; Editing by Marilyn W. Thompson and Peter Cooney)

Before You Go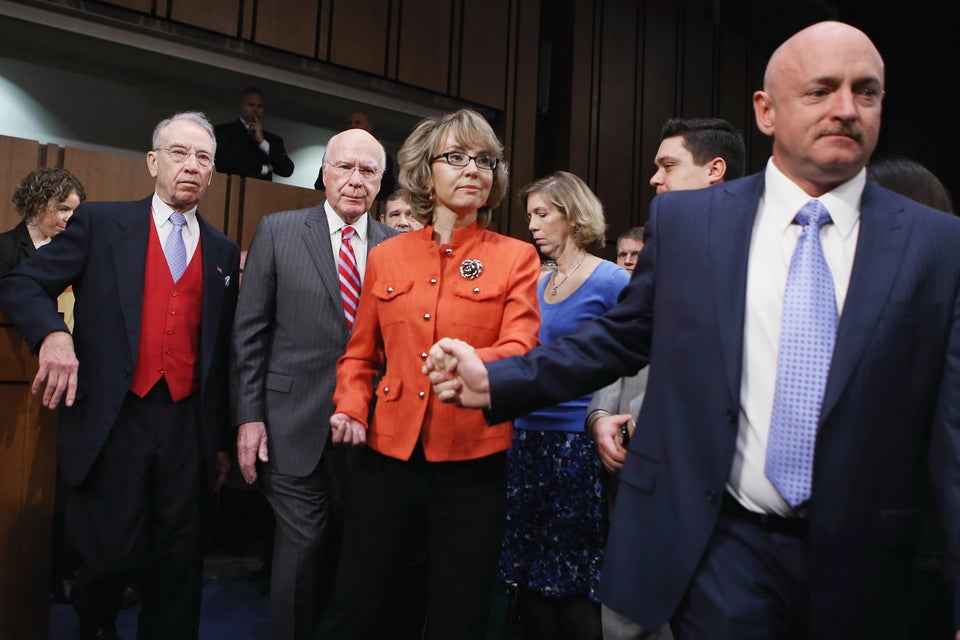 Giffords Appears At Gun Control Hearing
Popular in the Community