WASHINGTON -- Senate Majority Leader Mitch McConnell said Tuesday that he will give in to pressure and bring legislation to the floor that would limit the National Security Agency's surveillance on Americans, as allowed under the Patriot Act.
"I certainly think we ought to allow a vote on the House-passed bill. If there are not enough votes to pass that, then we need to look at an alternative," the Kentucky Republican told reporters Tuesday after meeting with the GOP caucus. "So we'll see where the Senate is. We'll find out where the votes are," he continued, not indicating when the vote would take place.
McConnell, who has floated a bill to extend the NSA's existing authority to collect bulk metadata from Americans' phone calls until 2020, has come under increasing pressure from a handful of Republicans to allow the Senate to take up the House bill. Adding to the momentum for reform is a recent appellate court decision that found that NSA program was not authorized under the Patriot Act.
The program, which began after the Sept. 11, 2001, terrorist attacks, is set to expire June 1. Under the House bill, the NSA would retain much of its capabilities, but would no longer have access to the bulk metadata collected by phone companies.
Sen. Mike Lee (R-Utah) warned on Tuesday that it would be a "big mistake" if Republican leadership didn't bring forward the House bill.

"The thought of starting with something entirely different, after we've had something pass with this super-super-majority of 338 votes in the House, would, I think, be a big mistake and a big lost opportunity," Lee told The Huffington Post.

A similar bill, authored by Sen. Patrick Leahy (D-Vt.), died in the Senate late last year. But Lee said bringing up the House bill is the best option, and that the Senate should be able to find "common ground" by debating, discussing and amending it.
"It would require some type of showing that the data requested has a connection to an actual investigation. I think that's the kind of reform that we need," Lee said.
"The president supports this. The Director of National Intelligence James Clapper supports it," he continued referring to a letter from Clapper and Attorney General Loretta Lynch that endorsed the legislation.

McConnell, on the other hand, has argued that the House bill's constriction of the NSA's spying abilities would endanger Americans. "What I think is the most important thing is to make sure we still have a program that works and helps protect the American people from attacks," he said Tuesday, indicating his continued preference for a clean reauthorization of the program passed after Sept. 11.
The majority leader's comments came after a lunch briefing by former Attorney General Michael Mukasey, who recently called for an appeal of the appellate court decision that found the metadata collection program illegal, arguing that the ruling would impede the U.S. fight against terrorism.
Senate Foreign Relations Chairman Bob Corker (R-Tenn.) echoed McConnell's sentiments. "I think we should be more robust in what we're doing, not less," he said, indicating that he prefers to see a short-term extension of the existing Patriot Act for now.
Still, Senate Republicans appear to be split, and a completely clean reauthorization of NSA powers under the Patriot Act isn't expected to pass. While McConnell is reluctant to see the NSA's surveillance capability watered down, it would be worse for his party if the NSA's authorities under the Patriot Act were to expire completely while Republicans control both chambers of Congress.
Lee said he would "object rather strongly" to the two-month extension McConnell is now floating. Another possibility, Lee said, is a "very short-term extension of maybe a couple or three weeks."
But some senators from both sides of the aisle have vowed to block even a temporary extension of the Patriot Act unless significant reforms are made.
Sen. Rand Paul (R-Ky.), now well-known for his 13-hour filibuster during the confirmation hearing for CIA Director John Brennan, threatened on Monday to filibuster an extension unless there is a robust debate and amendment process. To Paul, even the House's NSA reform bill doesn't go far enough to rein in the intelligence community's surveillance powers.
And Sen. Ron Wyden (D-Ore.) is with him, vowing on Tuesday to prevent an extension of the existing program, even with a filibuster. "I would do everything it takes -- everything, underline everything -- to prevent an extension," he told reporters.
Wyden supports the House bill, but wants to push for even stronger reforms to the NSA's power.
Jesse Rifkin contributed reporting.
CORRECTION: A previous version of this story stated the Supreme Court found that the Patriot Act did not authorize the NSA's surveillance program. It was an appellate court.
Before You Go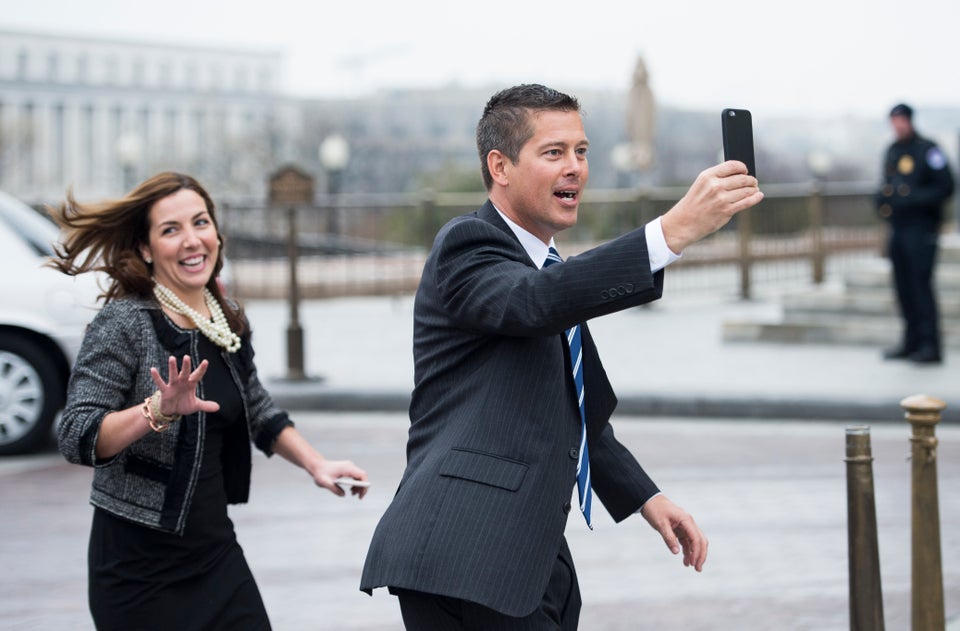 Scenes From Capitol Hill
Popular in the Community