Senate Republicans on Thursday ignited the so-called nuclear option, lowering the effective threshold for Supreme Court nominees to be confirmed from 60 votes to a simple majority.
It was a dramatic, albeit expected, step along the way to putting President Donald Trump's nominee, Judge Neil Gorsuch, on the high court. And if the chamber had just waited another week or so, it could have been avoided. That's according to one senator who was trying to broker a deal to stave off the nuclear option as recently as this week.
In an interview with The Huffington Post, Sen. Chris Coons (D-Del.) said he had talks with about 12 to 15 fellow senators about preserving the filibuster in some form for Supreme Court nominees. While Republicans and Democrats couldn't settle on the right formula for an agreement, he believed the impasse had more to do with scheduling than substance.
"I think if you'd put 10 of us on a plane and sent us on a CODEL [congressional delegation] together to Afghanistan, by the time you came back you'd have had an agreement," Coons said. "Maybe that just proves I'm an optimist."
But he said, "The amount of concern about the future of the Senate is that strong and ... the distractions of our very demanding schedules are that strong. I mean, it is very hard to catch people more than 5 minutes or 10 minutes here or there."
As the Gorsuch nomination battle unfolded, Coons was one of the few senators willing to be publicly associated with the idea of a bipartisan compromise. That came with a cost. The senator, who noted that he talked about his concerns with Democratic leadership and former Vice President Joe Biden, said he was targeted by liberal activists who opposed Gorsuch not only on jurisprudential grounds but because they believed the opportunity to fill the vacant seat had been stolen from President Barack Obama. Senate Republicans refused to hold a hearing, let alone a vote, on Obama's nominee, Judge Merrick Garland.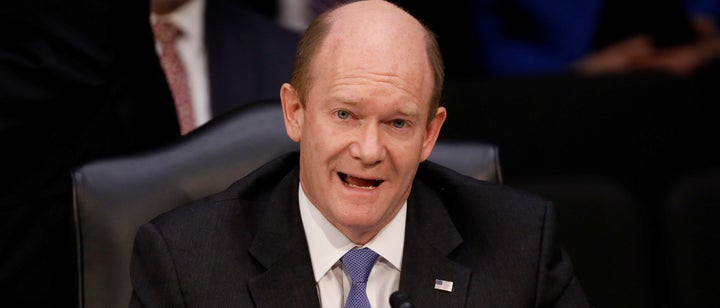 Beyond Sens. Susan Collins (R-Maine) and John McCain (R-Ariz.), few Republicans were willing to talk publicly about a bipartisan compromise either. But Coons said "a half-dozen" members of the opposite party approached him privately with concerns and proposals.
"At no point did a group of 10 senators sit down in a room, hand pieces of paper back and forth, look at each other, nod, and say, 'Yes, we can sign this,'" Coons explained. "That never happened. But there were a lot of emails and phone calls. 'Could you do this? Could you be comfortable with that? How about this?'"
While more time may have led to an agreement, Coons conceded there were major hurdles to clear on the substance of any deal. Senators did propose nominating Garland alongside Gorsuch ― an idea literally cribbed from a "West Wing" episode ― but that proposal didn't get far. A top GOP official in the Senate told HuffPost there was talk of confirming Gorsuch in exchange for codifying, in some way or another, the ability of Democrats to permanently block the next Supreme Court nominee, if they chose.
One idea that gained some traction, according to Coons, involved lowering the filibuster threshold without eliminating it entirely. He described this as a "swap." The Senate would restore the option to filibuster nominees to Cabinet and sub-Cabinet posts and district and circuit court seats ― which then-Majority Leader Harry Reid (D-Nev.) had eliminated when he went nuclear in 2013. But instead of requiring 60 votes to break those filibusters, the bar would be dropped to 55 or 56. In exchange, the filibuster bar for Supreme Court nominees would also be lowered to 55 or 56.
"Given the number of Democrats already committed to Gorsuch, you'd get him through and not have to change the rules" significantly for Supreme Court nominees, Coons explained. "There were a number of senators interested in that, but none that say, 'Yeah, let's take it.'"
Ultimately, the pressure on lawmakers weighed far more toward creating a nuclear option confrontation than finding a deal to avert one. Outside groups weren't the only people agitating for a standoff, Coons suggested. The senator said it was certainly his "impression" that "some folks in the Republican leadership didn't want a negotiated solution" either.
A Republican leadership aide dismissed that suspicion, saying that no deal was offered that would have been alluring enough that GOP leadership had to act to keep their members in line.
"It didn't require any discouragement not to take a bad deal," the aide said.
Want more updates from Sam Stein? Sign up for his newsletter, Spam Stein, here.
Sign up for the HuffPost Must Reads newsletter. Each Sunday, we will bring you the best original reporting, long form writing and breaking news from The Huffington Post and around the web, plus behind-the-scenes looks at how it's all made. Click here to sign up!
Calling all HuffPost superfans!
Sign up for membership to become a founding member and help shape HuffPost's next chapter