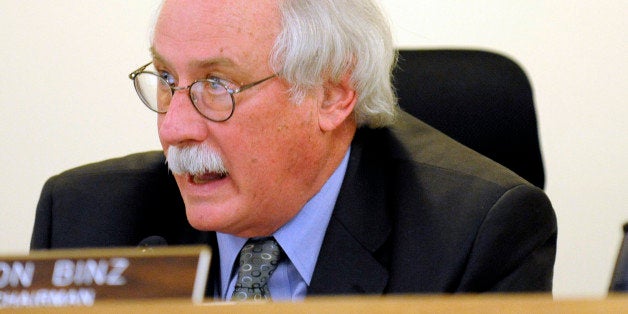 WASHINGTON -- The coal industry is working to defeat a key energy nominee in a battle that has fractured the fossil fuel coalition and threatens to derail the president's climate action plan. Oil and gas interests have formed an unusual alliance with environmentalists who are rallying to back Ron Binz to head the Federal Energy Regulatory Commission.
But even an alliance of oil, gas and green groups might not be enough for Binz. The chairman of the Energy and Natural Resources Committee, Sen. Ron Wyden (D-Ore.), warned the White House that Binz would face an uphill climb in his committee, according to a person familiar with the exchange. The administration went ahead with the nomination. (A Wyden spokesman denied that the chairman had cautioned the White House against Binz.)
Democrats hold a 12-10 membership advantage on the panel, but coal has one key ally: Sen. Joe Manchin, a Democrat from the coal state of West Virginia. An 11-11 tie would block Binz. Sources inside the debate say that Manchin has made it clear that he is firmly opposed to Binz's nomination, meaning that a united GOP opposition would sink him. A spokesman for Manchin declined to comment.
Manchin's opposition shifts the focus to Sens. Mary Landrieu (D-La.) and Lisa Murkowski (R-Alaska).
Landrieu hopes to chair the committee should she win reelection in 2014, but would have a tough time winning the gavel if she sinks the president's key nominee. Operatives on both sides said she is expected to vote yes; a Landrieu spokesperson said she has yet to declare a position.
Murkowski, the ranking minority member of the committee, is a "wild card," as one coal advocate put it. She has been outspoken about her climate change concerns, and her home state is already living with the consequences of a fast-warming planet. And while fossil fuels are king in Alaska, oil and gas are the major players, rather than coal. Robert Dillon, a Murkowski spokesman, said that her staff is still reviewing Binz's record and the senator is undecided at this point.
Murkowski has signaled that she'll be tough on Binz during his confirmation hearing, said a K Street source working on the issue. Murkowski, though, owes little to party leaders, having won as a write-in candidate in 2010 against a GOP-backed insurgent.
Longtime K Street operatives, Hill staffers and regulators say they have never seen a fight of such intensity over as obscure a position as head of FERC. The battle, in short, is over the administration's plans to address climate change.
"It's a microcosm of the larger ideological conflict between Congress, and specifically House Republicans, and the president's climate plan," Ben Cole, a spokesman for the Koch-funded American Energy Alliance, told The Huffington Post. "It's a perfect storm right now for the administration, one they didn't see in their political meteorology," he added of the intensity of the opposition.
The stage for the fight was set when The Wall Street Journal ran a scathing editorial headlined "Ron Binz's Rules for Radicals," a reference to community organizer Saul Alinsky, whom the right believes is Obama's ideological mentor. Such WSJ editorials don't typically generate themselves and suggest that at least one major industry group has a vested interest in the outcome of the fight.
As the top energy regulator in Colorado, Binz made enemies in the coal industry by pushing utilities to switch to natural gas, which emits far less of the greenhouse gases associated with climate change. Several Binz allies in Colorado assume the coal campaign against Binz is payback, but Cole said that opponents of the president's climate change plan see the FERC panel as an increasingly important link.
FERC regulates the interstate transmission of electricity, natural gas and oil -- including interstate power lines, wholesale prices and pipelines -- which means it plays a fairly important role in shaping the country's overall energy policy. Among the biggest expenses for solar and wind is transmission, as the energy must be transported from the desert or plains to populated areas. The coal industry worries that FERC could tip the balance in favor of renewable energy transmission.
"In order to deal with the transmission issues related to renewables, the president must have a FERC commission that will buy into the plan. He has to have those three votes, and he has to have a FERC chairman who sets the agenda," Cole said.
Several industry groups representing the coal industry declined to comment on the record on the Binz nomination, but neither are they keeping their position a secret. "I certainly get the impression that a number of companies are concerned that [Binz] might use his position at FERC to disadvantage coal-fired generation, given the role he played in Colorado," said Jeff Holmstead, a partner at the law firm and lobbying group Bracewell & Giuliani, which represents coal and other energy interests. "I think envisioning somebody like that at FERC makes people nervous."
"If Binz was nominated to the FERC chairmanship to raise electricity rates and advocate for one-sided, pro-renewable policies, then yes, he does appear to be uniquely qualified to do that," wrote Travis Fisher, a policy associate at the fossil fuel-backed research organization Institute for Energy Research, last month.
But the oil and gas lobby has issued more tepid public statements. "As senators consider Mr. Binz's nomination, we hope they keep in mind the game-changing impact America's oil and natural gas renaissance is having on our economy and energy security," said Brian Straessle, a spokesman for the American Petroleum Institute.
The Green Tech Action Fund is backing a PR effort to get Binz confirmed, working with the consulting firm Venn Squared to rebut attacks on Binz and help shape his public image, a rarity for a relatively obscure position. GTAF is a project of the Energy Foundation, a California-based philanthropy that supports clean energy advocacy groups. One of the Energy Foundation's biggest supporters is Tom Steyer, the billionaire clean-tech investor (the group said Steyer is not personally involved in this particular effort). "GTAF is very committed to fostering clean energy markets and clean energy policy," said a GTAF spokesperson. "[Binz] is a candidate they feel furthers that goal, so that's why they've gotten involved."
Renewable advocates are enthusiastic about Binz. "He's being mislabeled as an extremist," said John Jimison, managing director of the Energy Future Coalition. "He's a very reasonable, consensus building kind ... he was that way as a regulator, and I'm sure he'd be the same as a commissioner."
Venn Squared put HuffPost in touch with a number of Colorado energy players who had warm things to say about Binz, including Skip Arnold, an executive at a utility that was acquired by Xcel Energy. "My experience with him is he's balanced. He looks at the views of the constituencies he's charged with looking at. He doesn't pay attention to one over the other," said Arnold.
That there's even a fight over FERC has surprised many observers in Washington. A bipartisan group of 12 former FERC commissioners wrote to The Wall Street Journal in support of Binz in the wake of the paper's editorial opposing his nomination. The former commissioners say that FERC has traditionally worked across party lines to find consensus on regulatory issues and should not be the subject of partisan squabbles in the Senate.
"I'm frankly outraged by the process that these appointments have become," said Nora Mead Brownell, a George W. Bush appointee who served as a FERC commissioner from 2001 to 2006. "They've become political battlegrounds where good people are torn apart because someone doesn't agree with their policies. The role of the Senate is to approve based on whether they're qualified or not, not whether they agree with that appointee."
"The president gets to appoint," said Brownell. "Sorry you don't like it, but that's the way the rules work."
Calling all HuffPost superfans!
Sign up for membership to become a founding member and help shape HuffPost's next chapter
BEFORE YOU GO
PHOTO GALLERY
Connect The Dots On Climate Change