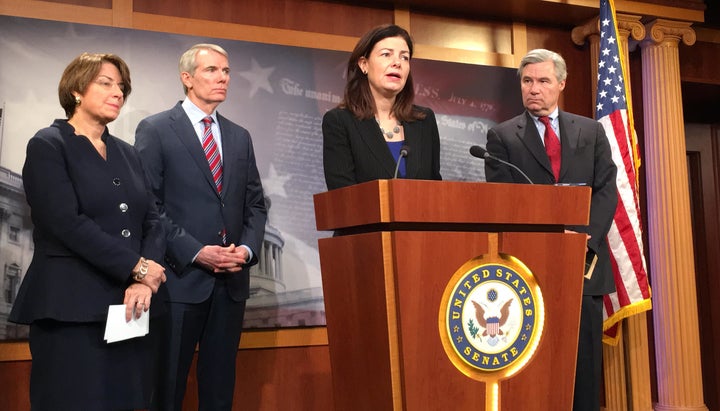 WASHINGTON -- After an uncertain and at times rancorous debate, the U.S. Senate on Thursday did the unthinkable: It passed a major piece of legislation by a nearly unanimous vote.
The sweeping bill, targeted at the opioid epidemic, aims to bend drug policy away from punishment and toward a public health approach. Along the way, Republicans beat back an effort to inject hundreds of millions of dollars into enforcement-centered approaches.
The opioid crisis has been ravaging communities for more than a decade, but has only recently caught the attention of national policymakers. While the crisis has particularly devastated white, rural areas, nobody has been immune. Heroin overdose death rates tripled between 2010 and 2014 among African-Americans. During those same years, the overdose death rate for Hispanics jumped by 137 percent, while the rate for Native Americans increased 236 percent and the rate for whites increased 267 percent, Frontline reported recently as part of an investigation into the opioid treatment industry.
The bill, known as the Comprehensive Addiction and Recovery Act (CARA) of 2015, was approved in a 94 to 1 vote. Sponsored by Sens. Rob Portman (R-Ohio) and Sheldon Whitehouse (D-R.I.), the legislation was the product of nearly three years of work across the aisle.
"This is a strong signal that the United States Congress now understands this issue," Portman told reporters after the vote. He added that the bill has 92 co-sponsors in the House.
"If the House does not act, then the Senate's work is a sham," Whitehouse said. Portman added that he has already left a voicemail for and texted his friend House Speaker Paul Ryan (R-Wis.).
While the opioid problem is often framed as a result of a lack of available treatment, many people who die did in fact go through treatment. An equal or greater problem is that the dominant treatment itself doesn't often work. Importantly, this new bill shifts the emphasis of the treatment industry away from what's known as "abstinence" and toward medication-assisted treatment. The latter strategy is proven to be a more effective means of helping those with a substance abuse problem, but is stigmatized by a dogmatic treatment community that often opposes any intervention by prescription medications. (Read HuffPost's previous investigation into the treatment industry here.)
"This authorization bill, in conjunction with the $400 million appropriated for opioid-specific programs just a few months ago, can make important strides in combating the growing addiction and overdose problem we've seen in all 50 states," Senate Majority Leader Mitch McConnell (R-Ky.) said ahead of the vote.
Still, the $400 million is only about a third of what the White House has said is needed to address the crisis.
Over the past two months, senators ramped up focus on the heroin and opioid epidemics, giving Senate floor speeches and holding press conferences on the issue. It's a stark change from "war on drugs" messaging in past decades.

Few changes were made to the bill during debate, but a handful of amendments were attached, including one from Sen. Joe Donnelly (D-Ind.) aimed at providing follow-up services to people who have received opioid overdose reversal drugs.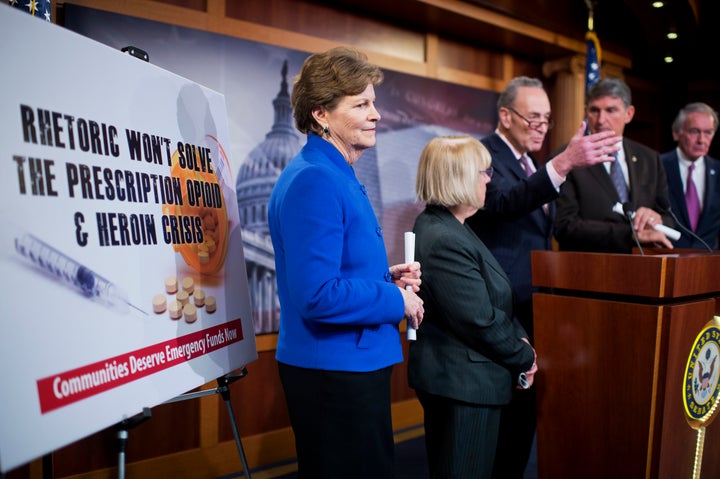 Sen. Jeanne Shaheen (D-N.H.) expressed disappointment that the bill didn't include more immediate funding to combat the epidemic.
"CARA is good legislation that will help fight the heroin pandemic in the long term," Shaheen said in a press release after CARA's passage. "However, without real dollars behind this bill, it's the equivalent of offering a life preserver with no air in it. The Senate must rise to meet this challenge as it has done in previous health emergencies. There is simply no excuse for Congress providing emergency funding for the Ebola and swine flu epidemics, while ignoring an opioid crisis that's killing a person a day in the Granite State."
Shaheen offered an amendment to CARA that would have approved $600 million in emergency funding to help law enforcement combat heroin addiction and improve tracking of prescription opioids. Half of that money would have gone to the Department of Health of Human Services to fund programs related to prevention, treatment and recovery support, with one portion specifically allocated to improving treatment for pregnant and postpartum women.
Republicans stopped the amendment, with some critics saying it was too punitive because it dedicated hundreds of millions to drug enforcement.
"CARA is clearly a step in the right direction, while the Democratic alternative looks like something out of the 1980s," said Bill Piper, a top official with the reformist group Drug Policy Alliance, which is typically more sympathetic to Democratic approaches.
Ahead of Thursday's vote, a trio of Senate Democrats took to the floor to assail Republicans for blocking Shaheen's amendment. In coordinated speeches, Senators Bob Casey (D-Pa.), Sherrod Brown (D-Ohio) and Whitehouse joined each other on the chamber floor.
"The ideas in this bill are an important first step to tackling the epidemic, but they're just a first step," Brown said. "On their own they are not nearly enough to put a dent in this epidemic. The initiatives are going to mean very little without additional funding to back them up."
Republicans argue that the $400 million appropriated in the omnibus last year can go toward CARA programs, while Whitehouse, who helped author the legislation and praised it, thinks that is not likely to happen.
While one could make the case the programs crafted under CARA are more effective than those previously funded under the appropriations process, Whitehouse said, "Let's not pretend there is money for this."
While the White House too criticized the bill for not including the funding necessary to implement the steps prescribed in the legislation, it praised all other aspects of it. The bill is expected to face a harder battle in the House, but if it reaches the White House, the president is expected to sign it.
Last year, Sen. Edward Markey (D-Mass.) and Sen. Rand Paul (R-Ky.) introduced legislation that would make medication-assisted treatment more available -- mainly by raising the number of patients that certified doctors could treat with buprenorphine (commonly sold under the brand name Suboxone). Current regulations stipulate that doctors can only prescribe buprenorphine to 30 patients at any one time during their first year working with the medication and 100 patients during subsequent years. Last fall, the Department of Health and Human Services announced that they were looking to reform the regulations on the buprenorphine caps.
A Markey aide told HuffPost via email that his medication-assisted treatment bill may get a mark up in the Health, Education, Labor, and Pensions Committee next week. "The Senator plans to work closely with HELP leadership as that bill gets marked up and to advocate for it making it to the full Senate for a vote," they wrote.
The aide added that Markey plans to push for mandatory prescriber education on opioids, and ensure advisory committees are established at the FDA for opioid approval decisions -- provisions that didn't make it into the final CARA bill. Markey will also advocate to increase funding for states through appropriations.
Dr. Kelly Clark, president-elect of the American Society of Addiction Medicine, recently told HuffPost that her organization sees CARA as a "down payment on really attacking the epidemic." But she notes that the bill does not include a provision to lift the cap on the number of patients a doctor can treat with buprenorphine.
"There's still a lack of access to the most evidence-based treatment for opioid addiction, which is medication used in the treatment of opioid addiction," Clark said. "Funding from the federal government in and of itself will not increase access to that treatment. ... It's imperative that this Congress addresses that 100-patient limit."
The bill almost got hung up in 2016 politics along the way to passage. Portman was joined in sponsoring the bill by Sen. Kelly Ayotte, a Republican up for reelection in New Hampshire. Portman and Ayotte are top targets of Democrats, and several weeks ago Sen. Chuck Schumer (D-N.Y.) held a press conference to assail the bill for a lack of funding.
HuffPost reported at the time that Whitehouse had refused to attend Schumer's event, for fear of politicizing the issue. He appeared Thursday with Portman and Ayotte. When asked how the tone had changed between the last press conference and this one, he said, "Like I said, I wasn't at that last one, so I'm the wrong guy to ask."
Otherwise, though, politics were strangely absent from the Senate on Thursday. Standing beside Whitehouse and Portman, Ayotte nearly choked up.
"We're at risk of losing a whole generation," Ayotte said.
Whitehouse ended the gathering with reporters by saying that those on the "noble" path to recovery are deeply courageous, and "entitled to our pride, as well as our affection and sympathy."
Portman put the bill in life-and-death terms. "There will be fewer people who will lose their lives," he said. "That's what's at stake here."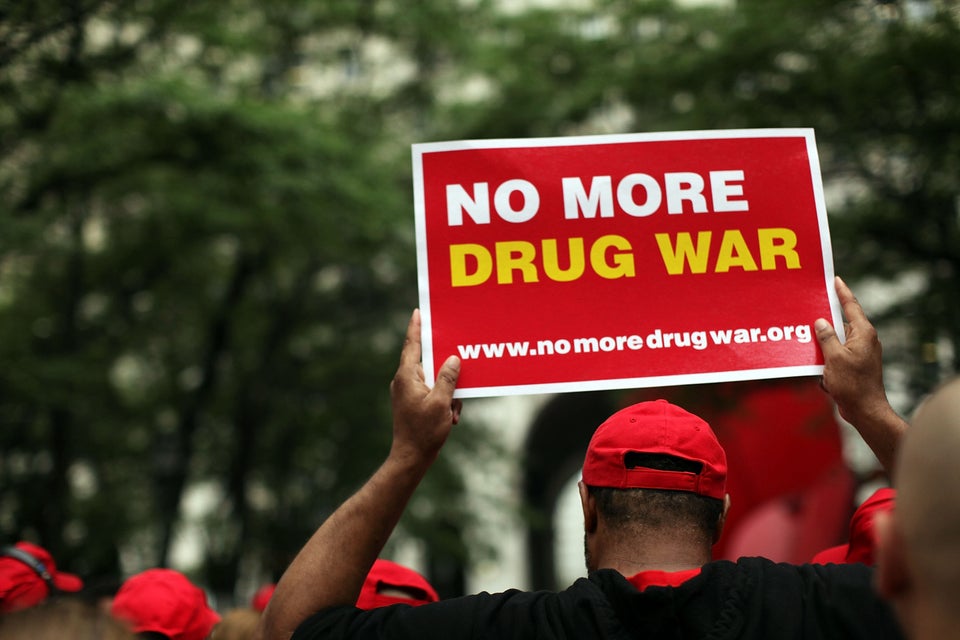 27 Reasons Why U.S. Shouldn't Lead War On Drugs
Popular in the Community