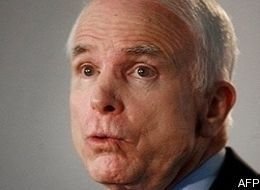 In an overwhelming show of support for our nation's veterans Thursday evening, 92 U.S. Senators voted in favor of the 21st Century GI Bill; also known as the Post 9/11 Veterans Educational Assistance Act. Perplexingly, 6 Republican Senators opposed the measure by voting "nay". There were only two Senators who were not present for the vote. One, Sen. Edward "Ted" Kennedy, is battling for his life against brain cancer after undergoing surgery to remove a malignant glioma. The other, Sen. John McCain, actually had the gall NOT to show up for the vote. He claims to support the 21st Century GI Bill, but never endorsed the bill in the Senate; even going as far as introducing a competing GI Bill that would have left the average veteran with $20,000 in student loans. It is certainly not the kind of behavior one would expect of a candidate for the United State Presidency, especially one who is a veteran himself.
The bill now heads to the President's desk attached to the 2008 war supplemental. Hopefully, the President will show up and support our veterans; unlike his elderly presidential apprentice.
Calling all HuffPost superfans!
Sign up for membership to become a founding member and help shape HuffPost's next chapter