WASHINGTON (Reuters) - Senate Republicans are planning a vote in coming days on legislation to cut $500 million in annual federal funding for Planned Parenthood, reigniting a fight in Congress over abortion that has long been dormant.
For years a target of conservatives, Planned Parenthood has come under increasing scrutiny recently due to secretly recorded videos about its role in supplying aborted fetal tissue for medical research.
Anti-abortion group Center for Medical Progress on Tuesday released the third of a series of videos that it says prove Planned Parenthood staff sell fetal material from abortions for profit.
Senate Majority Leader Mitch McConnell told reporters he was holding meetings with Senator Rand Paul, a fellow Republican, and others to "see if we can have a meeting of the minds on the best way to craft a measure to deal with the horrendous videos that we've all been viewing."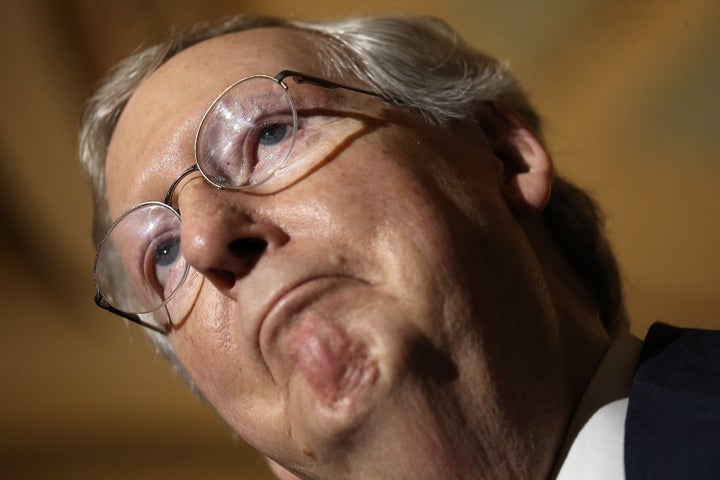 A vote could come before the Senate enters a five-week summer break, as early as this week, but Republicans might struggle to get the 60 votes needed for approval.
Paul, who is also a presidential candidate, has introduced legislation to prohibit federal funds for Planned Parenthood, which provides screening, contraception services and abortions at clinics nationally.
It receives about $500 million annually in federal funding, although that money cannot be used for abortions.
Planned Parenthood says the videos are the latest attack in a campaign against it and denies any wrongdoing. It says abortions comprise only 3 percent of its services.
The latest video shows what appears to be a Planned Parenthood doctor in a clinic discussing the price of fetal tissue with an actor pretending to be a potential buyer.
Someone in the video pokes flesh-like material with tweezers in a glass and the undercover actor points out what he says are tiny intact kidneys that a medical assistant describes as worthy of "five stars."
They discuss prices for fetal tissue.
"If we were doing like $50 to $75 per specimen, that'd be like $200 to $300 (total), and we'd be comfortable with that," the actor says.
The woman identified as a doctor replies, "I think a per-item thing works a little better just because we can see how much we can get out of it."
Federal law prohibits the trade of fetal tissue for profit but allows for donations for research or transplantation. Donors can receive "reasonable payments" for expenses such as transportation, processing and storage of the material.
"It's outrageous, not to mention wildly unpopular, that politicians are using this widely discredited attack against Planned Parenthood to push through legislation rolling back women's access to healthcare," Dawn Laguens, a Planned Parenthood executive, said in a statement.
Republicans have been gunning for the group for years, but do not want to be seen as anti-women with the 2016 presidential election approaching.
The Republican-controlled House of Representatives in 2011 voted to starve Planned Parenthood of money but the measure was never enacted into law.
While public opinion has swung clearly in favor of liberals on one front in the culture wars - gay marriage - Americans remain divided over abortion.
A total of 44.5 percent of Americans think abortion should be legal in most or all cases, compared to 42.3 percent who believe it should be illegal in most or all cases, according to a Reuters/Ipsos online poll.
Advances in ultrasound technology in recent decades have helped shore up opposition to abortion, said Lila Rose, a leading anti-abortion campaigner.
"Having the ultrasound on the fridge, baby pictures from the womb onward, is extremely compelling for millennials and shows the humanity of the child from the beginning," she said.
(Writing by Alistair Bell; Editing by Tom Brown)
Calling all HuffPost superfans!
Sign up for membership to become a founding member and help shape HuffPost's next chapter