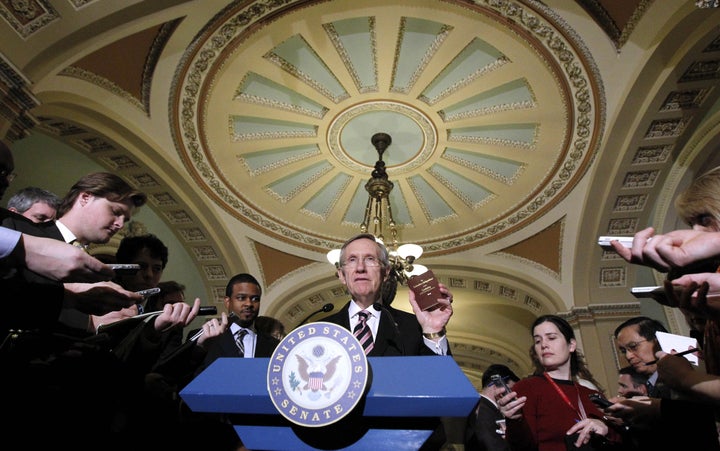 WASHINGTON -- Faced with the prospects of having to literally read the full 1924 pages of an omnibus spending bill, Senate Majority Leader Harry Reid (D-Nev.) chose on Thursday night to pull the measure in favor of a continuing resolution to keep government funding.
Republicans, presented with the news, could barely hide their glee. "Did we just win?" asked newly elected Sen. Mark Kirk (R-Ill.), a rhetorical question that seemed to engender sharp rebukes from Democrats.
Kirk was directing his remarks to Sen. John McCain (R-Ariz.), who had chastised the spending bill as a pork-filled "monstrosity" before relating his sadness at no longer being able to make examples out of the earmarks in the measure.
That, of course, was a rather one-sided if not unfair description of the bill. And what McCain left out of his remarks was the fact that Republican Senators had inserted their own earmarks into the legislation. Senate Minority Leader Mitch McConnell (R-Ky.), who said his preference was for a one-page "clean" substitute, had more than $100 million dollars worth in spending earmarks in the measure. The Minority Leader had also encouraged Democrats to pursue an omnibus rather than a continuing resolution before the November election.
"Though some of my Republican colleagues in recent days have publicly distanced themselves from the idea that members have a role to play in the appropriations process, nearly all of them did nothing privately to withdraw their priorities from this bill," said Reid.
With defeat on the omnibus, however, came some promise for Democrats. In pulling the spending bill from consideration, Reid announced that he was filing cloture on two of the party's other major priorities: the DREAM Act, which would grant pathways to citizenship for children of illegal immigrants, and the stand-alone repeal of Don't Ask Don't Tell, the military law that restricts openly gay members from serving.
Votes on those measures, a leadership aide told The Huffington Post, would now come on Saturday morning. DREAM will go first, followed by DADT. The former has, it is believed, less of a shot at passage than the latter,
Once the Senate casts those Saturday votes, members will return to debating the START nuclear non-proliferation treaty.
Popular in the Community