WASHINGTON - In a wide-ranging hearing on Thursday, a Senate panel set its sights on the tremendous growth of a tiny Iowa college that has become one of the nation's largest for-profit universities in just six years.
Ashford University, once a near-bankrupt college run by a group of Franciscan nuns in rural Iowa, has mushroomed from fewer than 400 students in 2005 to more than 76,000 at the end of last year, after the Iowa school was purchased by a San Diego corporation. That company, Bridgepoint Education Inc., was the focus of Thursday's hearing by the Senate Health, Education, Labor and Pensions Committee, but representatives from Bridgepoint did not attend the hearing.
On Thursday, the company went live with a well-polished marketing web site entitled "Bridgepoint Education Transparency," in response to the hearing. A spokeswoman for Bridgepoint did not respond to a request seeking comment, but the site noted that executives did not attend because they are still sorting out past problems with the government involving misappropriation of federal student aid money.
The hearing instead focused on the question of how a gargantuan online college, larger than the University of Texas, could sprout up almost overnight.
"Wouldn't that kind of massive increase trigger some sort of fundamental review?" asked Sen. Jeff Merkley, D-Ore.
The answer lies with the process of regional accreditation, an obscure realm of oversight in higher education that gives a de facto seal of approval to universities, allowing accredited institutions access to billions of dollars in federal student aid.
In the case of Ashford University, that money is a crucial factor fueling rapid student growth and skyrocketing profits for the parent corporation. Last year, Bridgepoint received 85 percent of its revenue from federal student aid money.
But the growth has come amid growing student loan default for students at Ashford and dropout rates in excess of 60 percent after two years. Several senators at the hearing hinted at the possibility of reforms to the accreditation process.
Sylvia Manning, the president of the Chicago-based Higher Learning Commission, which accredits Ashford, testified that the commission was "a bit behind the curve" when the group decided in 2005 to carry over the stamp of approval from tiny Franciscan University of the Prairies to the new owner, Bridgepoint.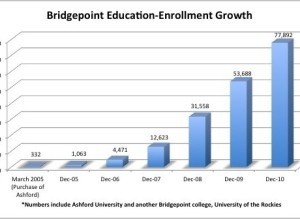 "When it was acquired by Bridgepoint, suddenly Bridgepoint was accredited and it grew this superstructure of this enormous online institution," said Manning, who was not at the Higher Learning Commission when the transfer took place. "Because we had pretty much not seen that kind of thing before, we didn't have the tools that we now have either to predict that or control that."
But Sen. Tom Harkin, D-Iowa, who has chaired a number of hearings related to the for-profit college industry, had a number of pointed questions about what he implied were shortcomings in the accreditation process.
Drawing from internal documentation requested by the committee, Harkin asked why the Higher Learning Commission had no problems with the fact that Ashford employs more than 1,700 recruiters to aggressively pursue new enrollments for the school, but has only one career placement employee.
The committee also released information, based on internal documents from Bridgepoint, showing that the company spends almost four times as much money recruiting students than educating them. Based on calculations performed by the Senate committee staff, the school spends $2,714 per student on recruiting costs, and $700 per student for instructional costs.
Harkin also questioned how the Higher Learning Commission found in a recent Ashford evaluation that "sufficient faculty and support resources are provided to deliver a quality learning experience for students," despite the fact that 65 percent of four-year students withdraw from Ashford within two years of enrolling. The only problems with growth noted in the report dealt with issues at the Iowa campus: a lack of parking spots and a crowded cafeteria.
Manning said she had not seen the dropout data Harkin was referencing.
"If indeed it turns out that those are the data, and students didn't complete their programs, I think those numbers are irreconcilable," she said.
She stressed that the accrediting body has made changes in recent years, including a more vigilant survey of online students and a mechanism that can pinpoint huge growth at a college - the issue that went undetected at Ashford.
Harkin stressed at the end of the hearing that the current accreditation setup is inadequate for larger for-profit colleges that draw in students from across the country.
"The question for any accrediting agency is, 'Are they really equipped to oversee the quality of a billion-dollar multi-state corporation?' I don't think so," Harkin said. "We either have to change the accrediting agencies and what they do and how they do it, or set up some new kind of regulatory framework in how they deal with these multi-state corporations."
Calling all HuffPost superfans!
Sign up for membership to become a founding member and help shape HuffPost's next chapter