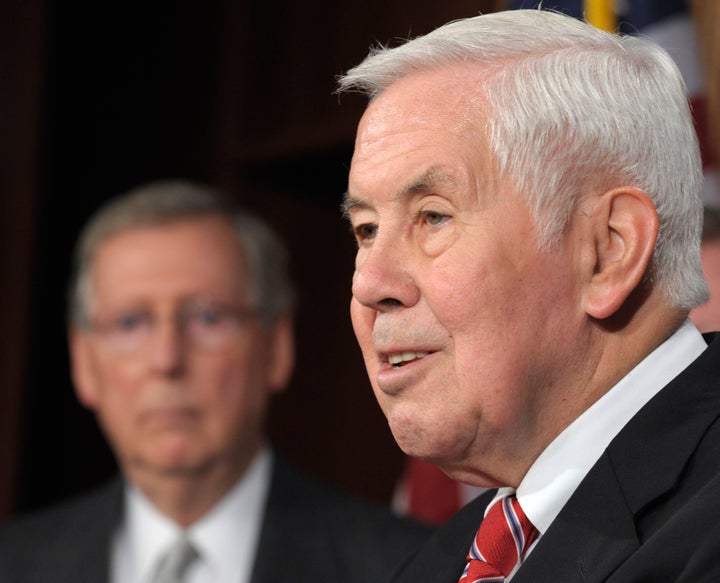 WASHINGTON -- Six-term Sen. Richard Lugar (R-Ind.) seemed all alone in facing an insurgent Tea Party primary challenge from state treasurer Richard Mourdock, who is backed by big money from the Club for Growth and FreedomWorks. In the past few weeks, however, top GOP senators, establishment Republican groups, and big-name donors have stepped in with a mix of ads touting Lugar's long career and blasting Mourdock in an effort to save the embattled incumbent.
On Tuesday, Sen. John McCain (R-Ariz.) and Indiana Gov. Mitch Daniels (R) endorsed Lugar and announced they would cut ads to support him. Last week, the American Action Network, a conservative group with ties to the Republican Party in Washington, D.C., launched a campaign of negative ads against Mourdock, costing $590,000. Major donors, including former fundraisers for President George W. Bush and McCain, are putting money into pro-Lugar super PACs.
Lugar, moreover, isn't the only incumbent or establishment Republican candidate receiving strong support from big donors through super PACs and political nonprofits. This election cycle the GOP establishment has turned to these new unlimited-money vehicles to help tamp down the Tea Party insurgency that many in the top tiers of the party blamed for the Republicans' failure to take control of the Senate in 2010.
Super PACs and political nonprofits, despite arguments that they have expanded the ability of competitors to challenge incumbents, may actually be doing the opposite. The flow of money released by the 2010 Citizens United and SpeechNow.org decisions has encouraged independent GOP establishment-oriented groups and donors to get involved in primary contests that had previously been dominated by the more radical Club for Growth and FreedomWorks.
This has a double benefit: Incumbents and GOP insider choices are receiving financial support, while the party's hands are kept clean, as the national party organs do not have to step in to fight their conservative base.
In Utah, Sen. Orrin Hatch appears to be successfully fighting back a Tea Party challenge with the help of the American Action Network. In Texas, Lt. Gov. David Dewhurst has the support of two super PACs, backed with major contributions from the biggest Republican donors, against a challenge from former state Solicitor General Ted Cruz, who is supported by Tea Party-aligned groups including the Club for Growth and FreedomWorks.
The effort is even evident at the presidential level where Mitt Romney has become the presumptive Republican nominee with the help of a super PAC backed by establishment GOP money. Restore Our Future spent more attacking Romney's top two competitors, Rick Santorum and Newt Gingrich, than those two candidates together spent on their entire campaigns through the end of February.
Along with the help of the American Action Network, two super PACs have launched in Indiana to back Lugar. Hoosiers for Jobs, which has already run ads attacking Mourdock, is funded by former Bush bundlers Sam Fox, Roy Pfauch and Frank Islam.
In an invitation to a Lugar fundraiser sent out last year, Fox warned donors to support the senator against "a formidable competitor." He warned that if Republicans did not take control of the Senate (and President Barack Obama was reelected), the country would slip into "European-style socialism" in which "a majority of people become dependent on government handouts and where tax cuts become virtually impossible." What Fox did not state was that the "formidable competitor" was a fellow Republican.
The American Action Network has telegraphed that its efforts to support Lugar stem from a fear that Mourdock would hurt Republican chances of taking back the Senate. "We're investing in this race now because a Mourdock primary victory would only embolden [Senate Majority Leader] Harry Reid and his liberal allies this November," the group said in a recent release.
Down in Texas, the two super PACs supporting Lt. Gov. Dewhurst have raised a combined $1 million to beat back the insurgent Cruz. Donors to the Conservative Renewal PAC and the Texas Conservatives Fund include the most giving names in Republican donor circles, like Harold Simmons, Bob Perry and Kenny Troutt. Simmons, the second biggest super PAC donor this election cycle, gave $500,000 to the Conservative Renewal PAC, and Perry, the third biggest super PAC donor, gave $100,000 to the Texas Conservatives Fund.
The mission statement of Conservative Renewal PAC states that Dewhurst is "under fire by special interest groups including well-funded 'Super PAC's' from outside of Texas and he needs us to fight for him." Again, there's no notice that the candidate's main competitor is a Republican.
While it is unlikely that a GOP candidate, whether the establishment or the Tea Party choice, would lose in either Texas or Utah, Republicans fear having to divert funds from closer races in other states, as they did in 2010.
In the last electoral cycle, Republican candidates like the fire-breathing Tea Partier Sharron Angle in Nevada, the inept Christine O'Donnell in Delaware, Ken Buck in Colorado, and Linda McMahon in Connecticut all lost general election races that many believed could have been won by more seasoned candidates. Investing money in their races sucked party funds away from other close contests, like the nail-biter in Washington won by Democratic Sen. Patty Murray.
After the 2010 midterm elections, Sen. Lindsey Graham (R-S.C.) observed, "Candidates matter." Karl Rove, the current don of Republican establishment-oriented outside groups, called O'Donnell's loss in Delaware "a lesson." And former Senate majority leader-turned-lobbyist Trent Lott said, "We did not nominate our strongest candidates."
None other than Sen. Lugar explained on CNN's "State of the Union" in December 2011, "They were people who claimed that they wanted somebody who was more of their Tea Party aspect, but in doing so, they killed off the Republican chances for a majority. This is one of the reasons why we have a minority in the Senate right now."
Correction: An earlier version of this article stated that the American Action Network spent $300,000 to support Sen. Dick Lugar in Indiana. The correct amount is $590,000.
Popular in the Community