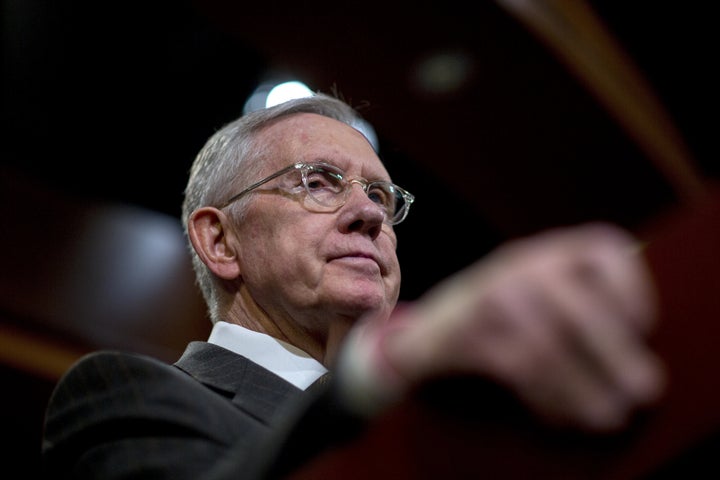 WASHINGTON -- A Republican bill aimed at making it harder for Syrian and Iraqi refugees to resettle in the U.S. was blocked in the Senate on Wednesday -- and with it, a bit of trolling from Democrats who said they'd support moving forward in exchange for guaranteed votes on amendments.
Specifically, Senate Democratic leaders wanted to make Republicans go on the record about whether they agree with GOP candidate Donald Trump that the U.S. should keep out Muslim immigrants and visitors.
Senate Minority Leader Harry Reid (D-Nev.) said earlier in the day that his caucus would agree to move forward with a controversial refugee bill in exchange for Republican leaders' promise that they will get votes on four amendments -- including one meant to denounce Trump's proposal.
That isn't going to happen, at least for now, because Democrats elected to block the bill instead. But they're are still using Trump to hammer Republicans over the bill, since he supports keeping Syrian and Iraqi refugees out of the U.S.
Reid said at a press conference that the bill was "just another step in the absolute wrong direction. The direction of Trump."
Senate Minority Whip Dick Durbin (D-Ill.) said Republicans have "declared war" on refugees. "I don't understand why they ignore the fact that these people are going through closer scrutiny, more investigations, more questions and more delays than any visitors to the United States from any other country."
"They are so smitten by the Republican presidential candidates they can't wait to bring it to the floor," he said.
The refugee bill needed 60 votes to proceed, and received only 55. Forty-three Democrats voted against it. The White House and advocates have warned that the bill could further stall a slow-moving refugee admissions process, harming vulnerable individuals already living in poor conditions.
The bill, which got its first vote in the Senate on Tuesday, aims to "pause" the resettlement of Syrian and Iraqi refugees, based on the claim they cannot be adequately screened. The same legislation was approved in the House in November with 47 Democratic votes, giving it a veto-proof majority. It would have needed a two-thirds majority in the Senate to override a veto -- a heavier lift, since there are only 54 Republicans.
The bill wouldn't have technically stopped refugee resettlement, but it would have added requirements to an already-lengthy process and put political pressure on officials to withhold approval of refugees by making them personally sign off on individuals from Syria and Iraq.
As House Homeland Security Committee Chairman Michael McCaul (R-Texas) put it in November, "They own it. It's their responsibility."
Republican leaders insisted the bill -- as indicated by its name, the SAFE Act -- was about the safety of American citizens. Senate Majority Whip John Cornyn (R-Texas) said at a Republican press conference that Reid was injecting presidential politics into the bill debate.
"This isn't about banning refugees, it simply is not," he said.
The bill is highly political. Nearly every Republican presidential candidate has said the current refugee-screening system isn't good enough. GOP candidate Sen. Marco Rubio (R-Fla.), who has missed a number of votes, came back to Washington from the campaign trail specifically to vote on the bill, according to his campaign. Sen. Ted Cruz (R-Texas), another GOP presidential candidate who has railed against refugee resettlement, also showed up, despite missing other votes. Fellow would-be presidential nominee Sen. Rand Paul (R-Ky.) was there as well, although he's usually present at Senate votes.
Some Republicans -- even those from the far right -- are unimpressed by the bill. While it was being considered in the House, Sen. Jeff Sessions (R-Ala.) issued a statement saying the bill "fails to defend the interests of the American people." Sessions voted to move forward with the bill on Wednesday.
Democratic Sens. Joe Manchin of West Virginia and Heidi Heitkamp of North Dakota joined Republicans to vote for proceeding with the bill. Democratic presidential candidate Sen. Bernie Sanders (I-Vt.) did not vote, nor did South Carolina Republican Sen. Lindsey Graham.  
There will likely be plenty of efforts ahead to force votes on political issues, including Trump's statement in December that there should be a "total and complete shutdown of Muslims entering the United States."
Most Republican leaders, including McConnell, said they opposed the idea. But they also said they would support whoever becomes the Republican nominee for president -- which, given Trump's polling numbers, could be him.
Senate Democratic aides said earlier this month they would try to force votes related to Trump's policy proposals as often as possible.
In addition to the Trump-related amendment, Reid asked for votes on three others: a measure to prevent people on the no-fly list from buying firearms, explosives or radiological material; more funding for airport security and local police efforts to fight terrorism; and Democratic legislation aimed at combatting the Islamic State terrorist group, also known as ISIS and ISIL.
"Democrats are committed to opposing the vile views of Donald Trump and providing the American people with solutions that make our nation safer," Reid said on the Senate floor. "And we think it's past time for the Senate to vote on these policies."
Those efforts go both ways. Senate Majority Leader Mitch McConnell (R-Ky.) hinted last week that if Democrats want to vote on Trump's policies, Republicans would put forward amendments on the platforms of Democratic presidential candidates Hillary Clinton and Sanders.  
Laura Barron-Lopez contributed reporting.
PHOTO GALLERY
Images Show How Syrian Refugees Live And Why They Left
Calling all HuffPost superfans!
Sign up for membership to become a founding member and help shape HuffPost's next chapter