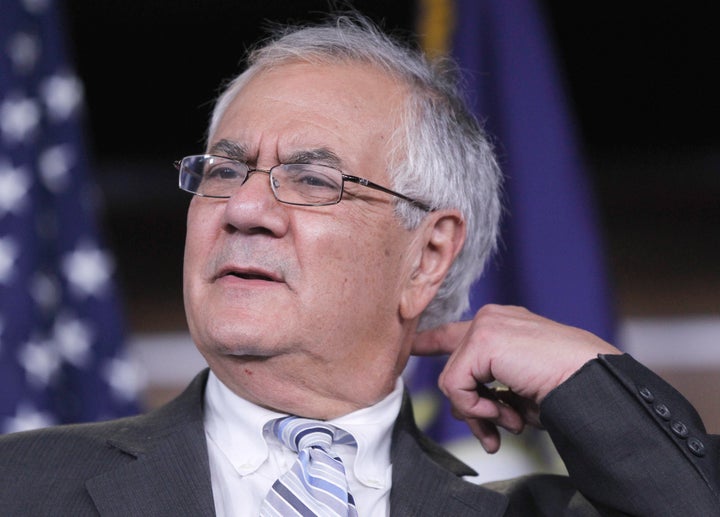 WASHINGTON -- Lots of people on Capitol Hill are going to miss Rep. Barney Frank (D-Mass.), who announced Monday that he is retiring after 31 years in Congress. But top Senate Republicans can't make up their minds about whether they'll miss going up against the larger-than-life liberal Democrat who has primarily served as a thorn in their sides for decades.
"I don't really have a lot to offer on that," Sen. John Cornyn (R-Texas), chairman of the National Republican Senatorial Committee, said when asked for his thoughts on Frank's retirement. He then offered his thoughts on Frank's retirement.
"I think we would have been better with somebody else," Cornyn said.
"When I think of his tenure, I think of Fannie Mae and Freddie Mac and what a disaster that's been in terms of contributing to our current economic crisis. And Dodd-Frank, which was targeting Wall Street, but [for] which Main Street ended up being collateral damage," he added.
Cornyn was referring to Frank's opposition to reforming government housing agencies Fannie Mae and Freddie Mac before the financial crisis hit -- something conservatives have pounced on as a contributor to the economic recession -- and Frank's role in crafting landmark financial regulatory reform with former Sen. Christopher Dodd (D-Conn.). Frank has been a lightning rod for GOP criticism on both fronts.
"He's had a long and distinguished career.... I wish him well," said Sen. John Thune (R-S.D.), chairman of the Senate Republican Policy Committee.
Thune said he didn't know if Congress would be better off without Frank. But what's notable, he said, is that "when people like him start retiring," it's an indication that Democrats don't think they're going to win back control of the House in 2012.
The retirement of a veteran Democratic lawmaker like Frank is "good for us in terms of general momentum, in terms of raw math in the House," he said.
Sen. Lindsey Graham (R-S.C.), by contrast, said Frank's departure was a blow to both parties.
"He's a worthy adversary and a valuable ally," said Graham, who said he has known Frank since 1995 and worked with him on the House Judiciary Committee back when he was a House member.
"He's a liberal icon, but you could do business with Barney," Graham said. His retirement "will be a loss for this body."
Popular in the Community