WASHINGTON -- A tea party rebellion by several U.S. senators blocking progress on the federal budget may be working for them, but not for their fellow Republican lawmakers -- even ones who mostly agree with them.
Tension has occasionally been evident in the simmering, behind-the-scenes struggle between the Senate's tea party contingent and old-guard party members. But it erupted in public view on the Senate floor this week as Sens. John McCain (R-Ariz.) and Susan Collins (R-Maine) revealed their displeasure with their junior colleagues.
The tea partiers -- primarily Sens. Ted Cruz (Texas), Rand Paul (Ky.), Mike Lee (Utah) and Marco Rubio (Fla.) -- are blocking the Senate from appointing conferees to a conference committee with the House to work out the radical differences between the two budgets each side has passed.
That is often done in the Senate by unanimous consent. Other times, there are votes instructing conferees on how to try to shape the final bill. But the conservative cohorts want more. They are demanding that the Senate bar the conference members from doing anything that would raise the federal debt limit -- a demand that McCain lambasted for much of the week as unprecedented.
The debate intensified Wednesday, when McCain charged that the tea party members' opposition amounted to distrust of the House GOP leadership. And Cruz admitted it did. "Let me be clear. I don't trust the Republicans," he said, lumping them in with Democrats.
But McCain has held his ground, suggesting on Thursday that senators who object to conference negotiations don't understand "how business has been done" in Congress. Moreover, McCain asserted that most GOP senators agree with him that it's time to stop stalling and go to conference.
Most senators asked by The Huffington Post said they do agree with McCain.
"I think it's a good idea to get a commitment not to raise the debt limit, but I trust the normal course of business -- that we're not going to use reconciliation to raise the debt limit," Sen. Lindsey Graham (R-S.C.) told HuffPost. "We can have a motion to instruct our conferees not to raise the debt limit by 51 votes, so I'm fine with going to conference."
"People have strong feelings, and that's what it's all about," Sen. John Boozman (R-Ark.) explained of the tea party conservatives. "But myself personally, I would very much like to see this resolved very quickly so that we can go to conference. I would like to see us appoint conferees."
Even Sen. Jeff Sessions (Ala.), a deficit hawk and the top Republican on the Budget Committee who said he understood the concerns over raising the debt limit, pointed out that the ultimate goal was to iron out differences through regular order.
"I think the right thing to do is get ourselves to conference," Sessions told HuffPost. "Eventually we need to go forward and reach an agreement, the president needs to be engaged, and a conference provides an opportunity to do that."
"I think there ought to be discussion, but ultimately we have to go to conference," said Sen. Thad Cochran (R-Miss.).
Some senators said they found the stall tactics to be political grandstanding.
"It's all a political game," Sen. Tom Coburn (R-Okla.) told HuffPost, adding that he supported regular order. "This is a slowdown because the House wants a slowdown. As soon as the House doesn't want the slowdown, it will get released."
Coburn's comments are oddly in line with recent arguments used by Democrats in the budget fight. House Republicans spent four years calling for regular order while berating the Senate for failing to pass a budget. When the Senate finally passed its budget resolution in March, Republicans were suddenly reluctant to convene a conference committee, even though without one, there can be no formal federal budget for the fifth year in a row.
Indeed, House Speaker John Boehner (R-Ohio) said Thursday he's had "private conversations this week on how we might move ahead, but we've not made any decisions at this point."
Even some kindred conservatives in the House, however, said they would like to see the budget finished.
"These guys are blood brothers. I love 'em. In fact I would suggest to you, in all deference to Sen. McCain, they're far more in line with the rank-and-file members of the House than Sen. McCain is," Rep. Trent Franks (R-Ariz.) told HuffPost. "That's probably an understatement."
But Franks suggested that the best way to convince people in the long run was play by the rules, and keep making the argument. House leaders, he said, had to keep their eye on the bigger picture of what is possible, even if Franks disagrees.
"I understand the equation they're dealing with is almost untenable, mathematically," Franks said. "If they do what people like me would like them to do, sometimes we end up, because we're so outnumbered, not being able to sustain that."
And even though the tea partiers' fears may be realized, Franks said he thinks the process should proceed.
"What we have to do, still in a regular order situation, is to get the strongest thing that we can from the Senate that's the best for the country possible and do the same in the House, and then hope that the respective leaderships appoint the people that can sustain the best outcome possible," Franks said. "If we have the right people on our conference side, I wouldn't be afraid of that at all."
"Any small group of senators can object to moving to conference on any piece of legislation because they object to their provision not being included in it?" McCain said in a brief hallway interview. "That would be a dreadful precedent to set in the United States Senate."
Sen. John Thune (R-S.D.), chairman of the Senate GOP conference, was confident the matter would be resolved. He told HuffPost his colleagues had a "legitimate fear" over the debt limit, but stressed the need to figure out a path forward.
"Obviously we want to see a continued debate about the budget," Thune said. "I think that's good for us, because we've been talking about debt, spending and taxes. I think those are good arguments for Republicans."
Before You Go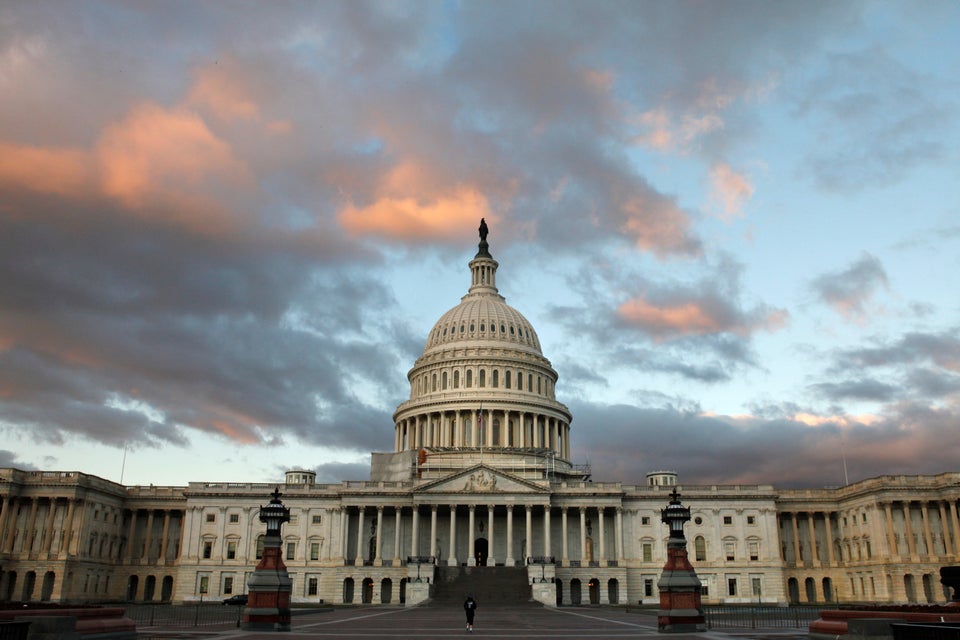 Do These Things, Don't Cut Entitlements
Popular in the Community