WASHINGTON -- Senate Republicans have been outraged for months over the Obama administration's response to the Benghazi consulate attack. They're outraged this week about the Internal Revenue Service singling out tea party groups for extra scrutiny. But their response to the Justice Department secretly obtaining phone records of 20 Associated Press reporters? Meh.
Republican senators who have long been critics of Attorney General Eric Holder were noticeably muted on Tuesday when asked to respond to the news of the Justice Department seizing reporters' records as part of a broader probe into national security leaks.
"Well, I think we need to see how this plays out," said Sen. John Cornyn (R-Texas), one of Holder's biggest critics and who last year demanded that the attorney general resign amid the Fast and Furious gun-running probe. "I have questions about it, but I'm wiling to wait and see how this plays out, whether it was narrowly targeted or whether it was a net that was too broadly cast," Cornyn said.
"I want to see the details -- what was their rationale, why did they do it -- before offering an opinion," said Sen. John McCain (R-Ariz.), who earlier this week accused the administration of engaging in a "cover-up" in Benghazi. "For me, to rush to a judgment without knowing all the facts is just not appropriate."
Senate Republicans' reluctance to defend freedom of the press may stem their demands last year that Holder crack down on those behind national security leaks. Cornyn and McCain were among those leading the calls. Still, it was a rare reprieve for the administration when Republican leaders spoke to reporters on Tuesday and glossed over the Justice Department's potential constitutional violations.
The country has now seen "the lengths to which the administration is willing to go to quiet the voices of its critics," said Senate Minority Leader Mitch McConnell (R-Ky.). But he did not list as an example the AP subpoenas. Instead, he pointed to the IRS case and alleged abuses by the Department of Health and Human Services, the Securities Exchange Commission, the Federal Communications Commission and the Federal Election Commission.
While ignoring the Justice Department's probe of leakers, McConnell chided the press for not paying more attention to his examples. He then cited the IRS, not the Justice Department, as the most powerful federal agency.
"I'm not being critical of all of you, but most of you haven't paid much attention to any of that. But now I think you get it, and I think the American people get it because everybody understands what the IRS is -- many people think the most powerful agency of the federal government with the ability to literally put people out of business."
For their part, House Republican leaders haven't pounced on the issue, either. Neither House Speaker John Boehner (R-Ohio) nor House Majority Leader Eric Cantor (R-Va.) has weighed in directly, though spokespeople for both have commented.
Even Rep. Darrell Issa (R-Calif.), who relentlessly pursued Holder amid the Fast and Furious investigation, called the Justice Department's move "obviously disturbing" but otherwise put the focus back on the other issues that Republicans plan to keep being outraged about.
"Coming within a week of revelations that the White House lied to the American people about the Benghazi attacks and the IRS targeted conservative Americans for their political beliefs, Americans should take notice that top Obama administration officials increasingly see themselves as above the law and emboldened by the belief that they don't have to answer to anyone," Issa said in a statement. "I will work with my fellow House chairmen on an appropriate response to Obama administration officials."
Sabrina Siddiqui contributed reporting.
Before You Go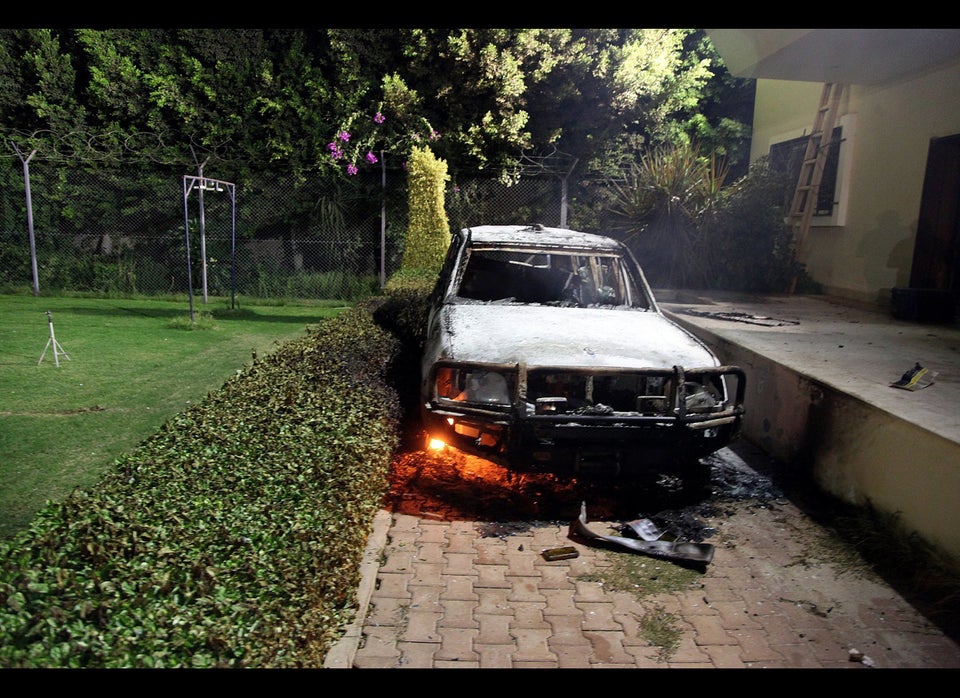 Attack On U.S. Compound In Benghazi
Popular in the Community