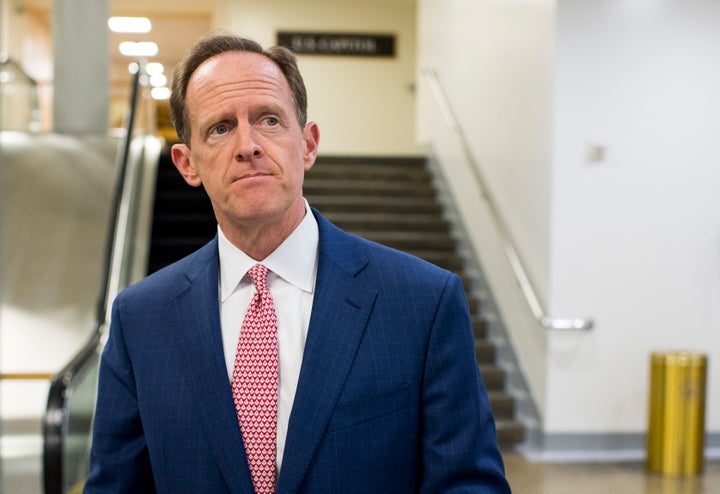 WASHINGTON -- It turns out the best entertainment in Washington this week is in the U.S. Senate, where Republicans are desperately trying to distance themselves from Donald Trump's racist attacks on a federal judge while, somehow, still insisting he's their guy for president.
Trump has sent GOP lawmakers scrambling -- particularly those in tight re-election races -- after saying last week that the U.S. district judge overseeing Trump University lawsuits, the Indiana-born Gonzalo Curiel, can't be impartial because he is "Mexican" and Trump has advocated a wall along the border. On top of that, Trump said Sunday that Muslim-American judges might be biased against him, too, because of his anti-Muslim remarks.
So how do you square those kinds of comments -- and the suggestion that a federal judge can't be fair because of his or her ethnic heritage or religion -- with your support for your party's presidential nominee? You can certainly try.
"These were his comments, not my comments," said Sen. Pat Toomey (R-Pa.), one of the most vulnerable senators in this election cycle.
Toomey emphasized that he hasn't technically endorsed Trump, and referred to an op-ed he wrote last month in which he says he's "inclined to support the nominee of my party," but wouldn't necessarily "always agree with him." HuffPost asked if that means he's now backing Trump, since Trump is the GOP nominee.
"Presumptive nominee," Toomey clarified, before walking away.
Sen. John Thune (R-S.D.), the No. 3 GOP leader in the Senate, said he, like others, found Trump's comments wildly inappropriate. But he still supports Trump for president because he thinks the reality TV star will change his ways. At least, Thune is hoping he will.
"I hope we don't spend the entire year having our [Senate] candidates having to separate themselves from our nominee," Thune said. "What I'm hoping for is that he's going to take corrective action when it comes to his rhetoric."
"I mean," Thune said, with an awkward chuckle, "I guess time will tell."
As he slipped into a Senate elevator, another reporter jumped in and asked if he had time for a non-Trump question.
"Yes!" Thune replied as the doors closed.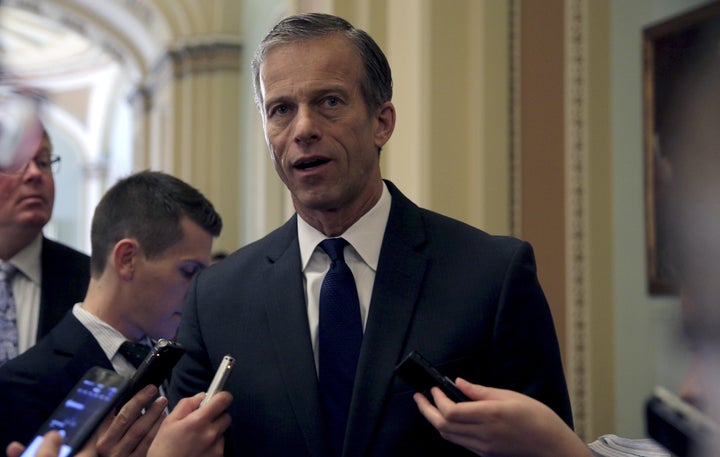 Sen. Orrin Hatch (R-Utah) said Trump's comments were certainly inappropriate, but he's convinced that Trump will mature as the campaign goes on.
"He's the type of a person who will make comments that sometimes you differ with, and then as he gets to reality on things, he'll change his point of view and be, you know, more responsible," Hatch said.
The Utah senator, who has long served on the Judiciary Committee, dismissed the idea that Trump's comments erode the integrity of the judicial branch of government. Based on his personal experience with Trump, he said he's never gotten the sense that he's racist, either.
"I don't think he has a prejudicial bone in his body," Hatch said.
HuffPost noted that Trump has said, among other things, that Mexican immigrants are "rapists" and "criminals."
"Well, that shouldn't have been said," Hatch said, adding, "There's nothing wrong with speaking emotionally and speaking how you feel. But it's important for him to, I think, tone it down a wee bit."
None of the 10 GOP senators interviewed by HuffPost seemed worried about the prospect of a President Trump filling the empty seat on the Supreme Court, despite his comments about judges. Republicans are essentially holding that seat open for Trump to fill, should he win in November, by denying a vote to President Barack Obama's nominee, Merrick Garland.
Sen. James Inhofe (R-Okla.) conceded that Trump "blew it" with his comments about Curiel and said he thought Trump "was a lot smarter than that." Still, he's fine with Trump potentially filling the Supreme Court vacancy. Inhofe said he's convinced the real estate mogul, as president, would have people all around him keeping him in line.
"If he is the president, he's going to have a lot of really good, knowledgeable advisers," Inhofe said. "He will be listening to advisers on that."
He just laughed when it was noted that Trump already has supposedly good advisers on his team.
"You depend more on your advisers once you're president," said Inhofe.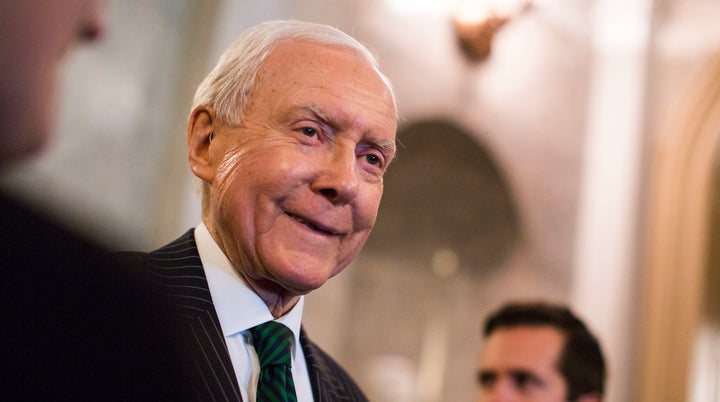 Even Sen. Tim Scott (R-S.C.), the GOP's lone black senator, said Trump's comments aren't making him reassess his support for him. The comments were "racially toxic," he said, but no matter what, Democratic presidential nominee Hillary Clinton is worse than Trump.
"Listen, I think giving a Democratic president an opportunity to choose our Supreme Court justice would not be in our best interest long term," Scott said. "So, his comments don't give me any pause."
Some senators seemed numb to the topic altogether. Sen. Richard Burr (R-N.C.) said he wasn't worried about Trump's remarks because they're just the latest of his controversial statements.
"If they were inconsistent with things we've seen up to this point in the election, I would tell you it might," Burr said. "But I think we're all sort of used to remarks being made that we don't expect."
"You know what I care about? Really? I care about our country," Sen. Bob Corker (R-Tenn.) said slowly and with noticeably bloodshot eyes. "Something is necessary to disrupt the direction the country is going on at present. He has an opportunity to be that. I just don't want to see that slip through his fingers by making comments that cannot be condoned."
Others didn't even try to defend their party's nominee. Sen. Ted Cruz (R-Texas), who weathered an ugly presidential primary campaign against Trump, stared blankly at reporters, as elevator doors slowly closed, when someone asked if he'll ever endorse Trump. And Sen. Pat Roberts (R-Kansas) stood quietly for several seconds when asked what he makes of Trump's comments.
"Unfortunate," Roberts finally said.
Asked if he was offended, the Kansas senator put his fingers to his lips and gestured that he was buttoning them shut, and shuffled away.
Before You Go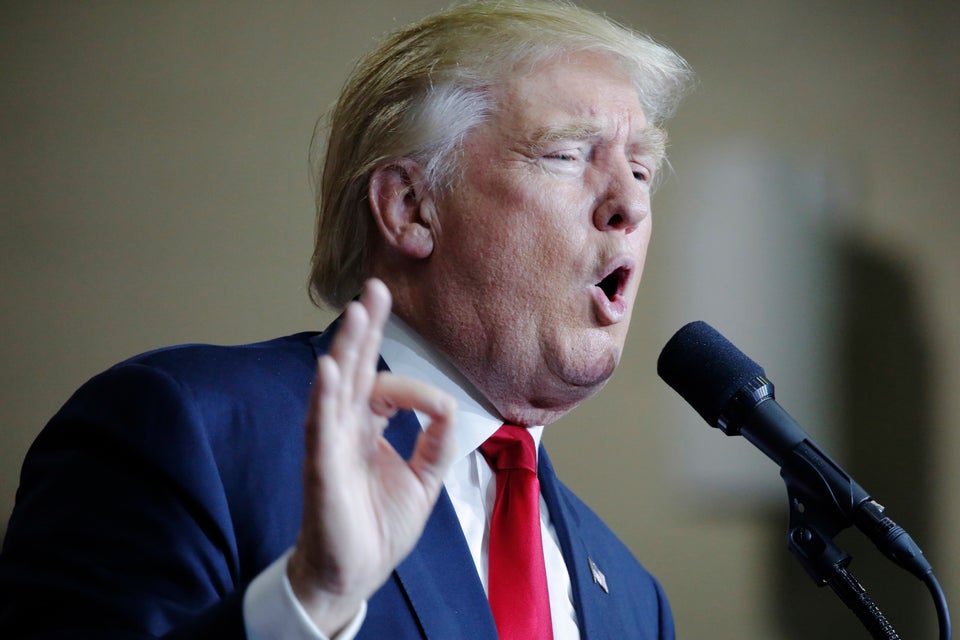 Trump's Most Presidential Looks
Popular in the Community