WASHINGTON -- A bipartisan Senate deal to reopen the government and stave off debt default finally cleared Congress Wednesday night, but not before two weeks of mayhem sparked by Sen. Ted Cruz (R-Texas) and other tea party lawmakers intent on using a government shutdown as leverage for defunding Obamacare.
As the dust settles, a number of Senate Republicans are looking around at the rubble and wondering how badly their party may have been damaged by the ordeal. Polls have shown the GOP's popularity plummeting over the last week, just as the tea party lawmakers driving the fight appeared less and less clear what they were fighting for in the first place. In the meantime, hundreds of thousands of federal workers went without pay, parks and monuments closed, and key federally funded programs -- from Head Start to cancer clinical trials -- endured major blows.
So did Republicans gain anything by forcing the showdown?
"No," Sen. Kelly Ayotte (R-N.H.) said flatly. "I think the answer is no."
"That we know not to go down this road to a shutdown again?" Sen. Jeff Flake (R-Ariz.) proposed with a weak smile. "That may be something, at least."
Sen. John McCain (R-Ariz.), who previously referred to tea party lawmakers as "wacko birds," said the only good thing may be that Republicans are now forced to confront their intra-party differences.
"What I hope we've all learned is that we need to come together," McCain said, touting the bipartisan plan he helped craft. "I would like to point out, if there's a ray of sunshine in this, 14 of us came together and came up with a plan that is perfectly good ... There is a strong desire not to let [a shutdown] happen again."
He added that he "apologized a long time ago" for the wacko birds remark.
None of the aforementioned Republicans would say whether they think Cruz and other tea party lawmakers have learned anything from the debacle.
"I don't know. You'll have to interview them," McCain said. "I'm sure they're always happy to be interviewed."
Still, some pointed out how flawed the plan from the far right was from the beginning. Shutting down the government never had any real impact on Obamacare, given that most of its funding comes from mandatory spending, which wasn't touched by the shutdown. As such, a key portion of the health care law -- the health insurance "exchanges" -- rolled out on Oct. 1, as planned.
"I didn't think this strategy was smart from the beginning," Ayotte said. "The fact that the exchanges opened while the government was shut down demonstrates on its face that it wasn't going to succeed."
Sen. Jeff Sessions (R-Ala.), the ranking member on the Senate Budget Committee, summed up the last two weeks as "an unfortunate series of events in some ways." But he gave the GOP credit for fighting Obamacare and forcing budget matters to the forefront.
The last two weeks "clarified where each party stood," Sessions said. "Most people are not happy with Obamacare."
Perhaps the only Republican celebrating the shutdown as a success is Cruz. Talking briefly to reporters, he ignored a question about some in his party fuming at him for leading them in a dead-end fight, and he dismissed the idea that conservative lawmakers have nothing to show for it after wreaking havoc on the country.
"I think we've seen a remarkable thing happen," said Cruz, who is widely considered a 2016 presidential contender. "We saw, first of all, millions upon millions of Americans rise up all over this country, over 2 million people signing a national petition to defund Obamacare. We saw the House of Representatives take a courageous stand listening to the American people, that everyone in 'official Washington' just weeks earlier said would never happen."
"It does give a path going forward," he added. "I hope in time the Senate begins to listen to the American people."
Before You Go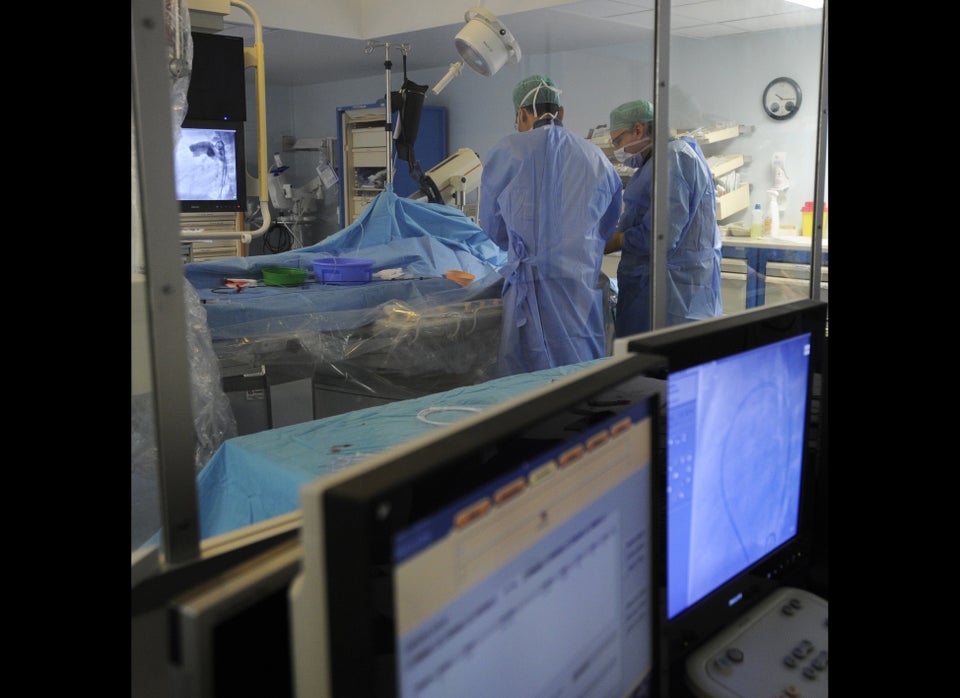 Lies And Distortions Of The Health Care Debate
Popular in the Community