WASHINGTON ― Unable to find enough support to advance their health care bill, Senate Republicans are delaying a vote on the proposal this week as they try to cut new deals that will bring conservative and moderate holdouts on board.
Senate Majority Leader Mitch McConnell (R-Ky.) was forced to put off the vote on Tuesday after a small but dedicated cross section of his GOP conference expressed discomfort with moving ahead. McConnell can only lose two Republicans in his 52-member conference, and Sen. Dean Heller (R-Nev.) and Susan Collins (R-Maine) have both strongly suggested they will vote against the bill. Sen. Mike Lee (R-Utah) has also announced his opposition, but leaders still consider him gettable, two senior GOP aides said.
Lee has teamed up with Sen. Ted Cruz (R-Texas) and Rand Paul (R-Ky.) in trashing the bill for not lowering premiums or repealing enough of the Affordable Care Act, otherwise known as Obamacare. With only two votes to lose, McConnell knows he needs all three to support the bill; otherwise, he's stuck trying to flip Heller or Collins ― not an impossible task, but an unlikely one, given their statements on the bill at this point.
The problem for McConnell is that Paul seems just as dedicated to opposing the bill, calling it "terrible" Monday night and saying it would be worse to pass a bad bill than no bill at all.
That opposition ― coupled with concerns from Sen. Ron Johnson (R-Wis.), who has expressed reservations about moving so fast, and from a number of other senators whose support for the legislation appears shaky at best ― forced McConnell to take more time to whip the bill and work out deals.
"Every time you get one bullfrog in the wheelbarrow, another one jumps out," Senate GOP Whip John Cornyn (R-Texas) told reporters Tuesday.
Every time you get one bullfrog in the wheelbarrow, another one jumps out.

Senate GOP Whip John Cornyn (R-Texas)
That first proposal, which Cruz and other conservatives see as the path toward lower premiums, would effectively let insurers discriminate against people with pre-existing conditions and charge people more for services like maternity care. It's an amendment that moderates would almost certainly oppose.
But McConnell is hoping he can use some of the extra money that the Congressional Budget Office said his bill would save and put it toward a different amendment to shore up Medicaid slightly, after the CBO said the program would suffer a $772 billion cut over the next 10 years.
The bill's Medicaid cuts alone are giving some senators more pause. Sen. Bill Cassidy (R-La.), who seemed to be on board with the legislation after months of opposition, is again sounding unsettled.
He told reporters on Tuesday that he wants more help for middle-income seniors who would face huge premium increases under the bill. (The CBO predicted that a 64-year-old making $56,800 who has a standard plan would see his or her premiums jump from $6,800 to $20,500.) And Cassidy said he had some specific concerns related to how the Medicaid expansion had affected his state's baseline budget that he needs clarity on.
Cassidy wouldn't say how he would vote on a motion to proceed if McConnell were to schedule one.
But McConnell didn't schedule one. Instead, he announced that the Senate wouldn't take action, as promised, before the July Fourth recess.
"It's an ongoing discussion," McConnell told reporters on Tuesday. "And members want ― several of them want ― more time. We have a number of different discussions going on. They've been going on for 6 weeks now. They continue."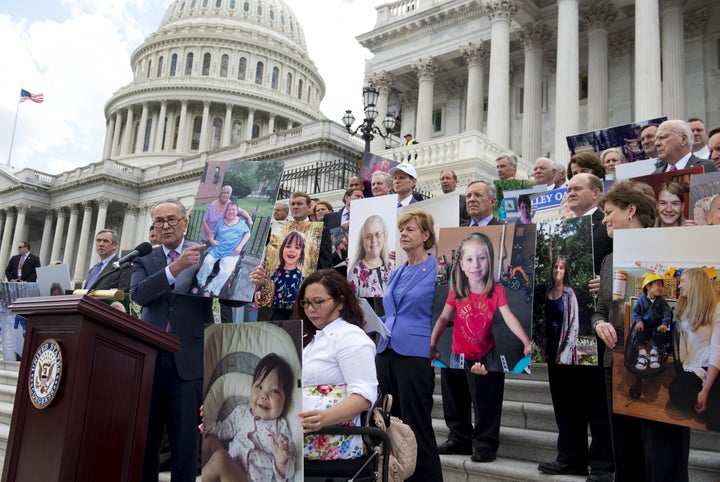 After McConnell announced the delay, Republicans began immediately jockeying for a better negotiating position. Sen. Jerry Moran (R-Kan.) tweeted that the bill did not have his support and that he looked forward to taking a step back and letting "the full legislative process" work.
Sens. Rob Portman (R-Ohio) and Shelley Moore Capito (R-W.V.) issued a joint statement opposing the bill because it didn't do enough to address the nation's opioid epidemic. And Paul, who had met with President Donald Trump earlier in the day, tweeted that Trump was open to making the bill better. "Is Senate leadership?" he asked.
With McConnell unable to hit his own deadline, the Kentucky Republican was asked Tuesday if Trump would now be taking a larger role.
"We always anticipated the president would be very important in getting us to a conclusion," McConnell answered. "After all, under our system, he's the man with a signature."
But McConnell continued to say that engaging Trump in the early stages would have "candidly, kind of been a waste of his time," and he said Republicans needed to get farther down the path so Trump could help close the deal. "And we're delaying the process so that we can close those remaining issues," he said.
With or without those remaining issues, Trump is clearly taking a larger role. After meeting with Paul, Trump dispatched his chief of staff, Reince Priebus, and his press secretary, Sean Spicer, to meet with Republicans. Vice President Mike Pence is also meeting with senators later Tuesday night.
And the hammer may soon be coming down, too. A pro-Trump super PAC has already been hitting Heller for his announced opposition, whileTrump has shown a willingness to knock Republican lawmakers on Twitter ― much like he did when the House version of the bill stalled.
That pressure could eventually motivate senators, particularly Republicans like Cruz who need the GOP base's support in the upcoming 2018 elections.
But it could also backfire.
Later in the afternoon, Trump hosted a group of Republican senators at the White House. Flanked by critics like Collins and Heller, Trump urged senators to repeal Obamacare, which he said was experiencing a "meltdown." He claimed the conference was "close" to passing a bill, and asserted that Republicans had as many as "52 or 50" votes ― a characterization directly contradicted by the decision to delay the vote this week, and by common sense.
"If we don't get it done, it's just going to be something that we're not going to like and that's OK," the president added.
Trump appears to have little handle on the policy or political situation, and he's trying to convince senators to take a leap of faith when most evidence suggests it's not in the interests of many states or voters to pass this legislation.
That's particularly true in Alaska, where Sen. Lisa Murkowski (R) continues to sit on the fence.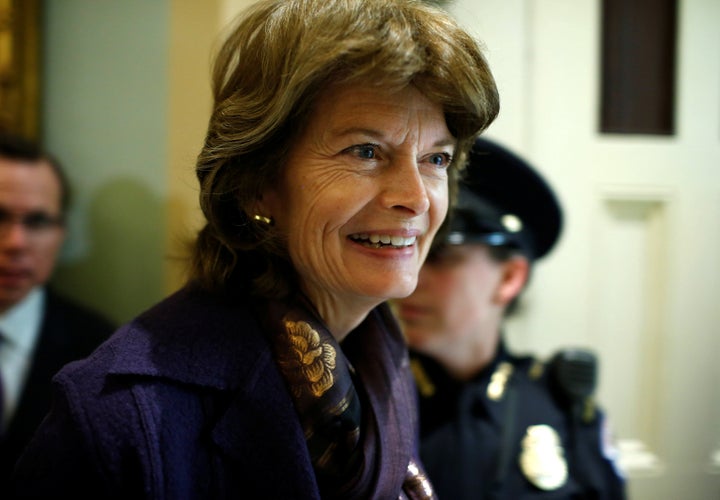 Murkowski has very specific concerns about how Alaska would be affected by the bill, and she isn't up for re-election until 2022. Trying to pressure her into voting for the health care plan isn't likely to work ― not when she has such specific and major issues. And forcing her to draw a line on the bill or against Trump may end up sinking the legislation.
One easy fault line would be Planned Parenthood funding. Murkowski is already working with Collins on crafting an amendment that would restore funding for Planned Parenthood, which the GOP bill would cut off for one year. Forcing her to make her support conditional on that amendment would likely either cost Republicans her support, or cost the support of a handful of conservatives. The same could be said of protections for people with pre-existing conditions, which Murkowski wants to keep and conservatives want to gut.
And again, that is McConnell's struggle. Every concession he accepts from moderates could imperil the support of conservatives, and vice-versa. Ultimately, one or both sides of the conference will be unhappy with the legislation, and McConnell (with the help of Trump, perhaps) will have to convince Republicans to just accept the compromise.
As for the delay, hardly anyone took it to mean the bill was dead. House GOP leadership already showed how quickly these proposals can come back to life ― and how delays can even be useful. Part of the reason House Republicans were successful in passing their bill was that opposition cooled the month after House Speaker Paul Ryan (R-Wis.) called off a vote, with Democrats blindsided that moderates and conservatives had actually struck a deal.
In that spirit, Senate Democrats stopped short of taking a victory lap on Tuesday after the delay was announced. Instead, they continued rallies on the Capitol steps, holding up photos of constituents who would be adversely affected by the GOP proposal.
"We're going to fight this bill tooth and nail, and we have a darned good chance of defeating it," Senate Minority Leader Chuck Schumer (D-N.Y.) said. "The Republicans cannot excise the rotten core at the center of their health care bill."
REAL LIFE. REAL NEWS. REAL VOICES.
Help us tell more of the stories that matter from voices that too often remain unheard.