WASHINGTON -- Senate Republicans are dragging the upper chamber to a halt in an effort to force a vote on a bill that a wide cross section of observers warn will bring the U.S. closer to war with Iran.
The bill, which would tighten sanctions on Iran in the midst of delicate nuclear negotiations between that country and several Western powers, was originally supported by the leading pro-Israel lobby in the U.S., the American Israel Public Affairs Committee. AIPAC has since backed off amid a torrent of opposition. Senate Republicans, however, are pushing forward.
On Monday, Sen. Jerry Moran (R-Kan.), who heads the GOP's Senate reelection effort, blocked votes on military sexual assault legislation by demanding that an amendment on Iran sanctions be added to the bills.
On Tuesday, Senate Republicans pulled the same move with different legislation. Senate Minority Leader Mitch McConnell (R-Ky.) said that Iran sanctions would be included in the Republican alternative to a military veterans bill offered by Sen. Bernie Sanders (I-Vt.).
"We've been trying for months to get a debate and a vote on the Kirk-Menendez Iran sanctions bill. That will be a part of the Burr alternative," McConnell said, referring to the alternative measure from Sen. Richard Burr (R-N.C.). "This is a very time-sensitive matter," he added.
"It needs to be done, it has wide bipartisan support, and we'd like the Senate to act," added McConnell spokesman Don Stewart.
Burr echoed McConnell. "It's important to Republicans and Democrats to have a vote on the Iran sanctions initiative. It is incorporated in our alternative, and we hope that the Senate majority leader will choose to allow a side by side if he doesn't permit amendments to be offered," Burr said. "We look forward to a lengthy debate this week on veterans' issues and on the Iran sanctions legislation."
Matters of war and peace have typically not been fuel for partisan fires, making the Senate GOP's election-year push unusual.
"The AIPAC organization has issued a public statement saying this is not the time for a vote. This is an issue that should be bipartisan. There shouldn't be partisanship on this issue. And it is too bad, really too bad that the Republicans are trying to make an issue like this partisan," said Senate Majority Leader Harry Reid (D-Nev.).
Reid indicated there will be no vote on Iran sanctions. "We're where we've always been. We're fixated on preventing Iran from having nuclear capability," Reid said. "I've had 10 Democratic chairs write to me saying this is not the time for sanctions."
As Republicans have ramped up their support for tougher sanctions, Democrats have been withdrawing theirs. Even Senate Foreign Relations Committee Chairman Bob Menendez (D-N.J.), who sponsored the key Senate sanctions measure with Sen. Mark Kirk (R-Ill.), doesn't support GOP efforts to get his bill a vote.
"First of all, I am not for mixing the Iran sanctions [with the sexual assault legislation]," said Menendez on Monday. "And the specific amendment being offered is not the Iran sanctions bill. It's only a version [from] Senator McConnell and my colleague, Senator Kirk, which is a total oil embargo, and it has no Democratic support."
Even before AIPAC backed off its push for a vote, some Democratic senators who co-sponsored the Kirk-Menendez legislation had announced that they no longer believed it should be debated on the floor while the multi-nation nuclear talks were underway. At least four of the 15 Democratic co-sponsors of the Senate bill have also agreed that it should not be voted on during the course of the six-month interim agreement reached by the negotiators.
Support HuffPost
The Stakes Have Never Been Higher
Before You Go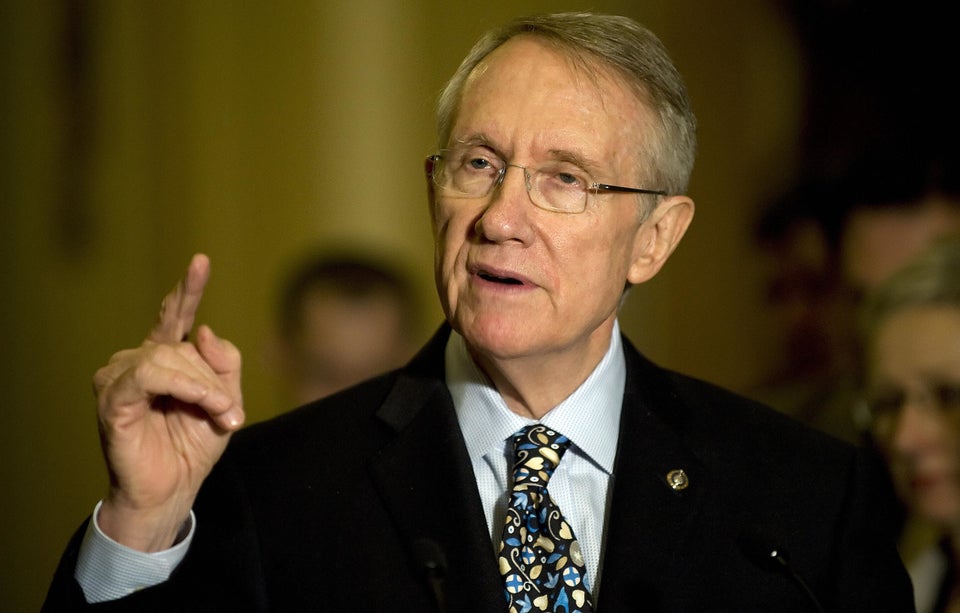 Senate Majority Leaders Through The Years
Popular in the Community