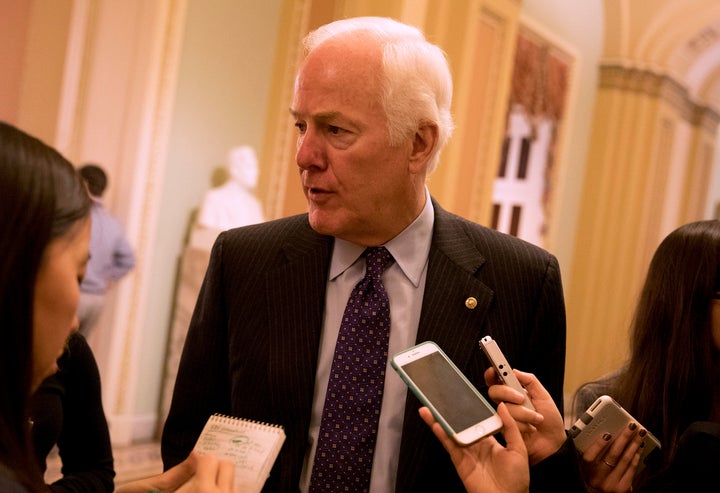 WASHINGTON ― Senate Republicans have never made it easy for President Barack Obama to put judges on federal courts. But now, with just months left in his term, they're not even pretending to try to let judicial nominees through.
Hardly any GOP members of the Senate Judiciary Committee showed up to a hearing this month to vote out a batch of Obama's court picks. There were so many missing members the committee didn't have the 11 people it needed to reach a quorum, which meant no one could do anything. That left the eight Democrats and two Republicans who did show up just sitting there, looking at each other.
"This is ridiculous," Sen. Al Franken (D-Minn.) finally said. "This is about doing your job. … I like the collegiality of this body, but this is ridiculous. I don't understand it. I find it very insulting to the institution. I find it insulting to the chairman, frankly."
Republican Sens. Ted Cruz (Texas), John Cornyn (Texas), Orrin Hatch (Utah), Jeff Sessions (Ala.), Lindsey Graham (S.C.), Mike Lee (Utah), Jeff Flake (Ariz.), David Perdue (Ga.) and Thom Tillis (N.C.) were all MIA. Eventually, Tillis wandered in, giving the committee just enough people to vote out the four nominees on the docket.
Far more significant than a missed hearing is the fact that 15 Republican senators are quietly blocking their own nominees in the committee.
Take Cruz and Cornyn. They've got 12 judicial vacancies in Texas ― that's the most in the nation ― and all are judicial emergencies, meaning the courts' workloads are unmanageable. Both senators publicly supported Obama's nomination of five people to those courts in March. In fact, Cornyn talked big about his commitment to getting them confirmed, despite his party's opposition to moving the president's Supreme Court nominee.
"This disagreement over the Supreme Court is not going to stop my commitment to work across the aisle to help Texas and Texans," Cornyn said at the time. "I was able to speak with each of these nominees and congratulate them … So I look forward to assisting those nominations going forward."
But none of those nominees has been confirmed, because Cruz and Cornyn won't turn in their so-called "blue slips" ― literally, blue pieces of paper ― to the Judiciary Committee, which signal to the chairman that they're ready for their nominees to get a hearing. The committee won't hold a hearing for a nominee until both home-state senators turn their blue slips in. So, as long as Cornyn and Cruz hang on to their slips, none of the Texas nominees will move forward.
Why would the senators prevent their own nominees from getting confirmed, particularly when Texas is ground zero for emergency vacancies?
To slight Obama. They'd rather hold out until 2017, when they hope presumptive GOP presidential nominee Donald Trump will be in the White House and nominate more conservative people. The problem with leaving court seats empty, though, is that the vacancies cause work to pile up, stretching the judicial branch to its limits. People's cases get delayed for years, and sitting judges struggle with burnout.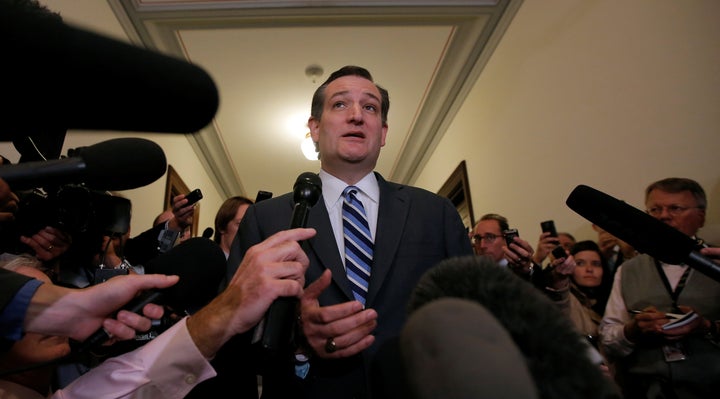 A Cornyn aide said it's the Judiciary Committee, not Cornyn, holding up the five Texas nominees. "Once the mandatory background investigations have been completed by the committee, the slips for the five nominees Sen. Cornyn recommended to the White House will be returned," the aide said.
But all of the Texas nominees were heavily vetted by the White House before they even made it to the Judiciary Committee, and the committee's review process ― as protracted as it may be ― doesn't prevent Cornyn and Cruz from turning in their blue slips to signal they want their nominees to move.
Neither a committee spokeswoman nor a Cruz spokeswoman responded to a request for comment.
Carl Tobias, a University of Richmond law professor who specializes in judicial nominations, called it "BS" to suggest the delays facing Texas nominees have anything to do with the committee's background checks.
"TX has been, for a protracted period, ground zero for the vacancy crisis. It has over a third of the [nation's] emergency vacancies. The 5th Circuit seats have been open for years," Tobias said in an email. "Grassley will not hold a hearing w/out blue slips."
There are lots of GOP senators doing this. Sen. Dan Coats (Ind.) hasn't turned in his blue slip for his judicial nominee, Myra Selby. Sens. Richard Shelby (Ala.) and Jeff Sessions (Ala.) haven't turned in blue slips for their nominee, Abdul Kallon. Sens. Lindsey Graham (S.C.), Tim Scott (S.C.), Dean Heller (Nev.), Richard Burr (N.C.), Thom Tillis (N.C.), Pat Toomey (Pa.) and Rand Paul (Ky.) haven't turned in blue slips for their nominees, either.
Senate Majority Leader Mitch McConnell (R-Ky.) hasn't turned in his blue slip for his nominee, Lisabeth Hughes, either.
The Huffington Post reached out to all of these senators' offices to ask them why they are holding up their own nominees. A few wrote back.
A Coats spokesman pointed to the senator's January statement indicating he wants Selby to go back to Indiana to be vetted by a state nominating commission. Selby would fill a seat on the 7th U.S. Circuit Court of Appeals that's been empty for 496 days.
Sean Smith, a spokesman for Scott, said the senator has an "internal vetting process" in his office, and that his advisory board is still reviewing Beatty's nomination. Beatty would fill a seat on the U.S. District Court for the District of South Carolina that's been empty for 999 days and is an emergency.
Sessions spokesman Garrett Murch noted that Sessions and Shelby issued a statement in February opposing Kallon's nomination because they felt the White House had nominated him without their approval. Kallon would fill a seat on the 11th U.S. Circuit Court of Appeals that's been empty for 976 days and is an emergency.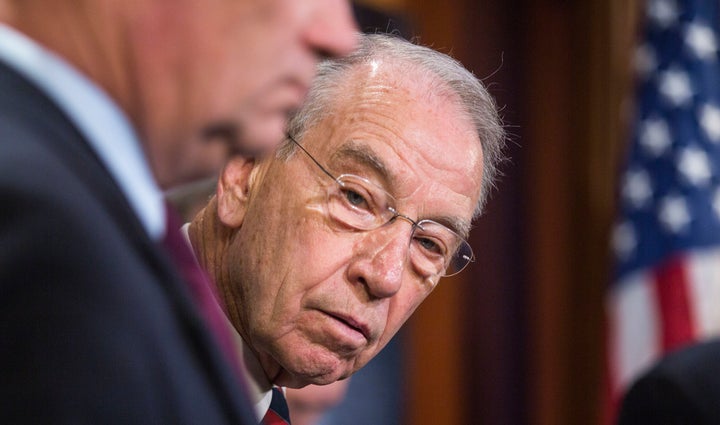 In some cases, Republicans say they aren't turning in their blue slips because they say they've changed their minds about supporting the nominees they recommended to Obama in the first place.
Sen. Marco Rubio (R-Fla.), for example, said he no longer supports his nominee, Mary Barzee Flores, because he thinks she wasn't forthcoming about her past experience with liberal groups. She would fill a seat on the U.S. District Court for the Southern District of Florida that's been empty for 778 days and is an emergency.
Sen. David Perdue (R-Ga.) pulled support for his nominee, Dax López, because he disapproves of the fact that López belonged to an organization of Latino elected officials that opposed the state's controversial immigration law. If confirmed, López would be the first-ever Latino federal judge for the U.S. District Court for the Northern District of Georgia. That seat has been empty for 708 days and is another judicial emergency.
The judicial confirmation process isn't at a complete standstill. The Senate voted Monday night to confirm Nebraska district court nominee Robert Rossiter Jr. But that means the GOP has only confirmed 19 of Obama's district and circuit court nominees since they took control of the Senate last year. For context: when Democrats led the Senate under former President George W. Bush, during his final two years in office, they had confirmed 68 judges by this point.
In the meantime, judicial vacancies have nearly doubled in the last two years, jumping from 43 to 83. Judicial emergencies have nearly tripled to 30. And Sen. Chuck Grassley (R-Iowa), who chairs the Judiciary Committee, has signaled that he'll be done holding nominations hearings for the year by late July.
Sen. Patrick Leahy (D-Vt.), the ranking Democrat on the committee, called the GOP's foot-dragging a "stunning disregard" of the federal court system.
"Our job is to fill vacancies so that our justice system can function efficiently for Americans across the country," Leahy said. "Senate Republicans are failing."
This story has been updated with comment from Carl Tobias.
Support HuffPost
The Stakes Have Never Been Higher
Before You Go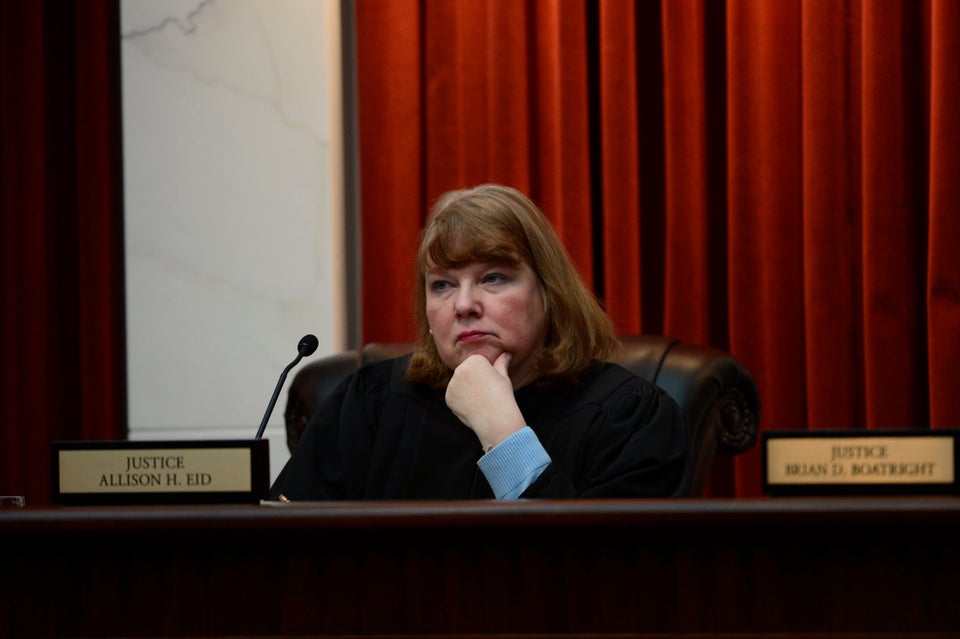 Donald Trump's Potential Supreme Court Justices
Popular in the Community