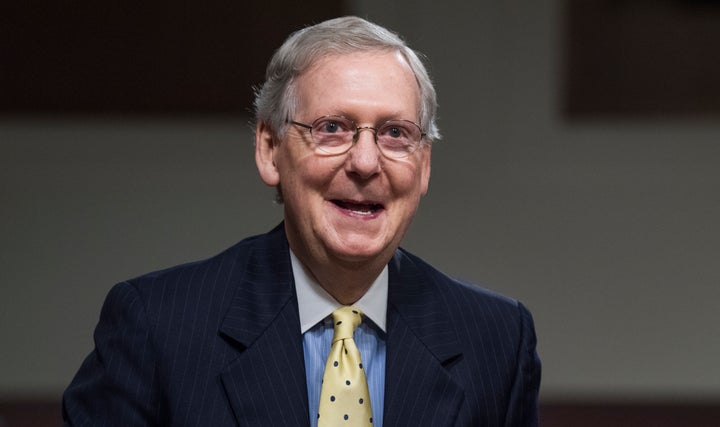 WASHINGTON ― Republican senators appear closer to ultimately passing a bill that would repeal the Affordable Care Act and replace it with legislation that would dramatically reduce health insurance coverage for low-income people, only in a less severe fashion than the House measure.
Senators still lack an actual bill, and the compromises needed to pass the Senate could imperil the legislation in the House, which will also have to back it. But Tuesday was a pivotal day for discussions in the upper chamber ― and seemingly a positive one ― as Republicans try to build a 50-vote coalition to repeal Obamacare.
"We're getting close to having a proposal to whip and to take to the floor," Senate Majority Leader Mitch McConnell (R-Ky.) told reporters, after nearly three hours of closed-door meetings.
McConnell is working with hardly any margin for error. He can afford to lose only two of his 52 Republicans ― with Vice President Mike Pence then breaking the tie ― and it seems highly unlikely that conservative Sen. Rand Paul (R-Ky.) or moderate Sen. Susan Collins (R-Maine) will vote for the legislation. That means the majority leader must pressure, cajole or even deploy state-specific giveaways that could risk the support of other senators in order to keep the rest of his caucus in line.
But even facing those challenges, there was rare optimism among Senate Republicans on Tuesday. "This is what I was hoping to have the leadership be able to share with us, and I feel very good about the fact that we're moving in the right direction," Sen. Mike Rounds (R-S.D.) said, albeit adding that members still had "a long way to go."
As for why they were increasingly optimistic, GOP senators wouldn't offer very many details and McConnell suggested that some key issues linger. But the broad outline discussed among members points to a slower phaseout of Obamacare's Medicaid expansion than the House bill entails and a shifting of tax credits from younger people to older people. Unlike the House version, the Senate bill may not allow insurers to set higher prices for people with pre-existing conditions than for healthy people.
That legislative vision appeared to sway some on-the-fence members who could prove critical to cobbling together 50 GOP votes. Sen. Bill Cassidy (R-La.), who had been outspoken in his opposition to the House-passed bill, signaled that he was comfortable with the broad strokes of the Senate legislation, though he warned that he hadn't seen the final text.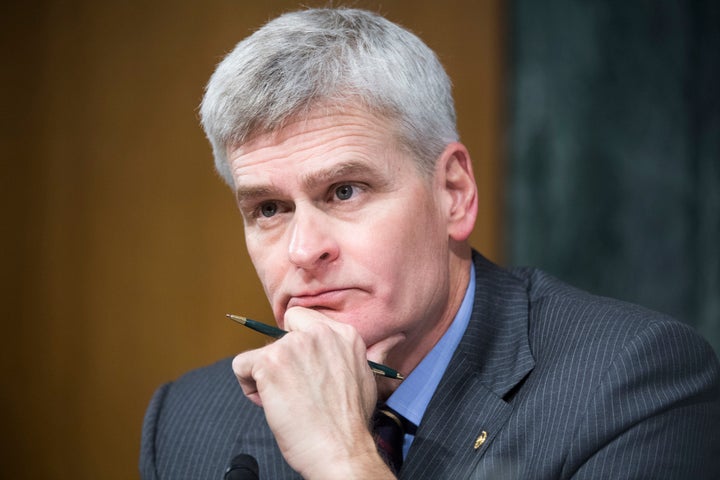 Cassidy said the protections for people with pre-existing conditions were a big factor for him, as well as the slower rollback of the Medicaid expansion, which has helped states like his insure more people almost entirely on the federal government's dime.
"What we've been told so far, states would have the ability, a lot more power than they do under Obamacare, to shape their future, and I think we've gotta return the power to the states," Cassidy said, seemingly referring to a proposal to set per-capita limits on Medicaid, which would push states to put tougher restrictions on who's eligible for that program.
Asked if the phaseout of the Medicaid expansion was still a concern of his, Cassidy said it was. "I think there's obviously more to be done, but the phaseout is further down the road and states have a chance to adapt," he said.
The remaining hurdles for Senate GOP leadership center mainly around the future of the Medicaid expansion, which Republicans generally believe is unsustainable. Negotiators have moved away from the House bill, which the Congressional Budget Office said would save $834 billion over 10 years by cutting back Medicaid. The Senate bill would presumably save less with a longer phaseout, yet the program that gives low-income people health insurance would still suffer a painful decrease ― and largely in the name of giving tax cuts to the wealthy.
Still, Sen. Ron Johnson (R-Wis.) said the Senate's approach would strike a better compromise than the House did, by giving states the ability to come up with their own new restrictions on Medicaid.
"I don't want to pull the rug out from under anyone," Johnson said, "but let's not leave the rug out there for a couple more years to have more people stand on the rug."
Another, less problematic sticking point involves the Obamacare taxes, which the House bill would almost entirely eliminate. Senators are exploring keeping some of those taxes in place, but that could be problematic for conservative members. Rand Paul, for one, has cited any failure to fully wipe out Obamacare as a reason to vote no on a replacement bill. Sen. Lindsey Graham (R-S.C.) told reporters on Tuesday that he thought Paul was "irretrievably gone" on health care, although Paul's office later quipped that Graham had not yet applied for the open press assistant job in Paul's office.
Even if Paul is not lost yet, other conservatives like Sens. Ted Cruz (R-Texas) and Mike Lee (R-Utah) are question marks. Both could balk at the more modest Medicaid cuts and the maintenance of certain taxes; they've already been cagey about where they currently stand on the bill. Cruz entertained reporters Tuesday with a long explanation about why he supports privatization of the Federal Aviation Administration and then, once a reporter asked about health care, walked away.
Other potential swing votes include Sens. Shelley Moore Capito (R-W.Va.), whose state greatly benefits from the Medicaid expansion, and Dean Heller (R-Nev.), who is up for a tough re-election contest in 2018. But if McConnell can somehow keep them in line, along with Cruz and Lee, he'll likely have the votes to pass the bill.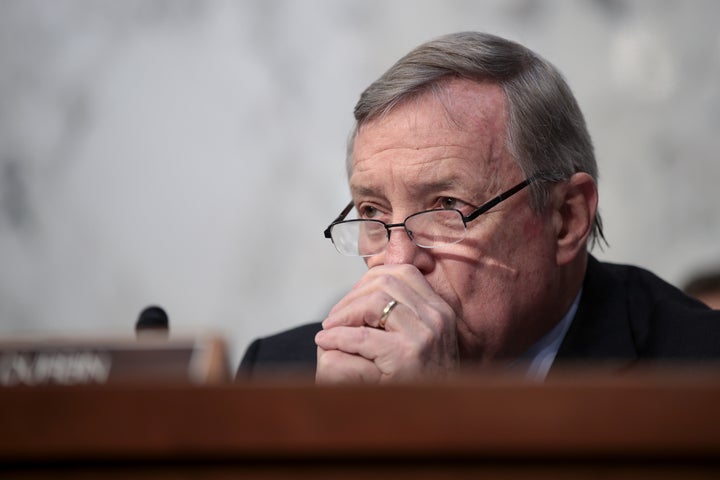 With the prospect of that growing stronger on Tuesday, Democrats were left with their own predicament: whether to begin negotiating with GOP moderates on a separate bill in order to stave off a conservative, Republicans-only approach. For now, Democratic leadership said they would stay away from any negotiations until Republicans dropped their insistence on a full repeal of Obamacare.
"There is no appetite as long as they're working towards repeal," said one senior Senate Democratic aide. But there is great appetite as soon as they abandon it.
Sen. Dick Durbin (D-Ill.) did say that he had discussed health care with Cassidy, who has pushed his own bill. But such discussions had been broadly topical and not specific to any legislation, an aide said.
Even if health care legislation passed the Senate with only Republican votes, its ultimate passage would not be secured. At that point, House lawmakers, particularly House conservatives, would have to decide whether they could support a bill that does not let insurers charge people with pre-existing conditions more and thereby lower premiums for other people. The House Freedom Caucus was adamant that an Obamacare replacement had to give insurers that flexibility. Still, a more moderate bill from the Senate could win over some of the House moderates who voted against their own chamber's bill.
Faced with a Senate bill, the House would have several options: It could simply vote yes on the legislation. It could amend the bill and send it back to the Senate. Or the two chambers could set up a conference committee and try to resolve their differences that way.
In any case, there are a number of steps to go before any Obamacare replacement reaches President Donald Trump's desk. But given the willingness of House Republicans last month to support a bill that many of them didn't like, no one should be certain that Republicans won't compromise on their principles again.
Mike McAuliff, Laura Barron-Lopez and Jennifer Bendery contributed to this report.
Popular in the Community