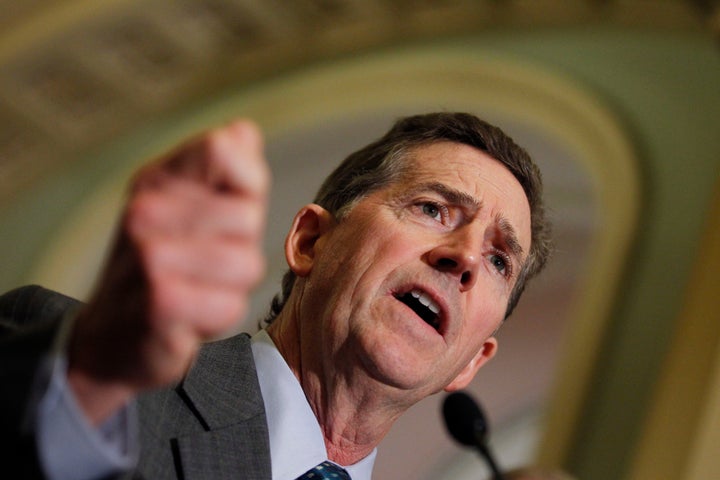 WASHINGTON -- Republicans filibustered a reauthorization bill Tuesday of a federal program that many had previously praised as a job creator, saying they would not move forward with the bill without a guarantee for GOP amendments.
In a 49 to 51 vote, Senate Republicans blocked a bill to reauthorize the Economic Development Administration, which provides grants to local projects. The program has drawn fire from Republicans for the projects it supports, with conservative Sen. Jim DeMint (R-S.C.) calling the "pet projects" a waste of money.
Four Democrats, Sens. Ben Nelson (D-Neb.), Tim Johnson (D-S.D.), Amy Klobuchar (D-Minn.) and Claire McCaskill (D-Mo.) also voted against cloture.
"This program too often has used federal dollars to fund pet projects that have little relation to the national interest," DeMint wrote in a June 15 op-ed for the Wall Street Journal.
Democrats disagree -- and they are eager to point out that many Republicans once spoke highly of the Economic Development Administration.
"A million jobs, and all we need is a cloture vote," Sen. Barbara Boxer (D-Calif.) said on the Senate floor before the vote, where she also read from statements Republicans had made in the past in support of the Economic Development Administration. "This bill is a sparkplug. You put in a dollar, you get seven dollars of ... investment. ... I hope our friends will vote with their hearts and look back at their press releases."
DeMint, who called himself a "recovering earmarker," admits that he supported "certain EDA grants in the past." But he does not mention in the op-ed that his office held a workshop about year ago to "highlight competitive funding opportunities available to community businesses and organizations," including the Economic Development Administration.
Other Republicans who opposed cloture spoke highly of the agency in the past, among them Sen. John Cornyn (R-Texas), who said in March 2010 that funds from an EDA grant "would pave the way for the creation of new jobs and business opportunities, which will strengthen the region's economy," according to a local East Texas NBC news affiliate.
Cornyn said on Tuesday he planned to vote against cloture, referencing a White House "statement of administration policy" from June 7 in support of the bill that also says the bill authorizes more spending than the president requested.
"The Administration believes that the need for smart investments that help America win the future must be balanced with the need to control spending and reduce the deficit," the statement says.
Cornyn echoed the statement, saying the bill spends too much money.
"It seems to me it's going in the wrong direction at a time when we're broke," he told HuffPost.
The EDA is the latest congressional attempt at job creation to fall victim to creeping deficit concerns that rest on the idea of the country's insolvency. But CIA data show the United States is one of the world's richest countries, with one of the lowest tax rates.
Mostly, though, Republicans said they would not support cloture because Majority Leader Harry Reid (D-Nev.) is not allowing Republicans to offer amendments to the bill. Adam Jentleson, a spokesman for Reid, said the amendments offered were unrelated to jobs.
"This is a jobs bill. If Republicans offered amendments that had anything to do with creating jobs, we would have been happy to accommodate them. But instead, Republicans filed over 80 amendments dealing with everything from light bulbs to the lesser prairie chicken to a sand dune lizard -- everything except jobs."
Although he praised EDA projects in the past, Sen. Chuck Grassley (R-Iowa) said he would not support cloture because the GOP must maintain its leverage.
"If you make an agreement you've got to work to keep the agreement," he told HuffPost. "That's about the only leverage we have in the minority to get our ideas up."
Sen. Susan Collins (R-Maine) also said she supported the Economic Development Agency broadly but was unsure whether she would vote for cloture. She praised the program in April for "creating good jobs" and helping to "encourage further business growth," the Bangor Daily News reported.
Collins stood behind her support of the program, but told HuffPost she still might not support the bill.
"I have seen first hand that it has led to the creation of jobs in my home state and has been a catalyst for private sector investment," Collins told HuffPost. "Having said that, I want to make sure there are amendments to the bill."
Correction: A previous version of this article stated that two Democrats voted against cloture; it has been corrected to reflect that four Democrats voted against the bill.
Popular in the Community