WASHINGTON ― Senate Republicans have finally released their health care bill, and although most GOP lawmakers ducked questions on Thursday because they had not yet read the legislation, the reflexive reaction from many Republicans was that leadership had hit the mark.
When Sen. David Perdue (R-Ga.) was asked about the bill, he told reporters that the GOP measure was "much better than Obamacare." Asked why that was the case, he admitted he didn't actually know. "I've got to read it first," Perdue said.
GOP senators met in private Thursday morning to discuss the legislation for roughly 90 minutes. More than 100 reporters were on hand to mob the lawmakers as they came out of that briefing. But one trend was particularly interesting: When certain senators emerged ― those who every journalist was confident would support the legislation no matter what ― most reporters simply let them float through the crowded halls without a question.
Scrums only developed around senators who could feasibly vote against the bill, not lawmakers like Perdue or his Georgia colleague Johnny Isakson who people expect to be a "yes."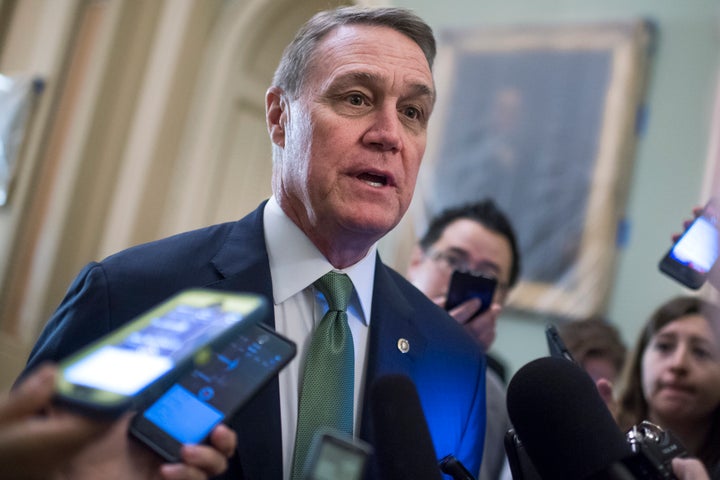 The Republicans who have expressed at least some reservations were mobbed. Many of those senators still reacted to the bill with knee-jerk support, even though they haven't read it.
Although he didn't formally endorse the legislation, it's clear how Sen. Tim Scott (R-S.C.) would vote. Low-income people would have "more access" to health care because of the bill, he claimed. Asked how those sorts of people would have more access if the measure would result in Medicaid cuts, Scott offered a complete mischaracterization of the bill.
"Medicaid's not actually being cut from our perspective," he said. "You look where the ― we're taking the expansion population, it comes down over a long time it appears."
The Senate legislation would dismantle the so-called Medicaid expansion, which opened up who was eligible for Medicaid to 133 percent of the poverty rate (about $16,000 a year for a single adult). But it guts the expansion over seven years, instead of the shorter timeline in the House bill.
"Medicaid's not actually being cut from our perspective."
More moderate senators, particularly those from states that expanded Medicaid, had initially balked at the idea of taking away Medicaid from people who gained it under Obamacare. The expansion has been incredibly popular in states that accepted the federal money and has helped roughly 14 million people gain insurance. But those moderates who had once sounded so resolute about preserving the expansion seemed to have been won over by the longer runway for the cuts.
"The fact that it phases out beginning in 2020, I think, is better," Sen. Bill Cassidy (R-La.) said Thursday. "I've always said, by 2020, states would not be able to afford the 10 percent they are obligated to pay under current law. And so I think that is kind of a nod to the reality that states can't afford the current law."
Up until two weeks ago, Cassidy had looked poised to vote against the GOP bill due to concerns that it wouldn't protect people with pre-existing conditions and because Republican insisted that their legislation end the expansion. But once Majority Leader Mitch McConnell let him know that the Senate bill wouldn't let insurers charge people with pre-existing conditions more, and once Cassidy realized Medicaid cuts were inevitable in a GOP bill, he came on board ― with the condition of a longer expansion phaseout, although he has been careful to note all along that he won't commit his support until he and his staff have reviewed the legislative text.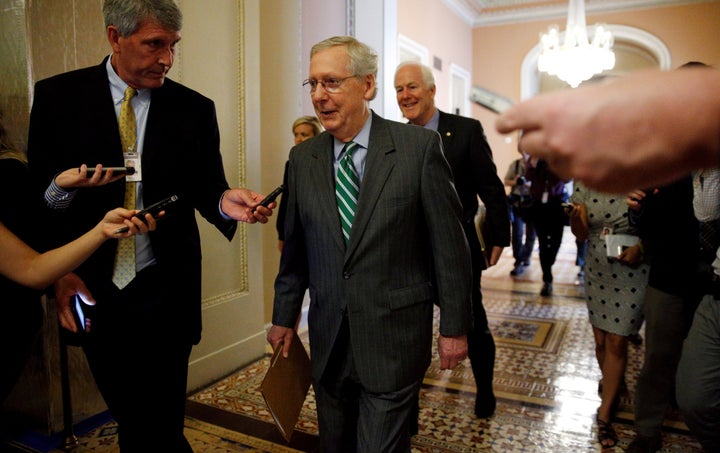 The biggest question marks in McConnell's gambit to get 50 Republican senators are those who have not said where they stand.
Sen. Susan Collins (R-Maine) released a statement that raised "a number of concerns," particularly over the effect on insurance premiums and the changes to Medicaid. But she said she was reserving judgment until the Congressional Budget Office released a score of the bill. Sen. Lisa Murkowski (R-Alaska), who sped out of the meeting Thursday morning, is unlikely to comment before she better understands how the legislation affects Alaska, which would greatly suffer as a result of changes to how individual insurance plans would be subsidized. Both senators have also expressed frustration that the legislation may defund Planned Parenthood, which, as written Thursday, the legislation would.
Sen. Dean Heller (R-Nev.), perhaps the most vulnerable Republicans up for re-election in 2018, has also said he had "serious concerns about the bill's impact on the Nevadans who depend on Medicaid." He may end up opposing the bill, particularly if it's clear McConnell doesn't have the votes for passage.
And on the conservative side, Sens. Rand Paul (R-Ky.), Mike Lee (R-Utah), Ron Johnson (R-Wis.) and Ted Cruz (R-Texas) have said they're not ready to vote "yes" ― meaning McConnell currently doesn't have the votes he needs to pass the bill.
Many of their concerns all along ― that the bill would not end the Medicaid expansion fast enough, that it would not end certain Obamacare regulations (like the protections for people with pre-existing conditions), that it would raise premiums on healthier people ― came to fruition in the Senate bill released.
"It needs to look more like a repeal and less like Obamacare," Paul told reporters Thursday afternoon.
Conservatives senators could sink the bill if they stick together. So could the more moderate ones. But even if McConnell never gets the bill through, one thing should be clear: There are dozens of Republican senators who would support this legislation automatically, as long as GOP leadership and the president told them to.
Jeffrey Young contributed to this report.
Before You Go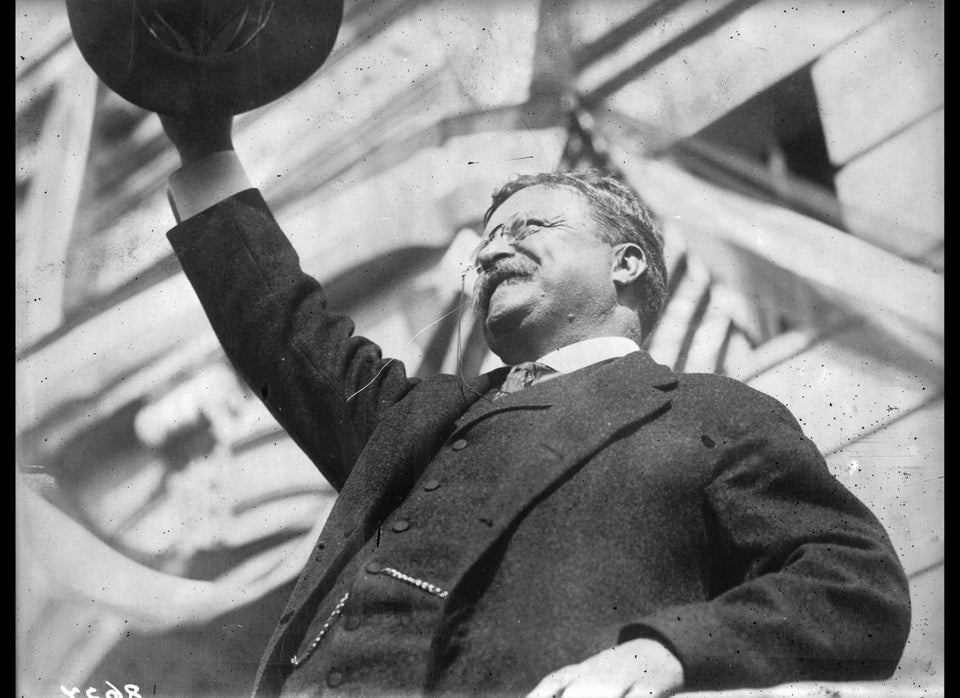 Health Care Reform Efforts In U.S. History
Popular in the Community