WASHINGTON ― Even as new and disturbing allegations were coming out about the predatory behavior of Roy Moore on Monday, Senate Republicans were still split on how to deal with Alabama's Senate nominee. Some GOP lawmakers continue to offer their conditional support, while others are calling for Moore to step down, the Senate to never seat him or for Alabamians to simply vote for the Democrat.
"I would literally — if I were in Alabama — I would run to the polling place to vote for the Democrat," Sen. Jeff Flake (R-Ariz.) told reporters Monday night, adding that he would prefer to have a Republican write-in candidate but that he would vote for Democrat Doug Jones over Moore, "no doubt."
Flake also said the Senate should "expel" Moore if he is elected, but he didn't think it would come to that. "I think he, frankly, will drop out," Flake said.
National Republican Senatorial Committee Chairman Cory Gardner (R-Colo.) also said Monday that Moore was "unfit to serve" and should be expelled from the Senate if he wins, but other senators weren't quite ready to deny Moore a seat if he beats Jones in the Alabama special election on Dec. 12.
"To expel somebody, don't you have to listen to both sides of the story?" Sen. Lindsey Graham (R-S.C.) told reporters Monday night.
Graham did say the accounts of the women accusing Moore of groping or carrying on relationships with them while they were in their teens had "the ring of truth," and he said Moore should step aside. "When the head of your own party's senatorial committee is advocating you get expelled before you get elected, I just don't think you have a very bright Senate career ahead of you," he said.
But Graham wouldn't say Moore should be denied a Senate seat if he wins. That appears to be a line that most Senate Republicans still won't cross.
For Sen. Susan Collins (R-Maine), there would be "Constitutional issues" if senators didn't allow Moore to be seated. "But there then is the issue of whether he is allowed to remain in the Senate. That would involve an investigation by the ethics committee and a very complicated process."
Collins is instead advocating for a write-in campaign for the current interim senator, Luther Strange (R-Ala.), who lost to Moore in a GOP primary. The other Alabama senator, Republican Richard Shelby, also seems to be pushing for a Strange write-in campaign, saying Monday night that he found the accounts of the women accusing Moore to be "disturbing" and "believable."
When Shelby was asked about the damage that Moore's behavior might cause the GOP, he acknowledged that Moore was tainting the Republican brand. "If this keeps up, it'll be irreparable damage."
"It's drip by drip, cut by cut," Shelby added. "It doesn't look good."
The drip, drip, drip continued throughout Monday, as more Republican senators took tougher stances on Moore ― this time, without the conditional "if true" ― and another woman came forward to say Moore had sexually assaulted her in the most aggressive account to date.
Moore responded by turning McConnell's comments against him.
But after a news conference in which a woman said that, when she was 16, Moore groped her and squeezed her neck to force her head toward his crotch, Republicans began to take another look at their initial stances on Moore.
Even Sen. Ted Cruz (R-Texas), who was one of the first senators to endorse Moore and had stood by him even as other Republicans fled, flipped the burden of proof to Moore.
"I am not able to urge the people of Alabama to support his candidacy so long as these allegations remain unrefuted," Cruz said Monday.
Moore's defense seems to be only that all the women who say he acted inappropriately when he was in his 30s and they were in their teens are simply lying, even as increasing accounts of Moore's behavior add to the credibility of the accusations.
Late Monday, an Alabama news site claimed residents of Gadsden believed it was "common knowledge" that Moore flirted with teenage girls and hung out at the mall when he was the district attorney for Etowah County. The New Yorker even said Moore might have been banned from the town's mall for approaching teenage girls.
Democrats have mostly stood back, letting Republicans struggle with the varying degrees to which they'll separate themselves from an alleged child molester. But the sudden blow-up of Moore's campaign has its own risks for Democrats.
One the one hand, Jones needs the revelations of Moore's behavior to be bad enough that Republicans don't come out to vote for Moore. On the other, Moore's candidacy is blowing up at such a spectacular rate that Moore may actually step aside.
A saving grace for Jones may be if Moore still seems to have a core of support that makes his candidacy viable ― one poll after the first round of accusations showed Moore still winning by 10 percentage points ― and Moore has a history of disregarding what others think anyway. (Moore was removed twice from the state Supreme Court for ignoring higher court orders, once for defying orders allowing gay marriage and another time for refusing to remove a statue of the Ten Commandments from a state judicial building.)
As much as Senate Republicans come out against Moore, the Senate candidate will do what he wants, even if it means tarnishing the GOP brand.
The one person who may actually be able to seal Moore's fate, President Donald Trump, has thus far stayed out of the fray, with the White House's official position being ― as communicated by press secretary Sarah Huckabee Sanders ― that, if true, Moore ought to do the right thing and step aside.
At some point, Trump almost certainly will have to say something. But, at this point, his silence is also almost certainly signaling to Moore that he can stay in this race.
As Flake said of Moore on Monday, "I don't think he's listening to Senate Republicans, frankly."
Before You Go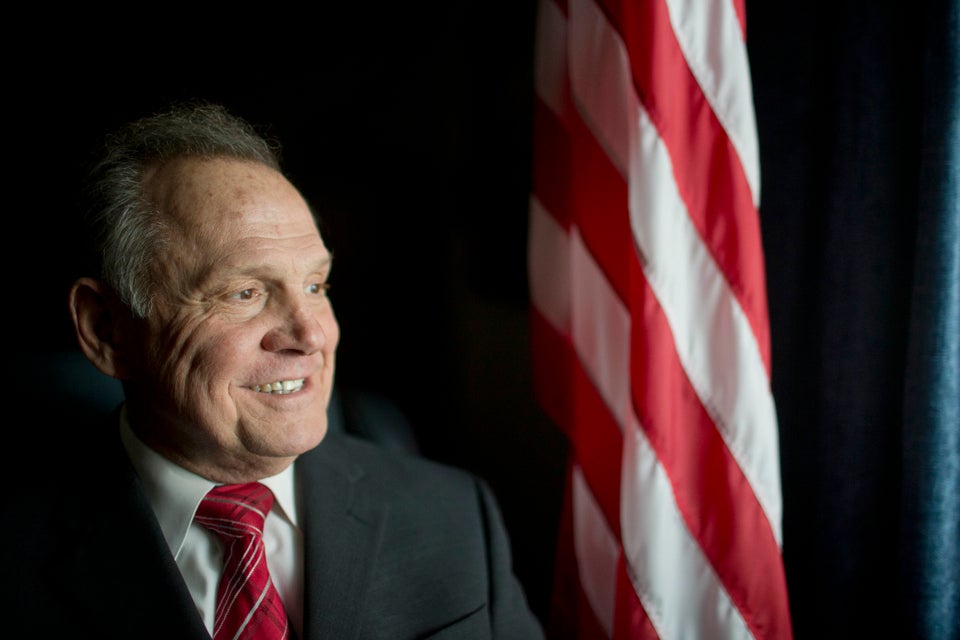 Reasons Ala. Judge Roy Moore Missed SCOTUS' Same-Sex Marriage Ruling
Popular in the Community