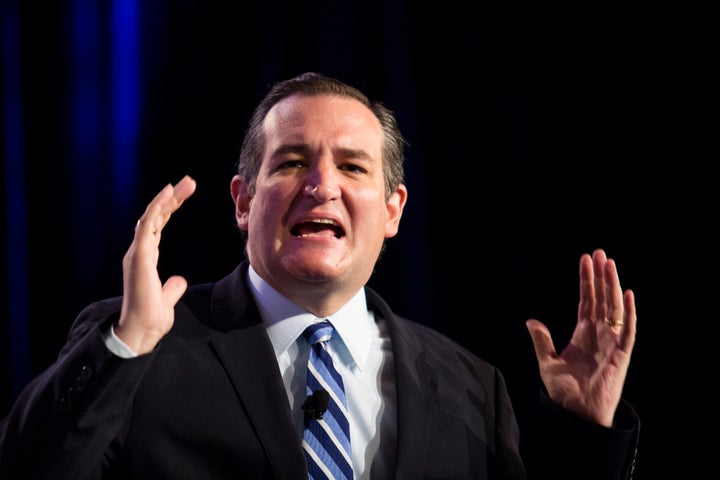 WASHINGTON -- Senate Republicans failed Tuesday to move forward with a bill to punish so-called "sanctuary cities" and certain unauthorized immigrants -- a vote that showed immigration issues are an exception to their arguments against meddling in local decision-making and efforts to limit mandatory minimum prison sentences.
The bill needed 60 votes to move forward, and failed with only 54. Even if it had eventually passed, it would have faced a veto from President Barack Obama.
It did, however, allow Republican candidates for president to go on the record in opposition to jurisdictions that do not fully cooperate with Immigration and Customs Enforcement. GOP candidates Sens. Marco Rubio (Fla.), Ted Cruz (Texas) and Rand Paul (Ky.) voted for the bill, while Sen. Lindsey Graham (S.C.) did not vote.
Two Democrats, Sens. Joe Manchin (W.V.) and Joe Donnelly (Ind.), joined Republicans in voting to move forward with the bill. Republican Sen. Mark Kirk of Illinois joined Democrats in voting against it.
The opposition has long been brewing but became a prominent campaign issue over the summer.
There were two reasons for that: first, that Republican front-runner Donald Trump said many Mexican immigrants are rapists and murderers; second, that a man deported five times allegedly shot and killed a 32-year-old woman named Kate Steinle in San Francisco, which opponents of sanctuary cities said proved Trump's point.
Democrats called the bill that got a vote on Tuesday -- one of many introduced in the wake of Steinle's death -- "the Donald Trump Act." The bill was sponsored by Sen. David Vitter (R), who is running for Louisiana governor. The gubernatorial election takes place on Saturday.
The bill blocked by Democrats on Tuesday withholds certain federal grants from jurisdictions that do not fully comply with ICE requests to hold suspected deportable immigrants in their custody, and reallocates the funds to other jurisdictions. It also affirms that law enforcement officers can decide to cooperate with ICE.
The bill includes a provision called Kate's Law, named for Steinle, that creates a mandatory prison sentence of at least five years for people convicted of reentering the U.S. -- already a criminal offense -- if they were previously convicted of illegal reentry or of an aggravated felony.
Cruz said Tuesday that Democrats who voted against the bill were standing with "violent criminal illegal aliens" and would be responsible for future crimes perpetuated by them. He said before the vote that should it fail, it should be attached to another must-pass bill.
"A vote 'no' is to say the next time, the next murderer like Kate Steinle's murderer comes in, we should not enforce the laws, we shouldn't have a mandatory five-year prison sentence, instead we should continue sanctuary cities that welcome and embrace them, until perhaps it is our family members that lose their lives," Cruz said.
Sen. Chuck Schumer (D-N.Y.) said he believes jurisdictions should work with ICE to deport people like Steinle's alleged killer. But the bill is not the right approach, he said.
"Law enforcement should cooperate with the federal authorities and deport those folks," Schumer said. "But this is not the way to exercise better law enforcement. Punishing cities and communities and yanking federal funding from cops will not get us to a better immigration system or safeguard our communities."
The ACLU estimated the sentencing requirements would cost $3.7 billion over the next decade, not including funds to construct 12 additional federal prisons it says would be needed. In a letter to senators last week, the group said the "one size fits all" approach was in contradiction to current criminal efforts to reduce incarceration levels.
"[I]t makes no sense to create new mandatory minimums for existing federal crimes that would inevitably require prison construction or illegal overcrowding in the current prison system," ACLU staff wrote.
Officials in the approximately 340 jurisdictions that limited cooperation with ICE have argued it is a matter of public safety and civil rights. Immigration officials have asked local law enforcement to hold certain undocumented immigrants so they could pick them up after arrests, even if they were never charged or convicted of a crime.
Advocates of sanctuary policies argue that has a chilling effect on the undocumented population reporting crime or otherwise interacting with police. They also say police involvement with ICE exacerbates problems with racial profiling, especially for Latinos. 
Other jurisdictions changed their policies after a federal ruling that holding people without a warrant beyond the time they would otherwise be released was unconstitutional.
Many so-called sanctuary cities are already beginning to cooperate with ICE, according to the agency, and officials in multiple jurisdictions have said the sanctuary city label does not apply to them. 
Homeland Security Secretary Jeh Johnson has been critical of jurisdictions that do not cooperate with ICE. The approximately 340 jurisdictions that limit cooperation with ICE released more than 9,000 people whom the agency was seeking to deport -- some of them more than once -- from January 2014 to the end of September 2014, according to a report from the Center for Immigration Studies, which opposes sanctuary cities. The report also stated that more than 2,000 of the people released were arrested again during that period.
But Johnson says the solution is to convince jurisdictions to work with the agency, rather than force them to.
The movement against sanctuary cities isn't just happening in Washington. Lawmakers in North Carolina voted last month to ban local governments from telling law enforcement not to work with immigration agents. Michigan is considering its own anti-sanctuary cities law. Texas Lt. Gov. Dan Patrick (R) pledged that the state Senate would do the same during its 2017 session.
Although Republicans say sanctuary cities are less safe, reports have shown immigrants are actually less likely to commit crimes than native-born Americans, and San Francisco has a lower murder rate than cities of similar size without sanctuary policies.
Calling all HuffPost superfans!
Sign up for membership to become a founding member and help shape HuffPost's next chapter