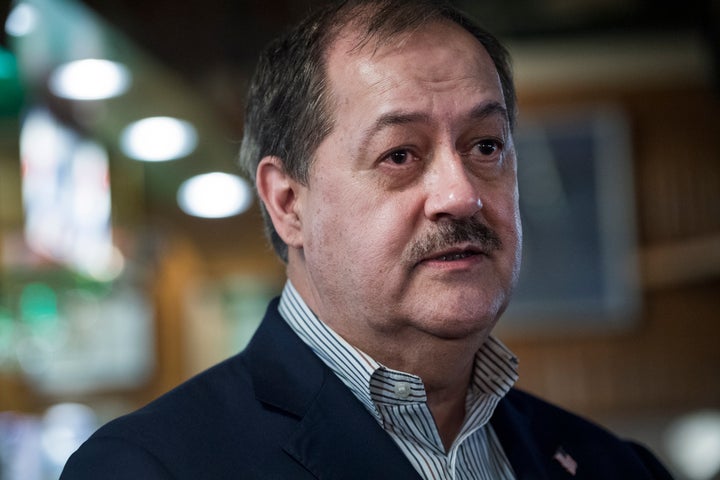 WASHINGTON ― Don Blankenship may not win Tuesday's Senate GOP primary in West Virginia, but that uncertainty didn't stop his would-be colleagues in the nation's capital from already giving him the cold shoulder.
Blankenship, a former coal company CEO who served prison time for his responsibility in the deaths of 29 workers in a 2014 mining disaster in his home state, reportedly has seen his support surge in the primary race after generating media attention with overtly racist and controversial statements.
He attacked Senate Majority Leader Mitch McConnell (R-Ky.), using the slur "Chinaperson" to describe the lawmaker's father-in-law and then standing by his remark when called on it. He also argued in a campaign ad that McConnell "has created millions of jobs for China people."
McConnell's wife, Transportation Secretary Elaine Chao, was born in Taiwan and her parents are Chinese. 
In one TV ad, Blankenship even dubbed McConnell "Cocaine Mitch" on the dubious basis that the drug was found on one of the cargo ships owned by Chao's family several years ago. 
McConnell demurred on Tuesday when asked whether he would support Blankenship in the general election against Sen. Joe Manchin (D-W. Va.) if the former business executive defeats Rep. Evan Jenkins and Attorney General Patrick Morrisey for the GOP nomination.
"We'll wait and see who wins in West Virginia and we'll have more to say on it tomorrow," the Senate majority leader told reporters. 
But some of his GOP colleagues were less hesitant to speak out against Blankenship who, if he emerges as the nominee, will spur a barrage of question about what that says about the their party.
"I just don't see a scenario where that's a positive projection of the Republican brand," said Sen. Thom Tillis (R-N.C.), the vice chair of the National Republican Senatorial Committee, a group dedicated to electing GOP Senate candidates. He added that he would not personally support Blankenship if he wins the nomination.
Sen. Jim Inhofe (R-Okla.) said he'd "have a hard time" backing Blankenship, citing some of the comments he has made.
"He's not my favorite person," Inhofe said.
Sen. John Thune (R-S.D.), the No. 3 Senate GOP leader, said it was too early to say whether he could support Blankenship. But he added that he did not view the controversial candidate as not a good representative for the Republican Party.
Even Sen. Shelley Moore Capito (R-W. Va.) seemed less than enthusiastic about the prospect of Blankenship as her state's other Senate member.
She declined on Tuesday to tell reporters who she voted for in an early ballot she cast last week. "I had a written record [of it], and luckily nobody else can see it but me," she said.
Retiring Sen. Jeff Flake (R-Ariz.) made clear in a Monday Twitter post his view of Blankenship.
Flake, known for his criticism of President Donald Trump, also told reporters that he'll donate to Manchin's campaign if Blankenship wins the primary. "I think you'll see a lot of Republicans making a contribution" to the Democrat, he said.
Calling all HuffPost superfans!
Sign up for membership to become a founding member and help shape HuffPost's next chapter