WASHINGTON -- Democrats defended their Senate majority Tuesday night, beating Republicans in the swing contests and trouncing the Tea Party in a pair of red states. It marked the second straight election in which the GOP seemed poised to take over the Senate but failed to do so, largely because of the ongoing uprising on its own right flank.
"We have defied the odds," said Sen. Patty Murray (D-Wash.), chairwoman of the Democratic Senatorial Campaign Committee. "We have won the night, and we will keep a Democratic majority."
Democrats had to defend 23 Senate seats up for election; the GOP only 10. With the Democrats holding an edge of just 53 to 47 seats -- including two independents who caucus with the party -- Republicans needed to flip a mere four seats to take control.
But they started Tuesday night by giving back four of their own.
It began in Maine, where popular Sen. Olympia Snowe (R) is retiring. Former Independent Gov. Angus King stepped into the void and far out-polled both the Democrat and the Republican in the contest. King ran on a platform of reforming the Senate, but he was poised to caucus with Senate Democrats.
To the south in Massachusetts, Harvard professor Elizabeth Warren (D) piloted a progressive, populist campaign that overcame incumbent GOP Sen. Scott Brown. The Warren win ended the brief Senate career of a man who had ascended to the upper chamber of Congress in a remarkable 2010 special-election win that complicated Democratic health care reform efforts.
Democrats had managed to woo the consumer activist Warren to challenge Brown after President Barack Obama passed over her as his choice to head the Consumer Financial Protection Bureau. Warren trailed far behind the likable, pickup-driving Brown early on, but gradually closed the gap, despite a flap over her claims to Native American heritage.
Her win could be a galvanizing spark for the left, which sees in Warren a potential successor to Obama and a champion for middle-class, working Americans.
"This victory belongs to you," Warren told jubilant supporters. "For every family that has been chipped at, squeezed and hammered, we're going to fight for a level playing field and we are going to put people back to work."
The Indiana seat fell to Democrats next, in the first of two Tea Party-dominated contests in which GOP contenders had made disastrous comments about rape and abortion. Democratic Rep. Joe Donnelly toppled state Treasurer Richard Mourdock in a contest that seemed not just improbable, but impossible a year ago.
Indiana had been considered a lock for the GOP, but Mourdock beat incumbent Republican Sen. Dick Lugar in the primary. Democrats immediately began highlighting Mourdock's right-wing views, especially his statement that he didn't believe in compromising with Democrats. Then, in a debate last month, Mourdock inflicted his own fatal wound, declaring that pregnancies from rape were something "God intended to happen."
Mourdock plummeted in the polls, and Hoosiers shifted toward Donnelly, a conservative Democrat who opposes abortion and voted against the health care law. According to exit polls, Donnelly won big with women, 52 percent to 43 percent. And he crushed Mourdock among self-described moderates, 63 percent to 30 percent.
Mourdock's rape comments perhaps were so damaging because they echoed those of Rep. Todd Akin, the Missouri Republican who made the wildly erroneous claim that women don't become pregnant from "legitimate rape." Akin also lost convincingly, to Democratic Sen. Claire McCaskill. His gap among women was even wider than Mourdock's. Yet before he opened his mouth, Akin had been expected to cruise to an easy win.
The comments of the two Republicans were all the more inexplicable because Democrats had already staked much of their hopes on appealing to women.
Besides McCaskill, Democrats did well with other women Senate candidates. In Wisconsin, Rep. Tammy Baldwin (D) triumphed over former Gov. Tommy Thompson, becoming the first openly gay candidate elected to the U.S. Senate.
In North Dakota, Democrat Heidi Heitkamp appeared poised to defeat GOP Rep. Rick Berg, who was not very popular in the state and far underperformed Mitt Romney in the polls. Heitkamp was leading Berg 160,752 to 157,758 votes, but the race had not been called by Wednesday morning. A former gas company executive, she ran as a moderate whose energy policies were virtually indistinguishable from those of the Republicans.
Another especially tight race unfolded in Montana, where Democratic Sen. Jon Tester ultimately held off GOP Rep. Denny Rehberg, with results announced Wednesday morning. Rehberg vanished from the campaign trail in the late days of the contest. Tester cast himself as an independent-minded moderate, while alleging that Rehberg was a creature of Washington. Reinforcing that charge was a story by The Huffington Post reporting that Rehberg had once told lobbyists that theirs was an honorable profession and that he couldn't legislate without their advice.
In Connecticut, voters opted for Democratic Rep. Chris Murphy, who body-slammed former pro-wrestling executive Linda McMahon. In her second failed bid for the Senate, the Republican had spent more than $40 million, much of it her own money.
Ohio marked another failure for Republicans. The state's treasurer, Josh Mandel, emerged as an unlikable opponent to the blue-collar liberal Sen. Sherrod Brown. Mandel hurt himself by, among other poor decisions, skipping all of the meetings of the state's Board of Deposit while he was seeking higher office. He also got tagged as a serial campaign liar. Mandel lost by 5 percentage points, despite some $30 million in outside spending that flooded into Ohio to help him.
Sen. Murray said the results showed that people mattered more than money.
"The special interests out there gave it their best shot," she said. "But you know what? America fought back ... They want common sense, they want compromise, not Tea Party tax pledges."
Murray singled out the billionaire Koch brothers, who sank millions of their oil money into races all over the nation. "They tried to buy the United States Senate, and it did not work," she declared.
Democrats also notched an important win in swing state Virginia, where they had recruited Tim Kaine, the former governor, from his post as chairman of the Democratic National Committee. Kaine beat former GOP Sen. George Allen 52 percent to 48 percent.
Guy Cecil, executive director of the Democratic Senatorial Campaign Committee, echoed Murray in saying that persuading people like Kaine to run was key. "The quality of candidates that we recruited and the quality of campaigns that we've run are paying off for us," Cecil said Tuesday.
The night was not all bleak for Republicans in close races. They did manage an easy win in Nebraska, where Democratic Sen. Ben Nelson is retiring. Republican candidate Deb Fischer ended the comeback bid of former Nebraska Sen. Bob Kerrey. The GOP also won in Arizona, where Republican Rep. Jeff Flake fought a tough contest against former Bush-administration Surgeon General Richard Carmona.
In Nevada incumbent GOP Sen. Dean Heller managed to hold off Democratic Rep. Shelley Berkley, besting her by 1 percentage point.
Senate Majority Leader Harry Reid (D-Nev.), who will keep his job, offered a warning and a bit of an olive branch, saying he believed the parties would be able to work together in the upper chamber.
"Now that the election is over, it's time to put politics aside and work together to find solutions," Reid said. "The strategy of obstruction, gridlock and delay was soundly rejected by the American people. Now, they are looking to us for solutions."
He also signaled that he might be ready to jump right into tackling a major challenge -- the looming fiscal cliff.
"This is no time for excuses," Reid said. "This is no time for putting things off until later. We can achieve big things when we work together. And the middle class is counting on us to achieve big things in the months ahead."
In an early-morning statement, Senate Minority Leader Mitch McConnell (R-Ky.) focused his attention less on the lost opportunities in the Senate, and more on President Obama and the chances of actually working together. He indicated that Obama should not take the Democratic wins as too much of a mandate.
"The American people did two things: they gave President Obama a second chance to fix the problems that even he admits he failed to solve during his first four years in office, and they preserved Republican control of the House of Representatives," McConnell said. "The voters have not endorsed the failures or excesses of the President's first term, they have simply given him more time to finish the job they asked him to do together with a Congress that restored balance to Washington after two years of one-party control. Now it's time for the President to propose solutions that actually have a chance of passing the Republican-controlled House of Representatives and a closely-divided Senate, step up to the plate on the challenges of the moment, and deliver in a way that he did not in his first four years in office."
Murray's counterpart at the National Republican Senatorial Committee, Sen. John Cornyn (R-Texas), sounded a less confrontational note, conceding defeat and suggesting the GOP had some soul-searching to do.
"It's clear that with our losses in the presidential race, and a number of key Senate races, we have a period of reflection and recalibration ahead for the Republican Party," Cornyn said. "While some will want to blame one wing of the party over the other, the reality is candidates from all corners of our GOP lost tonight. Clearly we have work to do in the weeks and months ahead."
This story has been updated to reflect Sen. Jon Tester's victory in Montana.
Michael McAuliff covers Congress and politics for The Huffington Post. Talk to him on Facebook.
Before You Go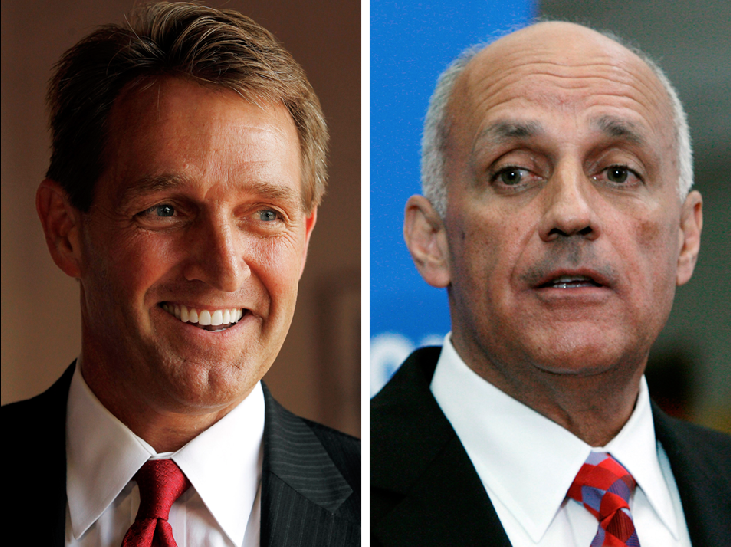 2012 Senate Races
Popular in the Community