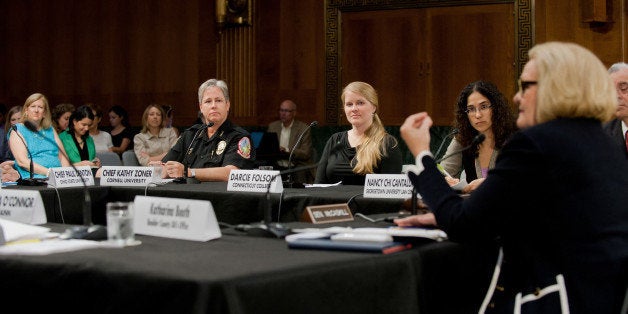 WASHINGTON -- A discussion on campus sexual assault hosted by Sen. Claire McCaskill (D-Mo.) Monday revealed disagreement between college administrators and advocates for victims on when a school should tell students about a reported rape.
The roundtable event in the Senate Dirksen Office Building was the last of three McCaskill held before introducing legislation to improve colleges' response to sexual violence. The event featured panelists from victim advocacy groups, college administrators, prosecutors, as well as McCaskill and Sen. Richard Blumenthal (D-Conn.). McCaskill noted the event differed from a committee hearing in that there were no prepared questions or statements,
Paul Denton, police chief at The Ohio State University, said law enforcers want better guidance from the U.S. Department of Education on whether to issue campus warnings after reported sex crimes. Timely warnings are required under the Clery Act for any ongoing threat to student safety. Denton said people on the Ohio State campus had asked the department to issue warnings for every reported sexual assault.
Kathy Zoner, police chief at Cornell University, raised similar concerns. "We get that question too: 'We knew you had a sexual assault, why didn't you give a timely warning?'" Zoner said.
Other administrators in the discussion floated the possibility that a campus warning may identify a sexual assault victim. Prosecutors sometimes suggest a college lawyer issue a warning, while law enforcement asks university administrators to keep quiet to avoid jeopardizing an investigation.
"We've got a problem with timely warnings," McCaskill said. "You're damned if you do, damned if you don't."
Yale University law student Alexandra Brodsky, another panel participant, noted that warnings allow students to gauge whether a school underreports sexual assaults in periodic disclosures of crime reports.
"It's really hard to file a Clery complaint [against a university], because you're dependent on your school's information to know whether your school's information is correct or not," Brodsky said.
The failure of schools to issue campus warnings this year has generated intense controversy.
At the University of Oregon, the campus community was outraged when local media revealed the school knew three men on the basketball team had been accused of gang rape, but said nothing for two months.
Johns Hopkins University knew police were investigating an alleged gang rape at a fraternity, but didn't alert the campus, even as the Greek house continued to throw parties.
Laura Dunn, a lawyer who founded the victim support group SurvJustice and a member of a committee advising the Education Department on recent adjustments to the Clery Act, noted the law already gives schools discretion on when to issue warnings, requiring them only when there is an ongoing threat. Further, the law prevents disclosure of identifying information about the victim, she said.
"Please do not take this needed tool away given its essential role in ensuring campus safety and preventing ongoing harm to other students," Dunn wrote in an email to Senate staffers after the roundtable. "Colleges benefit from hiding instances of sexual violence and this requirements forces them to expose ongoing issues and allows students to protect themselves."
McCaskill told HuffPost after the hearing there are variables, such as the size of a campus and the nature of the warning.
"Some of this is case-by-case basis," McCaskill said. "But we've got a lot of work to do for universities being accountable and being transparent." She said her concern is marrying confidentiality for victims and transparency requirements for the college.
McCaskill and Blumenthal told reporters they expect to introduce a bipartisan bill after the August recess. They did not rule out the possibility that the measure could get folded into the renewal of the Higher Education Act.
Related
Popular in the Community