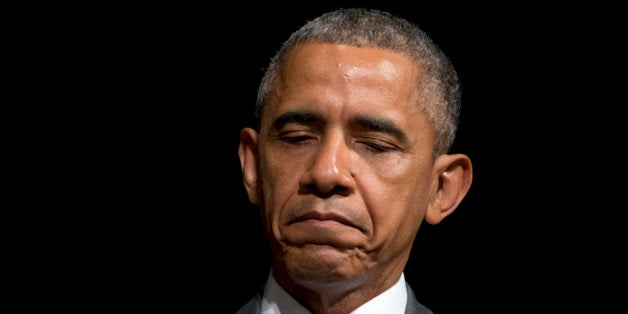 WASHINGTON -- President Barack Obama knew that getting his controversial trade agenda through Congress would be no easy task. But it's been nearly a month since the Senate first signed off on it, and there's still plenty of fighting ahead.

The legislative jujitsu over Obama's trade package has thrown Capitol Hill into a frenzy, with House Speaker John Boehner (R-Ohio) summing up the process as just plain strange. So far, House Democrats have emerged as the main obstacle, as Republicans, with the aid of some Democrats, try to pass a bill giving Obama special authority to expedite international trade deals through Congress.
"I would describe most of what's gone on in the last three weeks as something close to bizarre," Boehner said Thursday, when asked about the complex procedural tactics and lobbying effort he's been leading alongside Obama.
The House voted Thursday to pass "fast-track" legislation, or Trade Promotion Authority, which would clear the way for the president to move trade deals through Congress with a simple up-or-down vote. The first deal in the queue is the 12-nation Trans-Pacific Partnership. The massive pact would encompass 40 percent of the global economy.
The House had already voted yes on the TPA bill last week. But House Democrats who were unhappy with some of its provisions tanked it by voting down another bill, a Trade Adjustment Assistance measure, that needed to pass in order for both bills to move forward.
Determined to avoid a repeat of that mess, House and Senate Republican leaders have settled on a complicated procedural process for moving the bills again -- this time in a way that makes it harder for Democrats to bring everything down.
Now that the House has passed the TPA bill again, it heads to the Senate, where it is expected to sail through. That leaves the TAA measure hanging out there. Democrats actually like the TAA bill; they only opposed it before because they knew they could use it to sink the whole trade package. This time, now that TPA has been split from TAA, it's that much harder for Democrats to oppose the latter.
To make it even more difficult for Democrats to vote no, Senate Republicans plan to attach the TAA bill to another bill that Democrats like -- the African Growth and Opportunity Act, a separate trade measure involving African countries. Republicans are banking on Democrats voting for the TAA-AGOA combination bill, the Senate sending that bill to the House, both parties voting to support it there, and then the bill heading to the president's desk.
"Our best way forward now is to consider TPA and TAA separately. That means TAA will come second after TPA, but the votes will be there to pass it -- reluctantly, not happily, but they will be there," Senate Majority Leader Mitch McConnell (R-Ky.) said late Thursday, setting up votes for next week.
McConnell filed cloture on TPA and the African trade bill with TAA attached -- putting the Senate "on a procedural glide path" to vote on all three, he said.
If all goes as planned, TPA and TAA will both become law, which is ultimately what Obama, Republicans and some Democrats want. The process may have been ugly, but, like sausage-making, it's the end product that matters.
To make sure it happens, the White House, McConnell and Boehner are sending out assurance after assurance that they will deliver on sending TPA and TAA to Obama's desk.
"The pro-trade Democrats -- the 14 who voted for the [previous TPA] bill -- I believe feel very strongly about making sure that all four bills actually happen: TPA, TAA, customs and AGOA," said Sen. Ron Wyden (D-Ore.), who backs TPA. "I'm not going to speculate about Senate procedure. We want to make sure that all four bills actually happen." (The customs bill would enforce trade provisions reached with other countries.)
The fact that GOP leaders have separated TPA from TAA, two issues that are historically combined, is likely to leave a bad taste in many Democrats' mouths. TAA is usually the sweetener that gets Democrats on board with fast-track bills.
But Rep. Gerry Connolly (D-Va.), a vocal advocate of fast-track, said Democrats should focus on the fact that TPA and TAA are both still getting done.
"Our strategy here is 'free the hostage,'" Connolly told reporters. "The only way you free the hostage -- TAA -- is to get TPA signed into law."
The Virginia Democrat said he "absolutely" expects Obama to sign TPA before TAA even hits his desk -- again, not something that Democrats like -- but said he "firmly" believes that GOP leaders will keep their word and get TAA passed soon after.
"No one is playing games here, including Speaker Boehner," Connolly said. "McConnell and Boehner understand that it would be a stain on their eye, frankly, to in any way play with this very delicate sequence of votes."
Some House Democrats were already grumbling about the fact that Obama appears on board with splitting TPA and TAA apart. Rep. Keith Ellison (D-Minn.), a co-chair of the Congressional Progressive Caucus, speculated that GOP leaders would leave TAA on the table if TPA gets signed into law first.
"Trade Adjustment Assistance will never pass in a Republican-controlled Congress after Trade Promotion Authority is signed into law," Ellison said.
REAL LIFE. REAL NEWS. REAL VOICES.
Help us tell more of the stories that matter from voices that too often remain unheard.
BEFORE YOU GO
PHOTO GALLERY
Scenes From 114th Congress And Capitol Hill