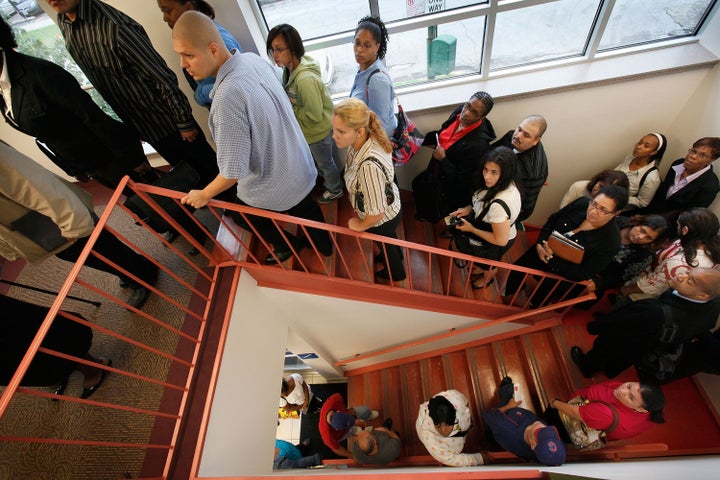 The Senate is all set for another fight to reauthorize extended unemployment benefits and other domestic aid provisions that will expire unless Congress acts before its Memorial Day recess.
"Congress cannot screw this up again," said Andrew Stettner, deputy director of the National Employment Law Project. "They have to get this extension done before they go on the Memorial Day recess. We're nervous that they're starting this late in the game. It's the bare minimum of what they need to do."
The House will vote on the bill, titled the "American Jobs and Closing Tax Loopholes Act," on Tuesday, after which it will head over to the Senate. Then, assuming the upper chamber has already taken care of its war funding bill, senators will have a chance to offer amendments, which Senate Majority Leader Harry Reid (D-Nev.) is encouraging them not to do (since any changes would require another vote in the House). Reid will have to file one cloture motion to overcome a Republican filibuster, setting up a final vote near the end of the week.
It's unlikely the Republicans will cooperate with any motions for "unanimous consent" to move faster.
"This is a jobs bill for endangered incumbent politicians, not the American people," said John Hart, a spokesman for Sen. Tom Coburn (R-Okla.), in an email to HuffPost. "The extenders bill will be another exhibit in the public's case against the Establishment."
And there's been some grumbling among Democrats over one of the bill's funding sources -- a measure to close the "carried interest" loophole that allows investment fund managers to pay less than half as much as regular rich people in income taxes. Some Senate Dems pushed for Finance Committee chairman Sen. Max Baucus (D-Mont.) to go soft on fund managers.
They failed: The bill Baucus and House Ways and Means Committee chairman Rep. Sandy Levin (D-Mich.) unveiled Thursday gave private equity lobbyists nothing to cheer about.
"This punitive, 157 percent tax hike on growth investment by real estate, venture, private equity and other firms will hurt those companies that are most desperately in need of capital to sustain or create jobs and drive growth," said Douglas Lowenstein, president of the Private Equity Council, in a statement.
"It's about time that Washington stopped subsidizing mega-millionaires for managing other people's money," said U.S. PIRG's Nicole Tichon, who had been lobbying for the Senate to close the loophole.
A preliminary estimate from the Joint Committee on Taxation says the carried interest offset will raise $18 billion over 10 years.
Congress faced almost the same situation before its previous recess at the end March, when deficit hawk Coburn objected to unanimous consent for speedy passage of a similar measure to extend unemployment benefits and other programs for 60 days. Instead of forcing a weekend vote, Democrats decided to adjourn. The programs lapsed on April 5, jeopardizing benefits for hundreds of thousands. When it reconvened the following week, Congress extended the jobless aid programs until June 1. The current bill will extend them for the rest of the year.
Among other things, including a "doc fix" to prevent a reduction in Medicare payments, subsidies for people who buy COBRA health insurance, and tax breaks for businesses, the bill reauthorizes existing benefits for the long-term unemployed. It does not provide for additional weeks of benefits, something thousands of jobless folks petitioned for in a grassroots effort.
Popular in the Community