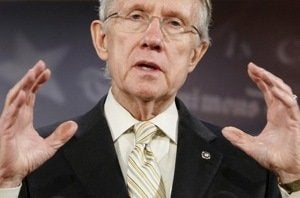 Tired as folks may be of hearing this, Wednesday is set to be another big day for health care reform on Capitol Hill. No, really. It is.
Senate Democrats plan to huddle at 5:00 in a closed-door meeting in the Capitol to go over a crucial and long-awaited Congressional Budget Office estimate -- known as a "score" -- that is expected to be ready by the afternoon, said two aides familiar with the situation.
Senate Majority Leader Harry Reid (D-Nev.) will share details of the score and his proposed bill with his 60-member caucus with the goal of persuading each member to vote yes on a motion to proceed to consideration of the measure. That vote, if all goes well, could come by the end of the week. Reid said Tuesday that he was "cautiously optimistic" he'd have the votes needed.
"Our purpose and resolve remain strong. We're energized. We stand on the doorstep of delivering historic reform to the American people," he said.
Senators have said this week that they expect it to include a public health insurance option with a provision that reluctant states could opt out of it. It would also make clear that no federal funds could be used to fund abortion, but would fall well short of the House version, which represents a major rollback of reproductive rights and would prevent some women from buying private insurance that covers abortion with their own money.
The Dem meeting will be followed by a press conference and a briefing for reporters on details of the bill.
Reid told reporters Tuesday that they would be impressed by his bill. "I am going to have a bill that's fiscally responsible. Of all the bills we've seen, it'll be the best: saves more money, is more protective of Medicare, is a bill that's good for the American people. I'm not going to get into the numbers today, but it'll -- I think if you're not impressed, you should be," he said.
Calling all HuffPost superfans!
Sign up for membership to become a founding member and help shape HuffPost's next chapter