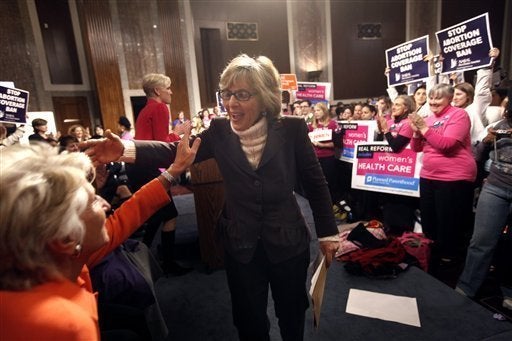 Senate negotiators emerged from a full day of meetings Tuesday saying they had made genuine progress toward a deal on health care reform.
They declined to outline the specifics of the agreement, but said that the measures they had been discussing will be sent to the Congressional Budget Office for cost estimates. Once the estimates are returned, the final deal will be put together.
"We have made a lot of progress. There's a lot of agreement. We have decided to take the next step and that is to ask the CBO to score what we've been discussing," said Sen. Tom Carper (D-Del.), one of five conservative Democrats negotiating with five liberals.
The discussion has focused on abandoning or greatly narrowing the public health insurance option. In exchange, people 55-64 would be able to buy in to Medicare and Medicaid eligibility would be expanded to people within 150 percent of the federal poverty line. And people within 300 percent of poverty would be eligible for a program pushed by Sen. Maria Cantwell (D-Wash.) modeled on her state's Basic Health. Cantwell is not one of the ten in the meetings but has stopped by to brief negotiators.
Senators, after the meeting, would not confirm which elements of the discussion were sent to CBO. Much will depend on the results of the CBO analysis.
Sen. Jay Rockefeller (D-W.Va.), one of the liberal members in negotiations, said that he was happy with where the talks had gone.
"I've got a smile on my face. I don't smile naturally," he said.
Carper, standing nearby Rockefeller, declined to answer questions until Rockefeller finished and leaned into the scrum to get closer. "I want to hear what he says," Carper said.
"We have a broad agreement," Senate Majority Leader Harry Reid (D-Nev.) told reporters, refusing to give any details on the talks, Reuters reported.
Reid said reports the government-run "public option" had been dropped were "not true."
"Not everyone is going to agree with every piece we sent over" to the Congressional Budget Office, he said, adding: "Is the end in sight? The answer's yes."
Reid's office subsequently released a written statement on the compromise:
I asked Senators Schumer and Pryor to work with some of the most moderate and most progressive members of our diverse caucus, and tonight they have come to a consensus.

It is a consensus that includes a public option and will help ensure the American people win in two ways: one, insurance companies will face more competition, and two, the American people will have more choices.

I know not all 10 Senators in the room agree on every single detail of this, nor will all 60 members of my caucus. But I know we all appreciate the hard work that these progressives and moderates have done to move this historic debate forward.

I want to thank Senators Schumer, Pryor, Brown, Carper, Feingold, Harkin, Landrieu, Lincoln, Nelson and Rockefeller for working together for the greater good and never losing sight of our shared goal: making it possible for every American to afford to live a healthy life.

As is long-standing practice, we do not disclose details of any proposal before the Congressional Budget Office has a chance to evaluate it. We will wait for that to happen, but in the meantime, tonight we are confident."
Public option supporter Sen. Tom Harkin (D-Iowa) told reporters "he didn't like the agreement but would support it to the hilt in an attempt to pass health care legislation," the AP reported. Likewise, Sen. Russ Feingold (D-Wisc.), who has aggressively backed a public option, said in a statement, "I do not support proposals that would replace the public option in the bill with a purely private approach. We need to have some competition for the insurance industry to keep rates down and save taxpayer dollars."
Democratic aides said that the group had tentatively agreed on a proposal that would replace a government-run health care plan with a menu of new national, privately-run insurance plans modeled after the Federal Employee Health Benefits Program, which covers more than eight million federal workers, including members of Congress, and their dependents.

A government-run plan would be retained as a fall-back option, the aides said, and would be triggered only if the new proposal failed to meet targets for providing affordable insurance coverage to a specified number of people.

The agreement would also allow Americans between age 55 and 64 to buy coverage through Medicare, beginning in 2011.
Earlier on Tuesday evening, the Senate beat back an attempt by Sen. Ben Nelson (D-Neb.) to attach extremely restrictive abortion provisions to the health care bill now entering the final stages of negotiations.
The stronger restrictions were modeled after language pushed in the House by Rep. Bart Stupak (D-Mich.), a member of a secretive evangelical organization, some of whose members live together in a house on C Street on Capitol Hill.
Nelson routinely seeks out packs of reporters and speaks at length until questions are exhausted, but following Tuesday's 54-45 vote, he slipped out the back of the Senate chamber to head for negotiations between five liberal and five conservative Democrats going on in a room across from Majority Leader Harry Reid's office.
A few reporters waiting outside the door asked him how it would effect his decision on whether to support the final effort.
"I want to continue to work on this," he said, not ruling out his support, at least "not at this point in time. I want to continue to work on the project we're working on... This makes it harder right now [to support the bill]. We'll have to see if they can make it easier."
The Hill reported that Harry Reid "delivered a lengthy, emotional floor speech" arguing against the amendment.
"I don't believe that the Senate needs to go as far as this amendment would take us," Reid said. "No one should use the health care bill to expand or restrict abortion. No one should use the issue of abortion to rob millions of the opportunity to get good health care. This is not the right place for this debate. We have to get on with the larger issue at hand. We have to keep moving toward the finish line and cannot be distracted by detours or derailed by diversions."
Popular in the Community