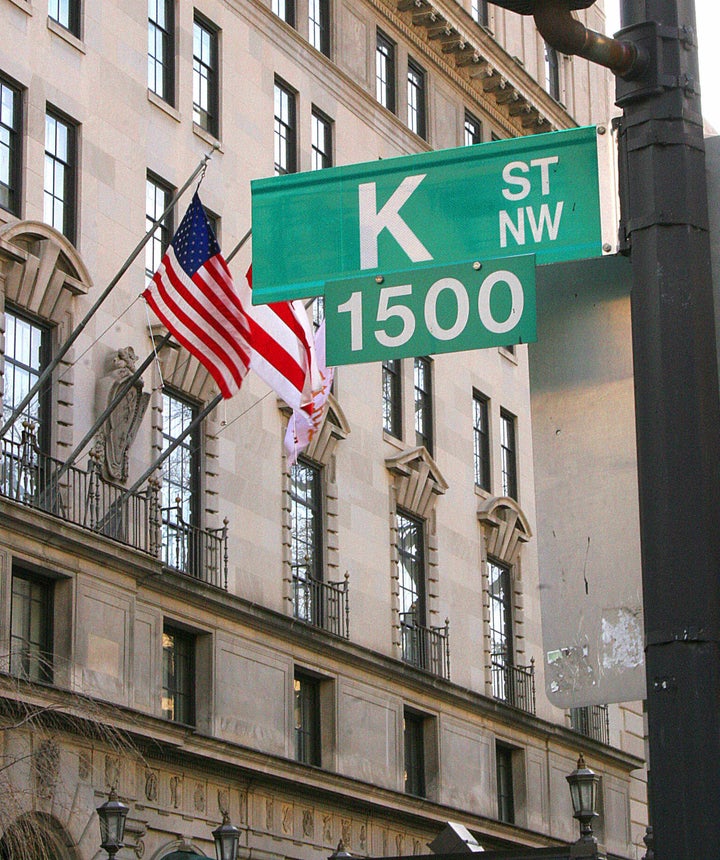 Peter Rubin, staff director for Maryland Democrat Sen. Barbara Mikulski's subcommittee on health and aging, announced in an email to staffers this week that he will be leaving the Hill for a job on K Street in May.
This will be Rubin's second spin through the revolving door. In 2000, he left a job with Rep. Jim McDermott (D-Wash.) to become a registered lobbyist for the Pharmaceutical Research and Manufacturers of America (PhRMA). He started working for Merck in 2007, then became Mikulski's subcommittee staff director in 2008, just as health care reform ramped up.
"With the imminent arrival of baby #2, I have decided to take a job at Sanofi-Aventis starting on May 3rd," said Rubin in an email to staffers that was forwarded to HuffPost. [Note to Hill staffers: Colleague making a similar move? Tell us about it -- email arthur@huffingtonpost.com. Confidentiality guaranteed.]
It's an email straight out of the K Street handbook and a running joke on Capitol Hill -- as soon as a staffer feels an iota of financial pressure -- or simply wants a bigger paycheck -- it's time to blame the kid and cash out, doubling or tripling their salary as a lobbyist. "Spots open and one of the committee staffers has a kid," a staffer-turned lobbyist told HuffPost in December. "They'll be moving downtown. Money is number one."
"The door doesn't just revolve once," says Rep. Brad Miller (D-N.C.). "They tend to go out and come back and go out again. It really does create a set of financial incentives, whether conscious or not."
Mikulski's subcommittee is part of the Health, Education, Labor & Pensions Committee, and was the right place to be for a former PhRMA lobbyist. It drafted one half of the Senate health care bill. Among the biggest giveaways to any industry was the HELP Committee's decision to extend 12 years of market exclusivity to extremely expensive drugs known as "follow-on biologics." With a very minor modification, the patent can be protected indefinitely. FOBs are prescribed to cancer patients, for instance, and can cost hundreds of thousands of dollars per year. The HELP language will keep generic FOBs off the market.
"The biotechnology industry breathed a sigh of relief with this section's passage because this clearly delineated time frame could have been much different," wrote Richard Gayle, founder and biotech specialist at SpreadingScience in Seattle.
"I could see where problems might arise through the appearance of a conflict of interest, but I can't say someone shouldn't earn a living," said Gayle in an interview with HuffPost. "There's valuable information that can be provided without it being a conflict of interest. You have to know the person whether you should trust them or not."
"The downside is obviously people can game the system and get some quid-pro-quo," Gayle continued. "The pharmaceutical industry has not done itself favors over the years in terms of people trusting them."
Sanofi-Aventis, where Rubin is heading, is a drugmaker expanding its presence in the biologics market. CEO Chris Viehbacher told the Financial Times in February 2009 that more than one-fifth of the company's profits were threatened by expiring patents. The bill that Rubin helped write will protect those kinds of profits.
"Mr. Viehbacher said that the company had 'missed the boat' on diversifying into biological medicines, and would involve governments and insurers that pay for medical care more in future development to ensure 'you bring medicines of value to the marketplace,'" the FT reported.
The 12-year exclusivity was more than PhRMA had been promised in its deal with the White House. The provision received little attention in the media, though FireDogLake closely tracked the provision in both the House and the Senate -- and what it means for those with breast cancer.
The committee rejected an amendment from Sen. Sherrod Brown (D-Ohio) that would have provided a shorter period of exclusivity.
"All too often, the price tag for this type of drug is simply too high for the patient who needs it. For instance, annual treatment for breast cancer with the brand-name biologic drug Herceptin costs $48,000," he said. "Even if you are lucky enough to have health insurance and you are paying 20 percent copay, that is $9,600 a year. More than 192,000 American women will be diagnosed with breast cancer in 2009. How are they going to afford that kind of drug?"
Rubin has plenty of company when it comes to his habit of using Congress as a place to pick up experience he can then turn around and sell to the highest bidder. A lobbyist who worked as a subcommittee staff director can command a salary that puts him in the top one percent of all earners.
A bank lobbyist recently pulled a similar stunt in the House, leaving the Financial Services Committee for K Street after the chamber finished its reform bill. Chairman Barney Frank (D-Mass.) was so incensed that he permanently barred his staff from contacting Peter Roberson as long as Frank was running the committee.
Mikulski is getting tougher on Rubin than the law requires. "Senate Ethics rules require that Peter Rubin not lobby Senator Mikulski or the HELP Committee for one year. Senator Mikulski's office policy takes that further by also barring lobbying of her personal office staff for a year," said Mikulski spokeswoman Rachel MacKnight in a statement to HuffPost.
HELP Chairman Tom Harkin (D-Iowa), however, is not going beyond the current rules. Rubin will be free to lobby the committee after one year as long as he complies with existing Senate ethics rules. Frank's and Mikulski's directives go beyond the existing rule.
"The Senate ethics rules govern when former Senate employees can lobby their former colleagues. Senator Harkin supports those rules," said Harkin spokeswoman Kate Cyrul.
Senate rules, of course, do not apply to the House, so Rubin would legally be allowed to lobby the lower chamber. But committees on the House side could follow Frank's lead. Brian Cook, a spokesman for Rep. Pete Stark, the chairman of the Ways and Means health subcommittee, said that the committee is looking into Rubin's situation and will evaluate whether to bar him from contacting staffers there.
A spokesman for Rep. George Miller (D-Calif.), chairman of the House Education and Labor Committee, which has some jurisdictional overlap with the Senate HELP committee, declined to comment.
According to Legistorm, Rubin earned $114,399 in 2009. That's dry-cat-food money on K Street. HuffPost emailed Rubin, but he forwarded the message to a Mikulski spokesperson and did not respond to a request for comment.
Here's Rubin's mechanical email to his former colleagues:

With the imminent arrival of baby #2, I have decided to take a job at Sanofi-Aventis starting on May 3rd.

It has been an unbelievably amazing experience to work for BAM and watch health reform go from a hearing to a law that actually helps people.

I very much appreciate everyone being such great friends and colleagues along the way. I have learned a lot and will not forget our shared experiences.

Thank you and best of luck,

Peter
Popular in the Community