WASHINGTON -- The U.S. Senate on Thursday rejected student loan proposals that would have either temporarily helped only a small subset of new borrowers or been likely to aid borrowers who take out federal loans just for the next few years, as debt-strapped households continue to wait for far-reaching solutions.
Policymakers and financial regulators caution that economic growth and the health of the U.S. banking system is at risk as borrowers with a cumulative $1.1 trillion in student debt, many of whom are paying record relative interest rates on their government loans and enriching the Treasury with unparalleled profits, are likely to curb consumption, big purchases, and new borrowing due to overwhelming debt loads.
Despite increasing warnings, Congressional Democrats are focused on saving the typical undergraduate borrower less than $10 a month on an average 12-year-loan, while promising to take additional steps in the coming months to help the vast majority of new and existing borrowers. Their bill failed to attract the necessary 60 votes, securing just 51 votes instead.
Republicans aim to replace the current system of rates on all government loans being set by Congress to one dictated by the government's cost to borrow, with apparently little regard to the fact that the government's borrowing costs are forecast to double in three years. The Republicans could muster just 40 votes.
After the two votes, both sides resorted to partisan recriminations. Proposals intended to permanently allow students to borrow more cheaply or refinance existing high-rate debt do not appear likely to receive full Senate votes any time soon.
Meanwhile, leading policymakers such as Sarah Bloom Raskin, Federal Reserve governor, are warning that higher education is no longer the "panacea" that could lift household incomes and wealth. "The high level of student debt makes the education calculation a little more complicated," Raskin said Tuesday.
Last week, President Barack Obama said that the average $26,000 debt load racked up by fresh college graduates "doesn't just hold back our young graduates. It holds back our entire middle class."
The most common federal student loans carry interest rates set by Congress of 6.8 percent and 7.9 percent. For the past few years, students from low- and middle-income households have been able to borrow a few thousand dollars on one type of federal loan at 3.4 percent, a rate that's set to revert back to 6.8 percent next month. The Obama administration is forecast to record a $51 billion profit this year off lending to students.
The Fed, which over the past four years has reduced borrowing costs to near-record lows on all sorts of debt ranging from corporate bonds to auto loans to home mortgages, appears powerless to help students as lenders refuse to offer refinancings and the Obama administration has yet to support measures intended to help distressed college graduates refinance existing expensive debt into cheaper loans.
"But if you're a college student who has taken out a federal loan during that time, you've seen no benefit at all from the dirt-cheap borrowing costs," Sens. Lamar Alexander (R-Tenn.), Tom Coburn (R-Okla.) and Richard Burr (R-N.C.) wrote in a joint opinion article published in The New York Times this week.
"In other words, you could borrow money to buy a used car to drive yourself to college and pay about 3 percent interest over five years, while at the same time you could be paying nearly 7 or 8 percent interest on the cost of your education," the Republican lawmakers wrote.
The Democratic bill that failed to advance Thursday was backed by both the White House and Senate Democratic leadership. The Republican alternative was co-sponsored by Burr, Coburn and Alexander, and resembles a House Republican measure that passed the chamber last month.
The Republican ideas are similar to White House proposals in that the three measures tie student loan interest rates to the government's cost to borrow for 10 years. But the Obama administration's proposal features lower rates, while also expanding a program meant to enable borrowers to index their monthly loan payments to their incomes.
"Both the president and Republicans want to prevent rates from going up in July, and the ideas Republicans have put forward on this issue are actually quite similar to what the president has already proposed. So this should've been a slam dunk," Senate Minority Leader Mitch McConnell (R-Ky.) said on the Senate floor.
"Instead, Senate Democrats put forward a bill that fails the very benchmarks the president set himself -- a bill that's nothing more than a short-term political patch," he added.
Senate Majority Leader Harry Reid (D-Nev.) countered that Democrats "have no reason to work out a compromise."
Reid added: "I'm not looking for compromise. I'm looking to pass our bill."
Before You Go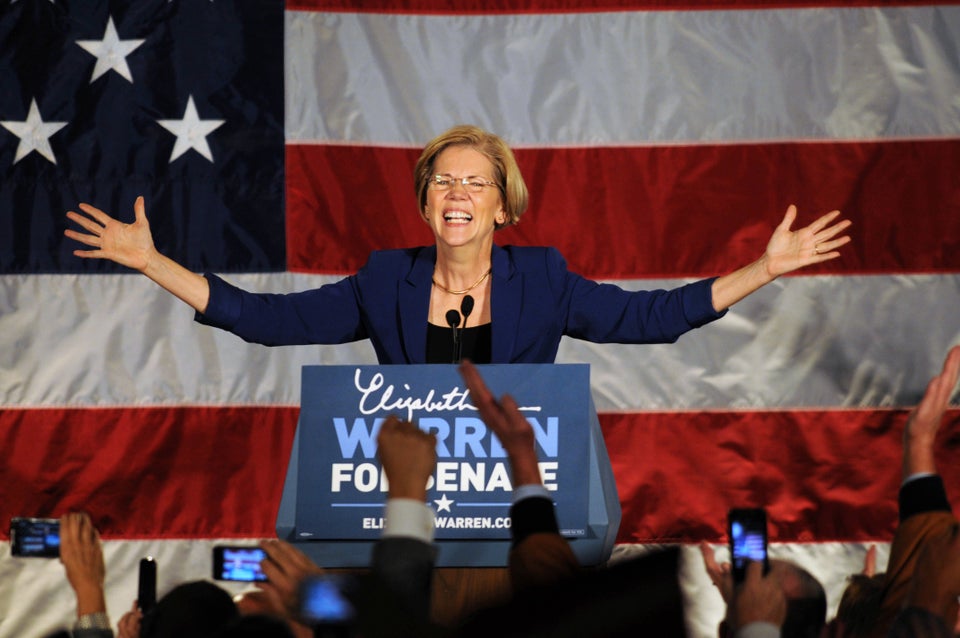 Women In The U.S. Senate
Popular in the Community