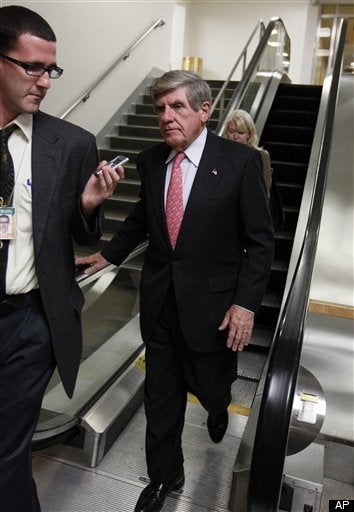 The Senate will hold a key vote Monday afternoon on a bill to provide $26 billion in Medicaid and education money to states.
Previous domestic aid bills have gone down in flames because Republicans and Nebraska Democrat Ben Nelson have insisted that the cost of helping the poor, old, and jobless not be added to the deficit. This bill is fully offset with spending cuts and tax increases on U.S.-based multinational corporations, but Republicans have not signaled whether they will support it.
If Republicans oppose the bill, Democrats will be in a bind: Sen. Mark Begich (D-Alaska) may miss the vote to attend a funeral service following a plane crash that killed four Alaskans, including three members of the state's National Guard.
The senator's office told HuffPost that no decision had been made as to whether or not he would travel back to D.C. by Monday afternoon. But a spokeswoman said that "this is a very important service for military members," and that Begich was "trying to figure out how to make it work."
Senate Democrats tried for several weeks to provide states with $24 billion in Medicaid assistance as part of a broader bill that included unemployment benefits. Republicans and conservative Democrats filibustered the bill because it would have added to the deficit. Democratic leaders gradually cut spending provisions and added revenue raisers, ultimately reducing the amount of Medicaid aid and fully offsetting it, but the bill failed because the jobless aid was not offset.
Now, with that out of the way, Democrats will try again on the Medicaid funding (known as FMAP -- Federal Medical Assistance Percentages). The bill has been crafted for the purpose of winning Republican votes. The entire cost of the legislation is offset, in somewhat perverse fashion by cutting making $6.7 billion in cuts to Supplemental Nutritional Assistance Program (otherwise known as food stamps).
Chuck Loveless, Legislative Director for AFSCME, which is pushing for the bill, said Friday that AFSCME and other labor groups "are strongly committed to making sure those cuts never happened."
"If this money is not forthcoming," Loveless said, "we could very well go back into a recession."
Calling all HuffPost superfans!
Sign up for membership to become a founding member and help shape HuffPost's next chapter