Many of the details in the report are sickening and graphic. They are perhaps made only more disturbing by the overarching conclusion that the torture and "enhanced interrogation" employed by the CIA failed to produce the types of significant intelligence that had been used to defend the program in the past.
Detainees were subjected to "rectal feeding," a process by which food or nutrients are pumped in through the anus...

... even when there was no demonstrated medical need for it.

Detainees were told they would never leave these "black sites" and that their families would be sexually assaulted or murdered.

One never did. He died of suspected hypothermia after being tortured at one of the covert facilities.

During an extended period of stress, an interrogator operated a power drill near a detainee.

Detainees were waterboarded until they turned blue...

... and were on the verge of drowning.

Forced nudity was regularly used as an interrogation technique.

After this brutal regimen of torture, detainees often gave false information, which the U.S. acted on.

One detainee, a Saudi Arabian citizen who is still being held at Guantanamo Bay and was one of the first detainees held during the torture program, faced 20 days of nonstop "enhanced interrogation techniques."

This included extended periods of isolation and confinement in a coffin-sized box.

At one black site, groups of detainees were regularly stripped, beaten, hooded and bound with tape.

Detainees were subjected to seemingly unimaginable periods of sleep deprivation, in conjunction with other forms of torture.

Sleep deprivation often led to disturbing hallucinations.

Detainees were also refused access to toilets, put in diapers and left hanging by their wrists in cells for extended periods of time.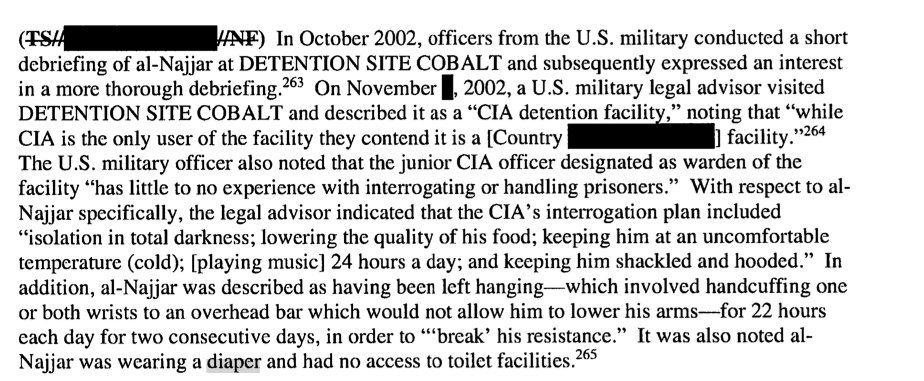 Others were forced to maintain "stress positions" even on broken limbs and though medical personnel had advised against it.

An interrogator reportedly played Russian roulette with a detainee.

The CIA detained individuals who did not meet its outlined detention standard, and they were used to extract information from family members. This included at least one "intellectually challenged" individual.

Some mistakenly held detainees were subjected to prolonged periods of torture before being released.

Many CIA officials were disturbed by the techniques and torture they witnessed at these sites.

Ashley Alman, Mollie Reilly and Paige Lavender contributed reporting.
Calling all HuffPost superfans!
Sign up for membership to become a founding member and help shape HuffPost's next chapter
BEFORE YOU GO
PHOTO GALLERY
George W. Bushisms Over The Years