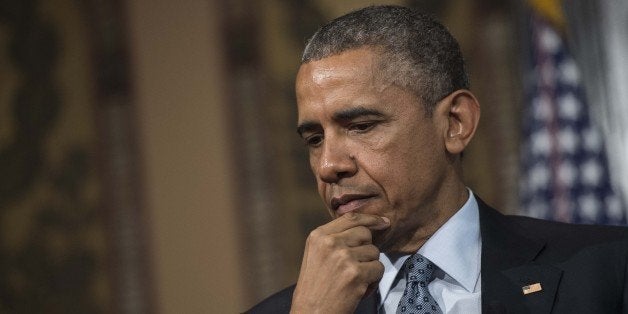 WASHINGTON -- Senate leaders on Wednesday found a way to revive President Barack Obama's controversial trade agenda, but in the process may have doomed numerous trade reforms -- including provisions to thwart forced labor and currency manipulation -- that may be essential to its survival in the House.
Democrats blocked the trade legislation from advancing on Tuesday, insisting that four separate trade bills that had cleared the Senate Finance Committee be combined into a single package. Obama and Republican leaders want to give the president authority to "fast track" trade agreements without subjecting them to legislative amendments. Democrats, who generally oppose the fast-track bill, wanted to ensure that a host of trade reforms included in a customs and trade enforcement bill would be included in the fast-track bill, preventing House Republicans or Obama from rejecting them without undermining their own objectives.
Democrats didn't get what they wanted. Instead, they settled for separate floor votes on all four bills -- all of which are likely to clear the Senate. But things get wild in the House, where a significant bloc of Republicans and the overwhelming majority of Democrats oppose the fast-track bill. The Trans-Pacific Partnership, a controversial trade pact that Obama is negotiating with 11 nations, almost certainly cannot pass without fast-track authority. Democrats, unions and environmental groups oppose TPP, fearing it will exacerbate income inequality and undermine key regulations. Republicans and corporate lobbyists support it, saying it will boost economic growth.
Senate Finance Committee Chairman Orrin Hatch (R-Utah) established the customs bill as a method to placate Democrats without actually addressing their concerns. By granting Democrats show-votes on reforms, Republicans had hoped to give Democrats something to cite as a minor victory, while securing a quick, bipartisan vote on the fast-track bill in return. That big win, they figured, would pressure skeptical Democrats in the House into supporting fast track once it cleared the Senate.
Tuesday's Democratic filibuster disrupted that momentum, just weeks before TPP nations are set for another round of negotiations at the end of the month. White House press secretary Josh Earnest dismissed the embarrassment as a "procedural snafu."
But a handful of key reforms from the customs bill are now likely doomed as a result of Wednesday's Senate deal. One would toughen enforcement against companies and countries that break trade rules by deliberately underpricing goods in the U.S., thus undercutting American producers.
Another would bar any products made with forced labor or child labor from being imported into the United States. That measure -- offered by Sens. Sherrod Brown (D-Ohio) and Ron Wyden (D-Ore.) -- has implications not only for TPP countries like Vietnam, Malaysia and Brunei, which feature forced labor in various industries, but for sugar harvested in the Dominican Republic and cotton farmed in Uzbekistan, both of which make their way into the products sold in the U.S.
But perhaps the key measure for most Democrats is an amendment from Sens. Chuck Schumer (D-N.Y.) and Brown to crack down on countries that keep their goods cheaper by manipulating their currencies. By devaluing their own currency, governments can make their exports cheaper in foreign markets without lowering domestic standards of living.
Currency manipulation bills have passed in the House in the past, but the Obama administration has told Congress repeatedly that a currency manipulation provision would wreck the TPP deal. Japan, one of the most aggressive currency manipulators, has the largest economy of any country involved in the TPP talks. U.S. automakers see currency manipulation as the key barrier to exports of American cars to Japan.
Republican leaders in the House and Senate don't want to touch the currency manipulation provision, or many of the reforms included in the customs bills. Even if those measures pass the Senate, House Speaker John Boehner could simply shelve them without bringing them up for a vote.
"I think that it's fair to say maybe the House doesn't take that up," said a Senate Democratic aide, who spoke anonymously to discuss strategy.
But while the GOP maneuver protects Obama's preferences, it's a blow to efforts to win over House Democrats. If forced labor reforms and efforts to fight currency manipulation are doomed, Republicans and Obama don't have many trade tools available to sweeten the deal for skeptical Democrats.
Only about a dozen Democrats have announced support for fast track in the House, and Republican leaders still do not have the votes to secure passage. On Monday, Rep. Adam Schiff (D-Calif.), a moderate Democrat who has backed a host of free trade deals in the past, announced that he would not support the fast-track bill.
"The game has always been the House," said Lori Wallach, director of Public Citizen's Global Trade Watch program, a key progressive organizer against fast track and the TPP.
Brown, the chief architect of Tuesday's filibuster, said Wednesday's deal was as good as Democrats could hope for.
"I understand that all four aren't going to be together exactly the way I want it, I understand that," Brown said. "But I can read votes. I also think that nobody saw us being successful yesterday three days out. And people have strong feelings about the customs enforcement and people have strong feelings about taking care of workers."
Brown said a successful Senate vote on Democratic priorities would give House Democrats leverage to demand the same measures be included in a House bill. If Republicans take the bait, Democrats get reforms they had wanted. If Republicans buck, it gives Democrats additional cover to vote against the fast-track bill.
"They don't have the House votes," said Wallach. "Going to the Senate first was supposed to create momentum. Instead, it made it clear that it wasn't going to be a piece of cake their either."

Calling all HuffPost superfans!
Sign up for membership to become a founding member and help shape HuffPost's next chapter
BEFORE YOU GO
PHOTO GALLERY
John Boehner Cries