WASHINGTON -- The Senate handed President Barack Obama a major win Thursday, voting to advance his trade agenda by ending debate on a bill that would grant him the power to fast-track massive new pacts through Congress.
A number of senators objected to the process, complaining that they were unable to get votes on amendments they deemed essential to making sure that looming, still-secret deals with 12 Pacific Rim nations and Europe live up to promises of helping U.S. workers.
But 62 of their colleagues disagreed, and voted to halt debate anyway, setting up passage of the fast-track bill by the end of the week.
"I'll acknowledge that the process on the floor has not gone the way that any of us would have liked," said Sen. Orrin Hatch (R-Utah), the chairman of the Senate Finance Committee and lead sponsor of the measure. He nevertheless argued for passage, saying the nation's "economic health and prestige are on the line here."
Fast track, formally known as Trade Promotion Authority, would allow the president to cut trade agreements with other nations, then advance them through Congress with expedited procedures.
"The TPA bill is the only way Congress can effectively assert its priorities in our ongoing trade negotiations," Hatch said. "It's the only way that we can ensure that our trade negotiators can reach good deals with our trading partners."
But other senators said there was no reason to hurry to give Obama such sweeping authority.
"We're moving to this massive bill with very little debate even on the fast-track policy. And if that's adopted and the bill -- TPP -- appears, there will be no amendments on it," said Sen. Jeff Sessions (R-Ala.), referring to the fast-track rules that don't allow Congress to alter trade agreements.
"I see no reason that we have to rush this," Sessions said, adding that he has not received enough assurance from the administration that the trade deals will be good for workers.

"I sent a letter to the president of the United States asking how fast-track and the vast Trans-Pacific Partnership would impact the jobs and wages of American workers. A simple question. Would it increase or reduce manufacturing jobs and wages in the United States?" Sessions said before the vote. "Shouldn't we know that? Is that a question improper to be asked? He's refused to answer. I think the reason he's refused to answer is because the answer is not good."

Sen. Sherrod Brown (D-Ohio), who has led opposition to the trade deals on the Democratic side, echoed Sessions.
"Historically when we've done trade agreements in this town -- as bad as they've turned out to be for working families ... at least we've had open debate where we could offer amendments," Brown said. "The last time we had the Senate debate this, there were three weeks of debate. This is about three days."
The measure's advancement marks a significant win for Obama -- and one that was far from certain, even as the Senate was voting.
Sen. Ron Wyden (D-Ore.), the lead Democratic sponsor of the bill, said he worked through the night to try and win agreements from his colleagues, and was talking with Obama after 11 p.m. to find the way forward.
"The president is all-in on this issue. There's no other way to describe it," Wyden told reporters shortly after the vote.
Still, presidential pressure or no, the vote nearly failed while it was still a few votes shy of the 60 threshold needed. It only succeeded after about a dozen senators engaged in a tense discussion in the middle of the Senate floor, well after the time for the vote had expired.

Several senators said later that the key was Senate Majority Leader Mitch McConnell (R-Ky.) promising Sen. Maria Cantwell (D-Wash.) to have a vote on reauthorizing the Export-Import Bank, which backs loans in places where there might not otherwise be sufficient funding to purchase products from the United States. A key beneficiary is Boeing, in Cantwell's state.
Conservatives see the Ex-Im Bank as unnecessary corporate welfare, but Cantwell, Sen. Lindsey Graham (R-S.C.) -- who also has Boeing facilities in his state -- and others had threatened to block the trade bill unless they got a vote. McConnell, who handed Cantwell a piece of paper during the heated floor discussions, promised to have that vote in June.
The Ex-Im drama may be moot, however. House Speaker John Boehner (R-Ohio) told reporters later that he had talked to Cantwell, but refused to commit to a vote in his chamber.
Another key to advancing fast-track was McConnell pledging to allow at least some amendments to the TPA measure to get votes, although under Senate rules that will require agreement from the rest of the members.
Wyden said he was still talking with McConnell and others about which amendments to include.
Opponents of fast-track such as Sen. Elizabeth Warren (D-Mass.) have argued that Americans should be allowed to see what's in the trade deals before Congress makes it easy for Obama to pass them.
"Post the deal. That's all it takes," Warren said in an interview with HuffPost Tuesday. "I will stop complaining about transparency if they will post a scrubbed version of the TPP, which is available now down in a secret location here in Congress. Post it now, before you ask us to vote on greasing the skids to get this thing done."
"And I do want to point out that President Bush posted the scrubbed text of the trade agreement that he negotiated months before he asked for even partial fast-track authority," Warren said.
Wyden noted that the TPA bill requires that trade agreements will eventually be posted for the public to see.
"Starting with the Trans-Pacific Partnership, that agreement will be public for 60 days before the president signs it, and for probably a couple of months after that," Wyden said. "The American people will be able to come to a town hall meeting of their House member or their senator for close to four months with the Trans-Pacific Partnership agreement in their laps, and they will be able to ask questions of their elected officials before a single vote is cast."
However, with fast-track powers, Obama will have a much easier time winning those votes. The fast track mandates that agreements cannot be amended, the Senate cannot filibuster them and they must get simple majorities in each chamber to pass.
With the Senate's procedural hurdle cleared Thursday, the TPA bill is expected to pass Friday afternoon.
Michael McAuliff covers Congress and politics for The Huffington Post. Talk to him on Facebook.
Support HuffPost
The Stakes Have Never Been Higher
Before You Go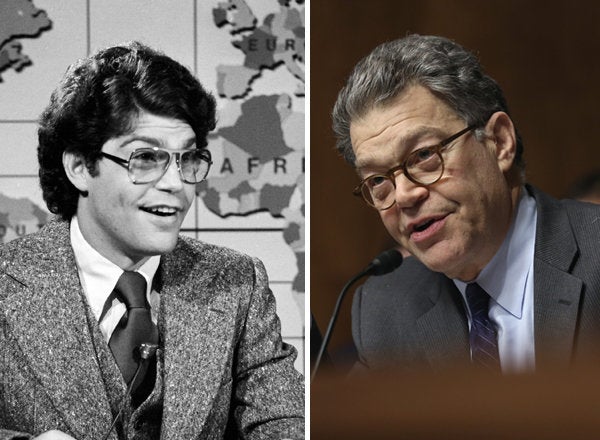 Politicians Then And Now
Popular in the Community