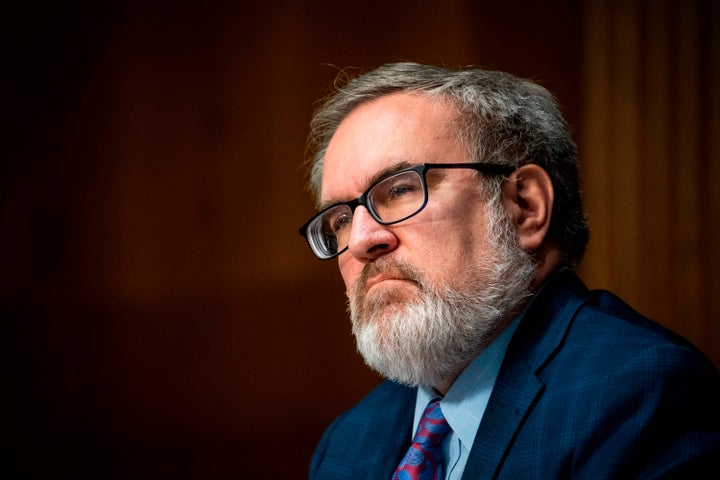 Democratic lawmakers in Virginia rejected Gov. Glenn Youngkin's (R) nomination of Andrew Wheeler, Donald Trump's controversial second head of the Environmental Protection Agency and a former coal lobbyist, to serve as the state's top environmental official.
The Senate voted 21-19 along party lines Tuesday in support of an amendment that cut Wheeler's name from a resolution approving Youngkin's Cabinet appointments.
"Mr. Wheeler's track record on the environment and energy indicates he will unravel the progress we have achieved to address climate change, mitigate the effects of sea level rise, and protect the natural beauty of our Commonwealth," Virginia Senate Democratic Caucus Chair Mamie Locke and Senate Majority Leader Richard Saslaw said in a joint statement following the vote. "After hearing grave concerns from our communities, stakeholders, and organizations ― as well as Mr. Wheeler's former colleagues at the EPA ― we cannot in good conscience confirm such an alarming choice."
The fight over Wheeler's nomination may not be over. After a final vote in the Senate on Wednesday, the resolution will be taken up by the House, where Republicans hold a majority. As The Washington Post reported, House Republicans could add his name back to the measure or pursue other avenues for reviving the nomination.
Tuesday's vote caps an unusually contentious confirmation process. The last time the Virginia General Assembly blocked a nomination was in 2006, when Republicans rejected Democratic Gov. Tim Kaine's nomination of Daniel LeBlanc to serve as secretary of the commonwealth.
In recent weeks, scores of current and former EPA employees urged Virginia lawmakers to vote against Wheeler, citing his record of gutting environmental rules while at the helm of the EPA.
Democrats in the state Senate signaled last month that they were united in their opposition and had the votes to sink Wheeler's nomination. But one member of the party, Sen. Joseph D. Morrissey, revived what already seemed like a doomed nomination, telling The Washington Post after Wheeler's appearance before a Senate committee that he was "very much open" to confirming Youngkin's Cabinet pick.
On Tuesday, however, Morrissey joined fellow Democrats in defeating the nomination.
Youngkin tapped Wheeler to serve as his secretary of natural resources in January and has stood behind him in the face of mounting public pressure, maintaining he was the most qualified person for the post.
"The governor is disappointed in today's vote because he was looking forward to Mr. Wheeler accomplishing great things on behalf of Virginians," Youngkin spokeswoman Macaulay Porter said in an email statement Tuesday. "Pursuant to the Constitution, he will continue to serve as Secretary of Natural and Historic Resources until the General Assembly adjourns. In the meantime, we hope the Senate will reconsider."
Popular in the Community