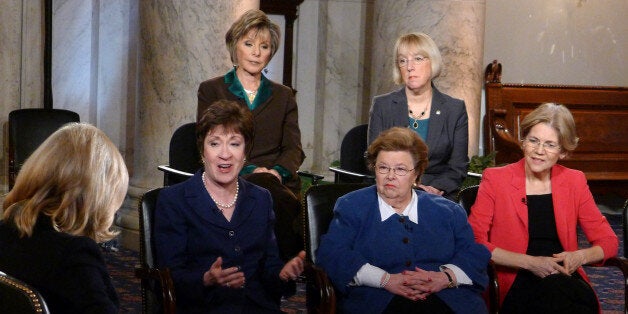 WASHINGTON -- The last Congress came close to being the least productive since the days of Harry Truman, outdone only by the Congress that preceded it. New research suggests that maybe if there had been more women on Capitol Hill, legislators could have gotten more done.
According to an analysis by Quorum, a new startup in D.C. that offers data on legislators, Senate women have been more likely than their male colleagues over the last six years to introduce legislation. Since the 111th Congress, which was sworn in in 2009, the average female senator submitted 96.31 bills, while the average male senator only submitted 70.72.
Bills that were introduced by female senators also fared better, receiving an average of 9.10 cosponsors, while male senators received an average 5.94. Quorum also found that female senators' bills made it out of committees more often, and were successfully enacted at a higher rate than those introduced by men.
The data suggests that women in Congress are less partisan than their male counterparts, working together and reaching across party lines more frequently. That makes the record number of seats for female lawmakers -- 104 in the current Congress -- good news for bipartisanship.
Quorum offers some other metrics as well when it comes to the gender divide on getting things done in Congress. Since the 111th Congress, the average female senator has cosponsored 3.79 bills along with all female counterparts of the opposite party. The average male senator, in contrast, cosponsored just 2.16 bills with all male members of the opposite party. Women were also more likely than men to cosponsor bills that had the full support of lawmakers across the aisle.
Similarly, over the last seven years, the average female senator cosponsored 6.29 bills with all female senators of both parties. Meanwhile, the average male senator cosponsored 4.07 bills with all other male senators.
Because there are so few female senators, it's easier for women than men in the chamber to round up the full support of their gender. But according to Quorum, female legislators in the House (which has a greater number of women) "still cosponsor legislation with each other -- both within their party and with the opposite party -- more often than their male counterparts." The disparity wasn't as strong in the House as in the Senate, Quorum noted, and women in the House were not more likely than men to move bills out of committee or have them enacted. Still, the figures for the Senate provide some notable contrasts.
When the 113th Congress was sworn in in 2013, Rep. Marcy Kaptur (D-Ohio), who has been in office since 1983, told USA Today that women "bring life experience and perceptions that have been missing here. I hope the operations of Congress will change and be more productive and less contentious."
During the federal government shutdown later that same year, it was the leadership of Senate women that helped end the partisan bickering to negotiate a deal. Afterward, Time published a story titled "Women Are The Only Adults Left In Washington."
Calling all HuffPost superfans!
Sign up for membership to become a founding member and help shape HuffPost's next chapter
BEFORE YOU GO
PHOTO GALLERY
Scenes From 114th Congress And Capitol Hill