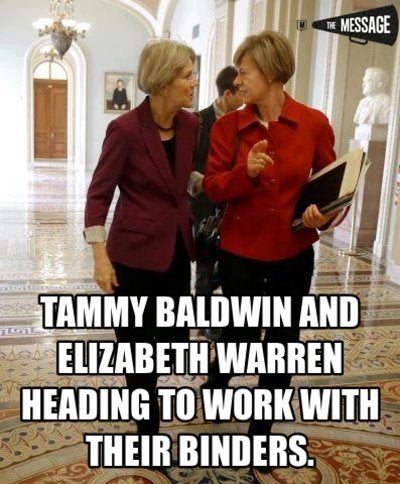 Power meetings and traffic jams are going on in the Senate's women-only restroom. At least, that's what Senators Claire McCaskill (D-Mo.) and Amy Klochubar (D-Minn.) are saying. It seems 20 female senators (the most ever elected) are just too many for the current Senate ladies room.
"For the first time, there was a traffic jam in the Senate women's bathroom," Sen. Klochubar said on Wednesday at the Washington Ideas Forum, The Washington Post reported. "There were five of us in there, and there are only two stalls."
She also tweeted about said "traffic jam":
Earlier Wednesday, Sen. Claire McCaskill, who won her seat on Nov. 6 by defeating Republican Todd Akin of "legitimate rape" fame, tweeted about the "power meeting" she had with newly elected Sens. Elizabeth Warren (D-Mass.) and Deb Fischer (R-Neb.) in the same bathroom:
It sounds like the 20 women of the Senate need a larger, nicer restroom. If this past election was any indication, there will only be more women joining both chambers of Congress in the coming decades. It's time to start renovating.
Here are 12 things we think should be included in this (dream) remodeled ladies' room:
1. 20 stalls. At least at first, no one will ever have to wait.
2. Cell phone and laptop chargers to help the Senators stay connected.
3. Showers and towels (fluffy ones, obviously). Between the office and a big event, it would save time to be able to get ready at the Capitol.
5. Safety pins, static guard, mouthwash, toothbrushes and a lint remover -- because, sh*t happens.
7. An iPod dock and a high quality sound system. Reaching consensus on a playlist is up to the senators.
8. Good lighting. Fluorescent lighting isn't good for anyone's soul.
9. A flat panel TV that's constantly playing "Homeland" or C-SPAN (whichever is necessary at the time).
10. A baby-changing station. With any luck, more young women will start running for Congress, and some of those women may also be young moms. Best to install the changing tables now.
11. A private room for breastfeeding ... that has it's own TV.
12. A fainting couch -- no, not for fainting, for taking a well-deserved break.

Calling all HuffPost superfans!
Sign up for membership to become a founding member and help shape HuffPost's next chapter
BEFORE YOU GO
PHOTO GALLERY
Election Night Celebrations