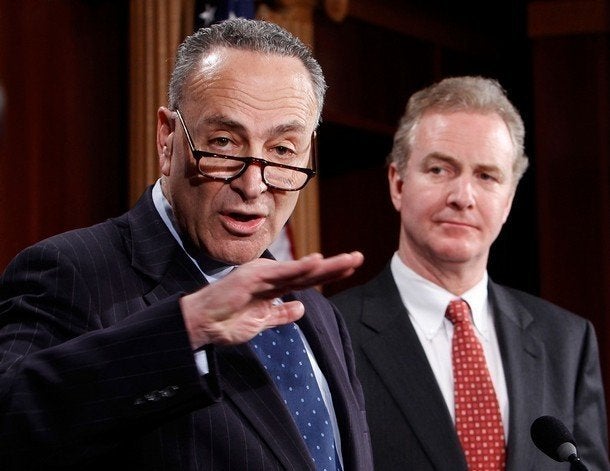 The Senate will not approve a bill to reauthorize several expired domestic aid programs, including extended jobless benefits for the long-term unemployed, until sometime next week.
"We fully expect to have the 60 votes to be able to pass this bill by early next week," said Sen. Chuck Schumer (D-N.Y.) at a press conference Tuesday.
In the meantime, at least 323,400 people who've been out of work for longer than six months will prematurely lose access to the extended unemployment benefits enacted to fight the recession. By the end of next week, Department of Labor data show that that number will reach 903,000. (When the Senate finally passes the measure, any missed benefits will be paid retroactively.)
The extra months of federally-funded benefits -- along with subsidies for laid-off workers to continue their health insurance, enhanced payments to Medicare doctors and assistance to state Medicaid programs, all originally provided by the 2009 stimulus bill -- lapsed on June 1 after Congress adjourned for its Memorial Day recess without passing a reauthorization, as it has done three times since December.
HuffPost readers: Did you prematurely lose access to unemployment benefits because of the lapse? Tell us about it -- email arthur@huffingtonpost.com.
"We have to remember that every day it takes for this bill to be passed and signed into law, is another day that the long-term unemployed might be going without their unemployment check," said Judy Conti, a lobbyist for the National Employment Law Project, which has been pushing for a longer reauthorization since last year. "By the time they have reached federal benefits, their savings and ability to borrow are likely exhausted, so any period without that unemployment check is extremely scary and stressful for them."
The lapse happened after deficit-wary House Democrats rebelled against the original version of the "tax extenders" bill, which was projected to add $123 billion to the federal budget deficit next year. The vote didn't happen until the end of the week -- after senators had already left town -- and several provisions were removed, including $7 billion in subsidies for COBRA health insurance premiums and $24 billion to help state pay Medicaid expenses.
After lobbying by state governors, Senate Democrats are reinserting the Medicaid funding (known in Hillspeak as FMAP: Federal Medicaid Assistance Percentages), without which states would be forced to lay off thousands of employees. Pennsylvania governor Ed Rendell told the New York Times that the cut "would actually kill everything the stimulus has done."
"You can't say we're creating private sector jobs but then the state and local public sectors lay people off," said Schumer. "It's not a net gain."
The nonpartisan Center on Budget and Policy Priorities reported Tuesday that leaving out the Medicaid funds would lead to states "laying off tens of thousands more teachers and other public employees, cutting education funding more sharply, and further reducing payments to health care providers and other private firms. Without more federal aid, state budget-closing actions could cost the national economy 900,000 public- and private-sector jobs."
Despite the all-consuming deficit concern, Senate Democrats are weakening a revenue-raiser in the bill that would close a loophole allowing investment fund managers to pay a lower tax rate than regular rich people, after lobbying by Democratic Sens. John Kerry (Mass.), Maria Cantwell (Wash.), Bob Menendez (N.J.), Kent Conrad (N.D.), and Mark Warner (Va.). Originally, closing the loophole would have raised $18 billion over 10 years; it's now estimated to be worth $14 billion.
"We should go further," said Sen. Bernie Sanders (I-Vt.), who wants the "carried interest" provision strengthened, not weakened. "These are people who made huge amounts of money. This country has a horrendous deficit and I think we need to a fairer tax policy."
Senate Majority Leader Harry Reid (D-Nev.) said there would be an amendment to reinsert the $7 billion COBRA subsidy. President Obama has urged Congress to extend the program for another six months.
To get 60, Democrats will need at least one Republican vote, if not more. Nebraska Democrat Ben Nelson said he probably would not vote for the bill. "We are going to have to control deficit spending because every need is not an emergency."
HuffPost mentioned to Nelson a new poll that showed that most voters think preserving extended unemployment benefits is more important than reducing the deficit.
"That may be, but that's a national poll," said Nelson. "Those aren't the numbers you'd find in Nebraska."
The unemployment rate in Nebraska is 5 percent.
Click HERE to download a PDF summarizing the changes to the bill.
Additional reporting by Ryan Grim.
Calling all HuffPost superfans!
Sign up for membership to become a founding member and help shape HuffPost's next chapter