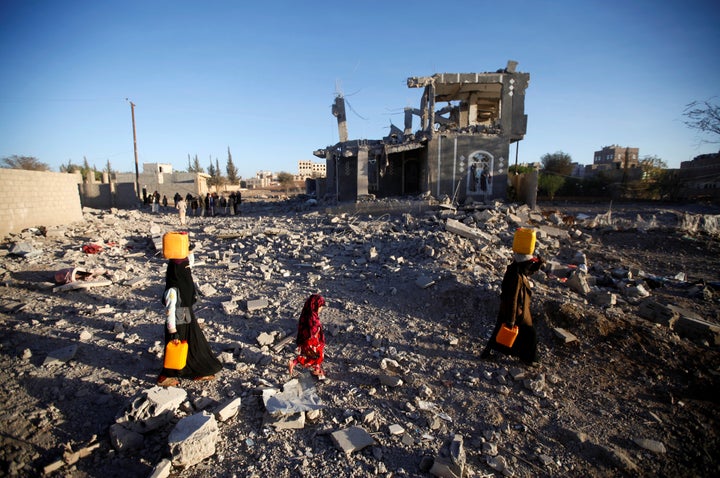 WASHINGTON ― The Senate voted 55-44 Tuesday afternoon against taking up a resolution to end U.S. military support for a Saudi-led coalition that has killed thousands of civilians in Yemen ― which means the controversial policy will continue, but so will the growing Capitol Hill debate about it.
Sens. Bernie Sanders (I-Vt.), Mike Lee (R-Utah) and Chris Murphy (D-Conn.) introduced the bill to end the American role in the war three weeks ago, and it attracted high-profile co-sponsors like Sens. Dick Durbin (D-Ill.), Elizabeth Warren (D-Mass.), Kirsten Gillibrand (D-N.Y.), Cory Booker (D-N.J.) and Dianne Feinstein (D-Calif.).
But Senate leaders, notably top Senate Foreign Relations Committee figures Bob Corker (R-Tenn.) and Bob Menendez (D-N.J.), said the proposal was too hasty and should return to committee, and the Trump administration invested heavily in convincing lawmakers it would unwisely damage the American partnership with the Saudis. Menendez and nine other Democrats ― Sens. Chris Coons (Del.), Catherine Cortez Masto (Nev.), Joe Donnelly (Ind.), Heidi Heitkamp (N.D.), Joe Manchin (W.V.), Bill Nelson (Fla.), Jack Reed (R.I.), Doug Jones (Ala.), and Sheldon Whitehouse (R.I.) ― ultimately aligned with all but five Republicans to kill the bill.
The issue came to a head this week as Saudi Arabia's de facto ruler, Crown Prince Mohammed bin Salman, visits Washington. President Donald Trump said on Tuesday he was "very good friends" with the prince, who has been closely involved in Saudi-United Arab Emirates operations and alleged war crimes in Yemen.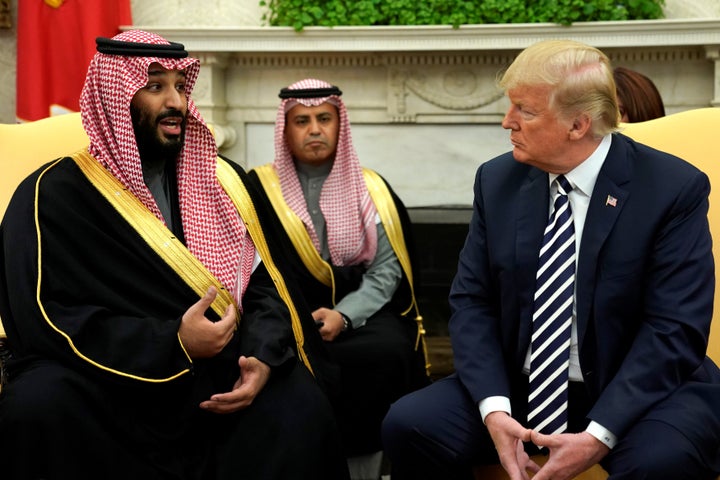 Earlier Tuesday, Sanders said it would be cowardly and irresponsible for lawmakers to oppose putting his bill to a vote.
"I am deeply disappointed that Congress has once again abdicated its constitutional responsibility to authorize war," he said in a statement after the resolution was tabled.
Still, the proposal's backers secured significant Democratic support to at least consider the legislation, including from Senate Minority Leader Chuck Schumer (D-N.Y.). That meant they avoided what happened in the House of Representatives last year, when Rep. Ro Khanna (D-Calif.) introduced a similar bill, also citing the War Powers Resolution, and advocates and progressives ultimately felt Democratic leaders sided with Republicans to quash it and defer to the executive branch on foreign policy.
"We saw leadership divided" on the Democratic side, said Kate Gould, the Middle East legislative policy director at the Friends Committee on National Legislation. "We still had 44 senators that took the step not just of blocking a bomb sale, but of [considering] actually withdrawing U.S. armed forces from the conflict altogether, despite the fact that the Pentagon and the Saudis were really trying to scare senators."
Critics of the war told HuffPost they also took some solace in the public relations impact of the debate and a commitment Corker made Tuesday morning to developing fresh legislation pertaining to Yemen.
"We still had 44 senators that took the step not just of blocking a bomb sale, but of [considering] actually withdrawing U.S. armed forces from the conflict altogether."
Sens. Todd Young (R-Ind.) and Jeanne Shaheen (D-N.H.) have filed an alternative bill requiring the State Department to certify that the Saudis are trying to wind down the war, but it would not take immediate steps to end American support vital to the Saudi-led coalition's operations. Peace groups also worry that it invites further conflict by making an explicit exception for U.S.-backed coalition actions against Iranian intervention in Yemen. On the floor on Tuesday, Young said his bill had already changed considerably and would evolve further.
"The ideal case would be that the Iran language is entirely stripped ... and that the certification language is significantly strengthened," Gould said.
Activists who mobilized around the issue ― highlighting the plight of the more than 20 millions Yemenis now in need of some aid ― say Tuesday's vote has only emboldened them. Some began publicly shaming the Democrats who voted against the Sanders-Lee-Murphy bill.
"Today should have been the day that the Senate moved to end US involvement in this catastrophe," said Scott Paul of Oxfam America. "But it is clear from today's debate that the tide is turning. A number of senators demanded, and were assured of, swift action in the Foreign Relations Committee. With more than 120 children dying each day from preventable disease, the Committee must act now to tear up the blank check that the administration has written to the coalition."
Igor Bobic contributed reporting.
This story has been updated to include comment from Kate Gould, identify more of the bill's supporters and opponents and note the role of top Republicans in killing a War Powers Resolution effort in the House of Representatives last year.
Popular in the Community