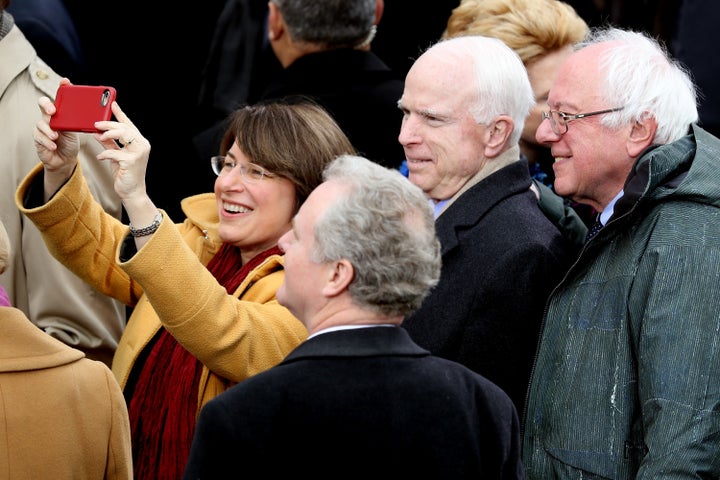 A Getty Images photo of three senators taken at last week's presidential inauguration caused a stir on social media over the weekend after people noticed a problem with the caption.
The image's original caption ― written by Getty Images, then republished Friday by news site SFGate.com ― initially identified only Sens. Bernie Sanders (I-Vt.) and John McCain (R-Ariz.).
Sen. Amy Klobuchar (D-Minn.), the senator in the photo wearing the gold coat and red scarf was identified simply as "a woman."
People on social media were quick to call out the senator's lack of identification in Getty's caption, calling it a clear example of sexism. Some pointed out that instances like the caption were one of the reasons why the Women's March was so necessary.
After a screenshot of the photo as published on SFGate.com went viral, the San Francisco news site updated the text with Klobuchar's name, along with an editor's note that attributed the original caption to Getty Images. 
"SFGATE updated this caption after spotting the photographer's mistake and is reviewing procedures for automatically ingesting captions," the note reads on SFGate.com. "We apologize for publishing the original inappropriate caption, and have apologized to Sen. Klobuchar for using the original Getty caption in the first place."
Sen. Chris Van Hollen (D-Md.), who appears in the photo facing away from the camera, was also not identified in Getty's original caption.
Getty Images spokeswoman Kelly Goucher apologized for the caption on Monday, according to the Minneapolis Star-Tribune. Goucher told the newspaper that Getty processed more than 20,000 images from the inauguration and were unable to identify Klobuchar at the time the images were uploaded.
The Getty caption has since been updated with the Minnesota senator's information. Getty did not respond to The Huffington Post's request for comment.
Klobuchar posted the selfie-in-question to her Twitter account on the morning of the inauguration.
The senior Minnesota senator told the Star-Tribune that she thinks the backlash surrounding the original Getty Images caption is "endearing and amusing."
"Since only senators were seated in that section (with many layers of security) it did seem a bit odd that they didn't try to pin down who the random 'woman' was sitting next to Senators McCain and Sanders," Klobuchar told the Star-Tribune. "Next time I will wear a big name tag or better yet a Vikings jersey with my name on the back."
HuffPost has reached out to Klobuchar and Getty for comment.
Calling all HuffPost superfans!
Sign up for membership to become a founding member and help shape HuffPost's next chapter
BEFORE YOU GO
PHOTO GALLERY
38 Stunning Photos From Women's Marches Around The World