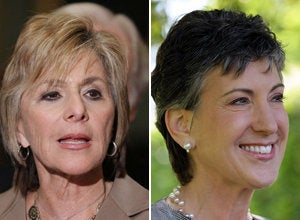 Wednesday evening was the first (and perhaps the only) debate between Senator Barbara Boxer (D-California) and her Republican challenger Carly Fiorina.
I'm not a guru of politics. I'm not a pundit of policy debates. I'm not a Beltway lobbyist. My knowledge of politics does not go beyond 101, those classes we take during our freshman college year. I live in New Mexico -- not California.
Yet, I care passionately about Senator Barbara Boxer's reelection. Why? Because I care deeply about life on Earth and I'm very concerned about climate crimes that are killing animals, birds, trees, and also humans in the U.S. as well as all over the world.
Soon I'll tell you about why we must help Senator Boxer's reelection campaign, no matter where in the U.S. we live, but first I'll share a story of how I came to know Senator Boxer.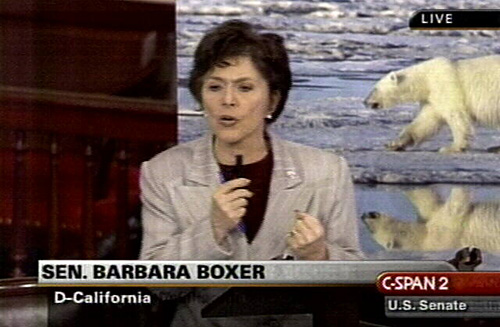 March 19, 2003: I was living in Seattle. It must have been midday, when I got a call from Cindy Shogan, executive director of Alaska Wilderness League, a Washington-DC based non-profit organization. "Turn on your TV", said Cindy, "Senator Boxer is showing your polar bear photo on the Senate floor". She hung up, and I was nowhere near a TV. Later someone emailed me a screenshot from CSPAN -- Senator Boxer showing a poster-size image of one of my polar bear photos from the Arctic National Wildlife Refuge in Alaska.
That day Senator Boxer passionately argued to prevent oil drilling in the Arctic Refuge. President George W. Bush was pushing very hard to sell the Arctic Refuge to the oil companies. Cindy had brought some of my photos and a copy of my just published book, Arctic National Wildlife Refuge: Seasons of Life and Land to Senator Boxer's attention. Cindy's hope was that it could help counter the arguments made by then Republican Senators Ted Stevens and Frank Murkowski, who had portrayed the Arctic Refuge as a "white nothingness" or "barren, frozen wasteland". Vice President Dick Cheney sat at his Senate office most of the day, expecting that the Senate would split the votes 50-50, he will break the tie, win the vote, and let the oilers move forward. To their dismay, Senator Boxer's passionate plea resulted in a 51-49 votes that day. Her use of my book and photos during the Senate debate, however, resulted in my soon to open exhibition at the Smithsonian Institution to turn into a political football. But that's another story. I slowly began to learn about American politics.
Later that year, the California Academy of Sciences in San Francisco opened my Arctic Refuge exhibition. Senator Boxer attended the opening reception. She told us a story. On March 19, when she returned home later that evening, her granddaughter said, "I'm very proud of you grandma for protecting the polar bear." That day she indeed did. And she continues to be a champion of the Arctic Refuge, which is a crown jewel of America, and it is also the most biologically diverse conservation area in the entire Arctic. Later this year, on December 6, we will be celebrating the 50th anniversary of the Arctic National Wildlife Refuge. We must never sell the Arctic Refuge to the oil companies.
In 2007, Senator Barbara Boxer became the first woman ever to chair the Senate Environment and Public Works Committee.
Fast forward to 2010. We had BP's unforgiveable oil-and-methane spill in the gulf, a disaster Jerry Cope and Charles Hambleton have called the crime of the century. Then on June 10, Republican Senator Lisa Murkowski launched an attack to block Environmental Protection Agency's effort to limit greenhouse gas emissions through the Clean Air Act. Senator Barbara Boxer made a passionate counter-attack. She showed poster-sized images of blackened birds killed by BP's spill. While showing the dead-bird photos, Senator Boxer said, "They're almost too painful. But for someone (Senator Lisa Murkowski) to come to this floor to say too much carbon is not dangerous, then I'm sorry, we'll have to look." Her passion prevailed and the Republican attempt was defeated by 53-47 votes.
Wednesday evening during the debate at Saint Mary's College, Senator Boxer talked about protecting the California coast from offshore oil-and-gas development (Carly Fiorina favors offshore development in California). On May 13, Senator Boxer and five senators from California, Oregon, and Washington introduced legislation to ban all future drilling along the Pacific shoreline.
Offshore oil development is a dirty and dangerous business. When something goes wrong it kills a helluva lot of marine life and also destroys people's way of life. Some Californians may remember very well the 1969 oil spill off of Santa Barbara coast that spewed 200,000 gallons of crude, and killed seals, dolphins, fish, birds, and other marine life.
I've been extremely concerned about offshore drilling in the Beaufort and Chukchi Seas of arctic Alaska. To prevent a BP like catastrophe in the Arctic Ocean that Shell was just about to embark on this summer, I wrote a piece BPing the Arctic? on May 25. Two days later President Obama reversed his earlier decision and suspended Shell's drilling for 2010. We must put a permanent ban on offshore drilling in America's Arctic Ocean, the way Senator Boxer and her colleagues have proposed for the Pacific coast.
Resource expert Michael Klare has pointed out that most of the easy oil in North America has already been extracted. We're now going after what he calls extreme-energy with potentially devastating consequences -- offshore drilling in deepwater, offshore drilling in extremely harsh environment like the Arctic Ocean, or the Tar Sands of Alberta in Canada.
Senator Boxer is doing the right thing by protecting the coast of her home state from offshore drilling. It's time that we move away from the death grip of oil-and-coal and start a clean energy revolution in the U.S. During Wednesday evening's debate Senator Boxer also pointed out that her aim is to make California "a hub of clean energy industry". This is what all Americans need to hear. Clean energy is no longer an idea that has the promise to create new jobs. Elizabeth Lynch wrote recently in The Huffington Post that China has already beat the U.S. to become the new green tech giant. We need the same direction for U.S. -- it'll create new jobs, actually lot of new jobs, and help control global warming at the same time. For that we need Senator Barbara Barbara Boxer and not Carly Fiorina (whose sympathy is with the oil-and-coal companies).
After the U.S. Senate killed the climate bill in late July, many of us were disappointed (but not surprised). We pointed our fingers to what went wrong and why our climate movement failed, but then we got to work to figure out how to move forward. Just a few days ago I founded ClimateStoryTellers.org that you can check out. And for action you can check out great activist movements -- 350.org and the Climate Justice Network. Last year with a puny budget and a lot of passion, Bill McKibben and his compatriots at 350.org organized 5200 climate rallies in 181 countries. And this coming October they're planning Global Work Party -- 1400 events already planned in more than 135 countries. Our climate movement is moving forward with many new ideas, renewed energy, and enthusiasm.
And we need Senator Boxer with us on our new climate movement train. She is a champion of our environment and clean energy economy, and we must do everything to help her win reelection.
[Edits/Corrections: replaced "Last night" with "Wednesday evening"; added url link to "California Academy of Science"; added one line, "In 2007, Senator Barbara Boxer became the first woman ever to chair the Senate Environment and Public Works Committee."]
Related
Popular in the Community