WASHINGTON ― Sen. Bill Cassidy (R-La.) was forced to abandon his PowerPoint presentation on the GOP's Obamacare replacement plan at his town hall in Metairie, Louisiana, on Wednesday, after a packed room of angry voters drowned him out and literally turned their backs on him.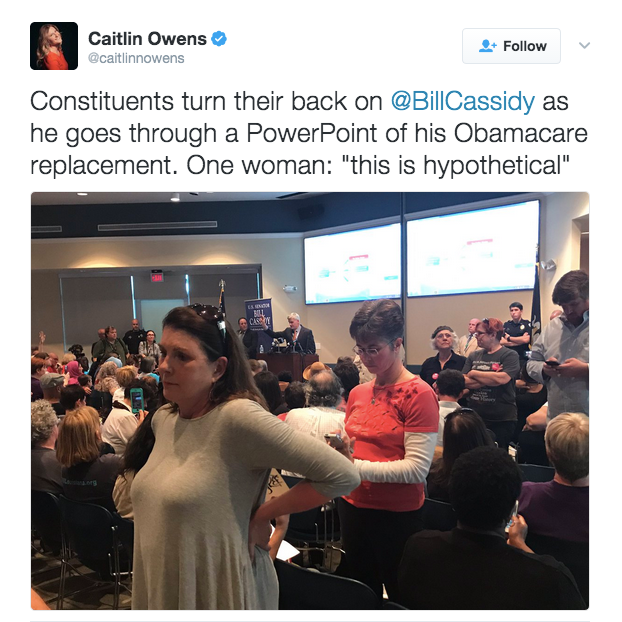 From beginning to end, the event was a disaster for Cassidy. By the time the senator arrived 30 minutes late, voters had already co-opted the town hall and turned it into a rally for the Affordable Care Act. Protesters outside the building held signs demanding that Republicans "Support the ACA" and "Dump Trump," while the crowd of 180 people inside the room chanted "Shame!" as Cassidy entered.
Cassidy then tried to present a slideshow on his plan to replace the Affordable Care Act, but voters drowned him out with boos and demanded that he take questions from the audience instead of giving them information they could read on the GOP's website. One woman sat in the front row knitting a pink "pussyhat," a symbol of the women-led resistance against Trump, and several voters stood up and faced the back of the room to protest the senator's scripted presentation.
A similar scene has been playing out at Republican town halls all over the country as lawmakers go home to face voters who are skeptical about the GOP's vague health care plan. The party has not been able to guarantee that the 20 million previously uninsured people who are now covered by Obamacare would be able to stay covered once the health care law is repealed. Some lawmakers, including House Speaker Paul Ryan (R-Wis.), have simply chosen to duck the town halls and avoid the testy crowds.
Cassidy eventually dropped his planned presentation and took questions, but he was unable to soothe the crowd. One woman pointed to the child standing next to her and shouted, "This child is uninsurable!" Another vocal audience member was escorted out by security as he demanded that the senator answer whether he would vote to repeal Obamacare without a replacement in place.
"I'm trying to," the senator responded.
Popular in the Community