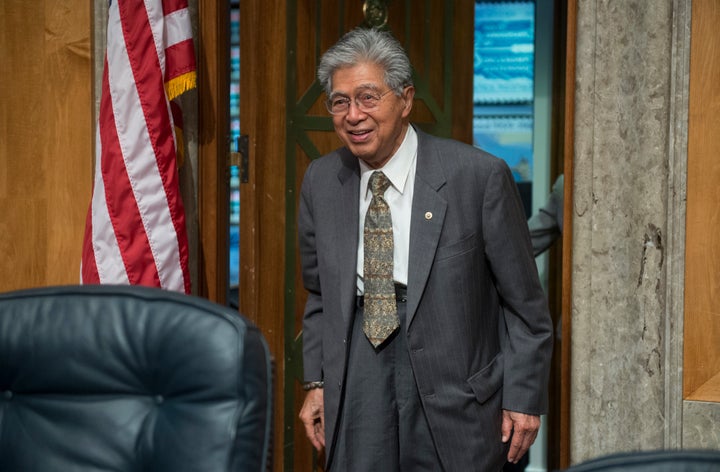 Daniel Akaka, the first Native Hawaiian to serve in the U.S. Senate, has died due to organ failure, multiple outlets reported Friday. He was 93.
The former chairman of the Senate Veterans Affairs Committee was known for his attention to the concerns of former service members and push for increased rights for Native Hawaiians.
"Senator Akaka lived a life of love, kindness & aloha. I never heard him utter an unkind comment about a single person. He represented the best of Hawai'i and set the highest standard for all us to achieve in terms of human decency," Honolulu Mayor Kirk Caldwell said in a statement on Twitter.
Hawaii's current members of Congress recalled the former senator fondly.
Akaka "embodied the aloha spirit & selflessly dedicated his life to serving others," Rep. Tulsi Gabbard (D) tweeted.
Sen. Brian Schatz (D) called the former lawmaker, "A pure heart, a determined warrior for native Hawaiians, and a true public servant."
Akaka began his career as a school administrator. He also worked for the state's Department of Health, Education and Welfare before being elected to the U.S. House of Representatives in 1976 to represent Hawaii's 2nd District. He was subsequently re-elected six times before being appointed to fill a vacancy in the Senate, where he served from 1990 until his retirement in 2013.
Akaka saw the bill's failure as a sore spot in his career, remarking when he retired that there seemed to be "always one objection" preventing it from getting to the Senate floor.
"It is long past time for the Native Hawaiian people to have the same rights, the same privileges, and the same opportunities as every other federally recognized native people," Akaka told Hawaii News Now in 2012.
Veterans issues were also close to Akaka's heart, and he was able to focus on them while serving as chairman of the Senate Veterans Affairs Committee from 2007 to 2010. 
Akaka was just 17 years old when Japan bombed Pearl Harbor, and he would go on to join the U.S. Army Corps of Engineers and serve in World War II.
He later acknowledged that he experienced post-traumatic stress disorder as a result of fighting in the war. In interviews with Hawaii News Now in 2012, he credited the GI Bill with helping him cope with the disorder and pursue a college degree.
Many considered Akaka's Senate record to be unremarkable, and Time magazine in 2006 labeled him a "master of the minor" ― "an affectionate and earnest man" who seemed to have little to show for his decades in office.
But to his friends, Akaka was a courageous man ― evidenced by his fierce opposition to the war in Iraq ― who rarely sought the spotlight. 
"He's been courageous in speaking out against this misguided war in Iraq from the beginning," Sen. Edward Kennedy (D-Mass.) told the Honolulu Advertiser in 2006. "He's a great personal friend and true man of his word. The U.S. Senate needs Danny's judgment and his unyielding commitment to making America live up to its highest ideals in the years ahead."
Akaka's retirement in 2013 marked the end of an era, coming shortly after the death of Sen. Daniel Inouye, another stalwart of Democratic politics from Hawaii. Not only was the Senate losing two long-serving Democrats, but for years Akaka's name had also been the first one read during Senate roll call votes.
"It is almost as if he were part of the Senate procedure," Sen. Lamar Alexander (R-Tenn.), who was next in line alphabetically and led the roll after Akaka's departure, told The New York Times in 2013. "It is like a page will be missing from the rule book. It is unsettling, and it is going to take a little getting used to."
Calling all HuffPost superfans!
Sign up for membership to become a founding member and help shape HuffPost's next chapter