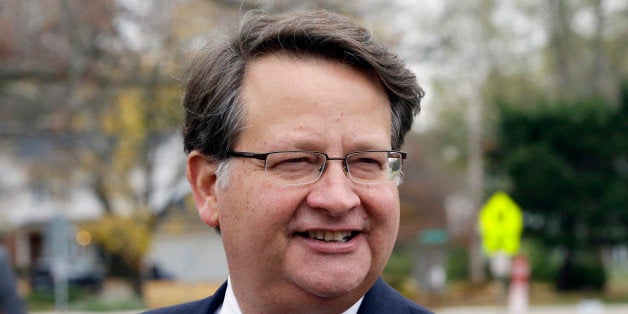 WASHINGTON -- Gary Peters. Does the name ring any bells?
He's a United States senator, a Democrat from Michigan. But he also sits on the lowest rung of the senatorial ladder, ranking 100th out of 100 in terms of his power in the chamber. Not only is he a freshman, and not only is he in the minority party, but he's the lone Democrat in his class of 13 newcomers.
When The Huffington Post informally polled a handful of Capitol Hill reporters a couple of weeks ago, some of them didn't even know who Peters was.
"Really?" said one reporter, whose name is being withheld for face-saving purposes. "He's a current senator?"
Nobody even noticed that Peters wasn't listed as a senator on the official Senate Democratic website until May of this year, when his staff caught it. Here's the Senate Democratic website as it appeared in April, without Peters.
He's like the kid who finally makes it to high school, only to find that all the other freshmen have formed cliques without him. His Republican classmates tease him about holding meetings. Alone.
"We ask him when he has his freshman caucus meeting if it's hard to get a quorum," said Sen. David Perdue (R-Ga.).
"There was some hope at the beginning that maybe he'd just want to go along to get along and sign some papers and join us," said Sen. Cory Gardner (R-Colo.). "But he didn't."
Still, Peters is a good sport. The Senate may be a lonely place at times, but he sees the silver lining of being a one-man caucus.
"Well, on the positive side, I'm immediately launched into leadership as the president of the Democratic freshman class," he said. "I can also say that my class speaks with one voice."
Peters is quick to make jokes, perhaps to mask a deep well of loneliness he feels inside.
"So you want to talk to the entire Democratic freshman class?" he said as he headed into a Senate elevator. "We all fit in one elevator."
It's been years since an incoming Senate class has been dominated almost entirely by one party. But Sen. Bob Corker (R-Tenn.) can empathize with Peters. When Corker was elected to the Senate in 2006, he was the only Republican in his class of 10 newcomers. That was also the year that Democrats took control of the Senate.
"I think you probably end up feeling, instead of isolated, kind of special," said Corker. "I say that with a degree of humor."
He let out a hearty laugh when told some reporters didn't know who Peters was.
"Look, things change rapidly," said Corker. "He may be the least senior person or only Democrat elected, but if he conducts himself with distinction, as I'm sure he will, people very rapidly will know who he is."
It's not as if Peters is some random person wandering the halls of Congress in search of companionship. He served in the House from 2009 to 2014, so he knows some senators who previously worked there with him, like Sens. Chris Murphy (D-Conn.) and Tammy Baldwin (D-Wis.). Gardner and Shelley Moore Capito (R-W.Va.) both migrated from the House to the Senate with Peters this year, too.
Being forced to co-mingle with the opposite party has had its advantages. Peters has gotten to know 12 Republicans he might not otherwise have found much common ground with. Their spouses have met, he's done events with them and they've co-sponsored bills together. Peters worked with Sen. Bill Cassidy (R-La.) to pass a human trafficking bill last month. He and Gardner formed the Smart Transportation Caucus, he co-authored a trade letter with Sen. Thom Tillis (R-N.C.) and he's introduced student loan legislation with Capito.
"We always joke with him about being elected unanimously to lead his caucus, but he's got a great personality and he's fun to work with," said Tillis. "I fully expect he and I will do a fair amount of work together."
His GOP classmates try to include him when they meet socially, too. Last month, when they organized a freshman get-together, Peters was asked to come along.
"He's such a good sport," said Sen. Joni Ernst (R-Iowa). "We take him under our wing. He's got a lot of experience on his own. So he's a valued member of the freshman class."
"He's been a part of it. We talk to him. We include him," said Gardner. "He's not picked last on the Senate basketball team."
Like the teenager who goes off to college, leaving his high school friends behind, Peters could always drift back to the House to hang out with his old buddies. But so far, he's resisted the urge. Instead, he's trying to form new relationships and is eager to know if his efforts are working.
"What did they say?" he asked HuffPost, curious about how his GOP colleagues had described him for this article.
He seemed touched to learn they sang his praises.
"That's nice to hear," he said. "That's actually great."
CORRECTION: A previous version of this article stated that Peters is ranked dead last among senators in terms of seniority. In fact, he ranks 89th, based on his previous House service. He does, however, rank dead last in terms of actual clout, since he is the only member of the minority party in the freshman class.
Before You Go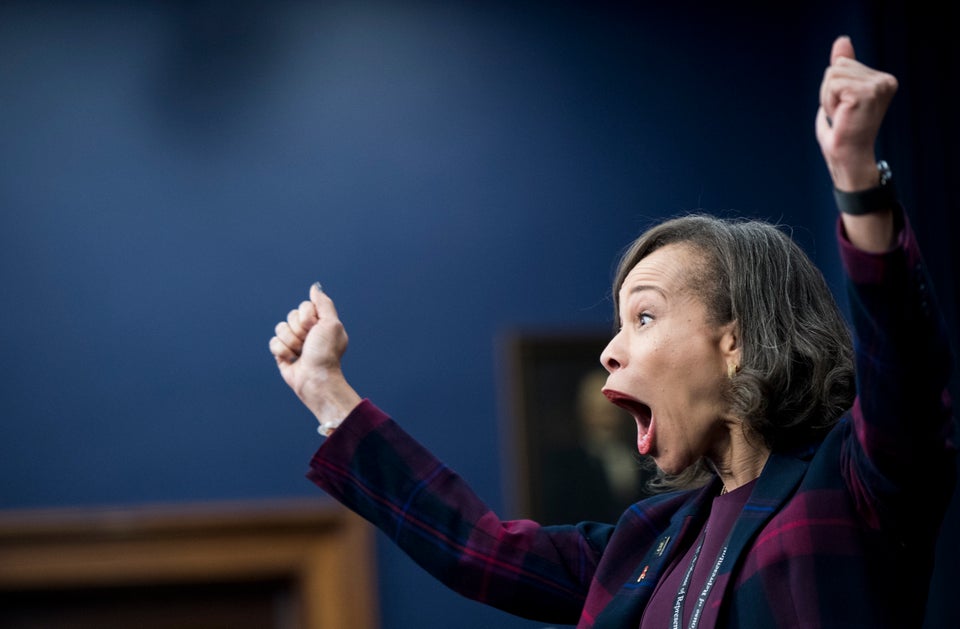 Scenes From 114th Congress And Capitol Hill
Popular in the Community